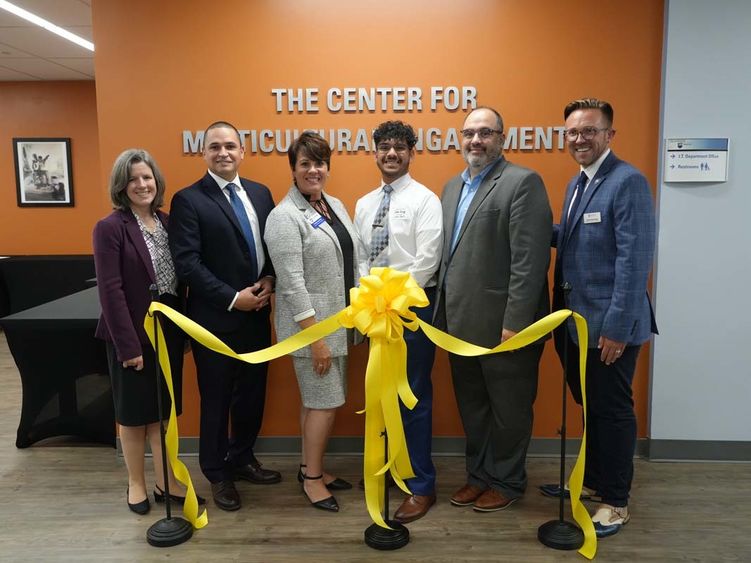 HAZLETON, Pa. — The Center for Multicultural Engagement, a new space at Penn State Hazleton dedicated to diversity, equity, inclusion and belonging that was spearheaded by students, celebrated its official grand opening on Sept. 26. 
Located in the lower level of the Charles T. Butler Teaching and Learning Resource Center, the Center for Multicultural Engagement is a student fee-funded project that created student education, collaboration, performance, study and socialization spaces, as well as a gallery and library. 
With students, staff, faculty, community members and supporters looking on during the ceremony, campus and University leaders laid out their hopes and vision for the new space while commending students for seeing the project through. 
Chancellor and Chief Academic Officer Elizabeth J. Wright described how students stepped up and led the charge to transform what was then classroom and recreation space into an area dedicated to unity and understanding. 
"Your spark and your light are what we're here to celebrate today," Wright said. "We thank you for working together to think about a space that invites conversations about belonging and support, as well as a space that invites learning about different cultures and perspectives." 
Wright noted that the project would not have been possible without the leadership and support of Director of Student Services and Engagement Tracy Garnick and her team. 
Garnick said that it was meaningful to her to help create a place of comfort and support where students could explore the world and learn about other cultures while learning more about themselves at the same time. 
During his remarks, Student Government Association President Gabriel Bragg credited former students for coming up with the idea and applauded current students for remaining focused on keeping the project on track, despite delays created by the COVID-19 pandemic.  
Thanks to their hard work and commitment, this was now a space they could call their own, he said. 
"This is a huge day that celebrates and embraces all the various cultures that call our campus home," he said. "Thanks to all the students that made this happen and to faculty and staff for making this dream a reality." 
The Center for Multicultural Engagement has already hosted art exhibits, guest speakers, films and other events and activities related to multicultural engagement. During the grand opening, guests were able to view Hispanic Heritage Month-related artwork on loan from the Hazleton Art League. 
David M. Callejo Pérez, Penn State interim vice president for commonwealth campuses and executive chancellor, noted that the new space will not only benefit current students, but also generations of those to follow. 
"In our increasingly interconnected world, fostering diversity and inclusivity within an educational environment is not merely a matter of choice, it is a necessity," he said. "Spaces such as these are integral in nurturing the minds and spirits of students and their communities, providing a space to grow both in thought and action as they begin their lives as social citizens." 
Penn State Assistant Vice President for Diversity, Equity and Inclusion Brian Patchcoski shared how spaces like the Center for Multicultural Engagement played a key role in shaping his personality and perspective. 
"I attribute much of my personal and professional success to the support provided by previous mentors and the student leaders who were working to advocate change, create community and collectively succeed," he said. 
Rounding out remarks, poet and author Javier Ávila read a poem, titled "Maria," that described a young woman's experiences with identity and inclusion, noting the importance of spaces that are welcoming to people from all cultures and backgrounds. 
Later that evening, Ávila performed his acclaimed one-person show, "The Trouble with My Name," for students and guests in the Black Box Theater of the Slusser/Bayzick Building. The show blended comedy and poetry to shed light on the American Latino experience. 
The Center for Multicultural Engagement will continue to host events and activities throughout Hispanic Heritage Month and beyond. To learn more, visit the center or the Student Services and Engagement Office in lower Butler Room 105.