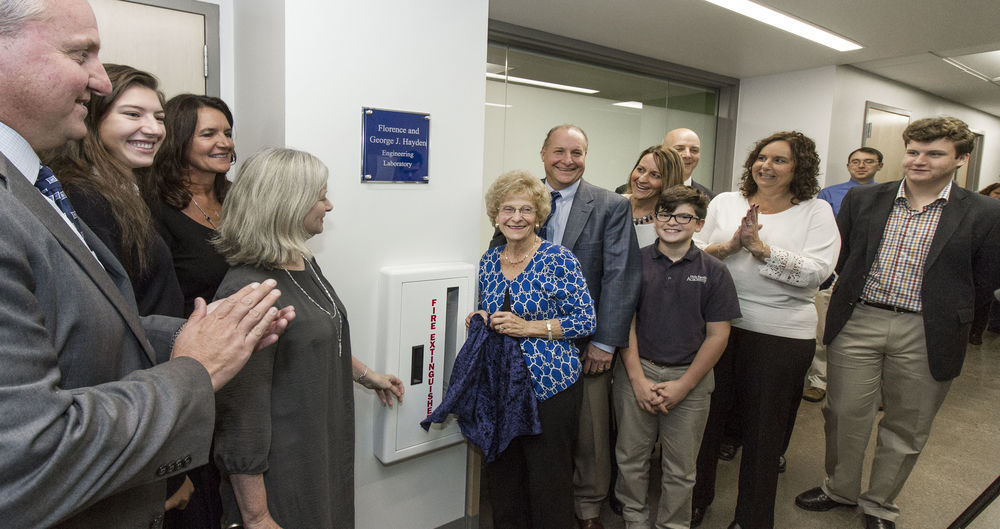 HAZLETON, Pa. — Penn State Hazleton dedicated its new, state-of-the-art engineering laboratories during a special ceremony on Thursday, Nov. 9.
The Florence and George J. Hayden Engineering Laboratory, located in the newly renovated Kostos Building, consists of two dedicated laboratory spaces for engineering students in a variety of disciplines.
The building is named after campus supporters and alumni Florence and George J. Hayden, who are known for their philanthropy and community spirit. George J. Hayden is the founder of George J. Hayden Inc., an electrical construction and services company, and went on to become the president of four Wendy's restaurant locations. Florence Hayden served as a teacher at Holy Trinity Catholic School and, later, as secretary/treasurer at George J. Hayden Inc. and Wendy's. They have five children, George, Mary Beth, Theresa, James and Alicia.
"The Hayden family has been very generous to the Penn State Hazleton campus and we would like to thank them for their continuing support of our mission and vision for the future. Their scholarship endowment has been a helping hand to many Penn State Hazleton students for the last 17 years and their endowed scholarship will benefit students in perpetuity," said Chancellor Gary Lawler. The Haydens are members of the Penn State Hazleton Highacres Society and Penn State's Mount Nittany Society.
Son George F. Hayden said the naming of the engineering area at the campus was a fitting tribute to his parents, one an electrical engineer and one a "domestic engineer," taking care of everything behind the scenes to keep their family and home running smoothly.
"My parents always believed in supporting projects like this to enhance their community. They love their community and their city. Through their generosity, more young people can continue to learn and build their dreams like my parents did. I'm proud of their example," Hayden said.
Director of Development Eileen Kuperavage said, "We offer our sincerest appreciation to the Hayden family, not only with this naming but with your past and future gifts. This community appreciates all your family has done and continue to do. We're pleased to celebrate your philanthropic spirit at this campus and in this community."
The Hazleton campus is the only one in the Penn State system to offer a degree in engineering with a focus in alternative energy and power generation engineering. Assistant Professor of Engineering Joseph Ranalli, who oversees the engineering program at the campus, noted the importance of sustainable energy programs.
"Sustainable energy remains a rapidly growing area for jobs in the U.S. Our program strives to train the next generation of technical experts who will meet this call and take on the role of leading our country and our world to a sustainable future. Following our first graduating class of five students in 2014, we now have 23 program graduates, who are working in a variety of careers in the region and nationwide. We are all extremely proud of the work these graduates are doing in their careers," he said.
The new laboratories give faculty the opportunity to demonstrate the topics being taught in the classroom. The space also provides a place for faculty to conduct research of their own and assist with the undergraduate research conducted by students. The labs include access to water, compressed air, natural gas and ventilation, providing the opportunity to expand the campus' mechanical engineering capabilities into the thermal sciences.
"Laboratories play a unique and critical role in the training of aspiring engineers. As educators, we believe in the crucial importance of hands-on, participatory learning experiences. A well-rounded and fully equipped lab capability allows us to provide exactly the type of interactive environment for self-discovery that serves to complement the rigorous academic experience of teacher-led classroom learning," Ranalli said.
The space was created with a vision for incorporating changes and remaining current in the times to come. One laboratory was designed specifically for electrical and electronics engineering in a collaborative environment. The other was designed to be a flexible and open space that will accommodate demonstrations and measurements related to a much wider variety of topics than the previous capabilities allowed, especially in mechanical engineering disciplines.