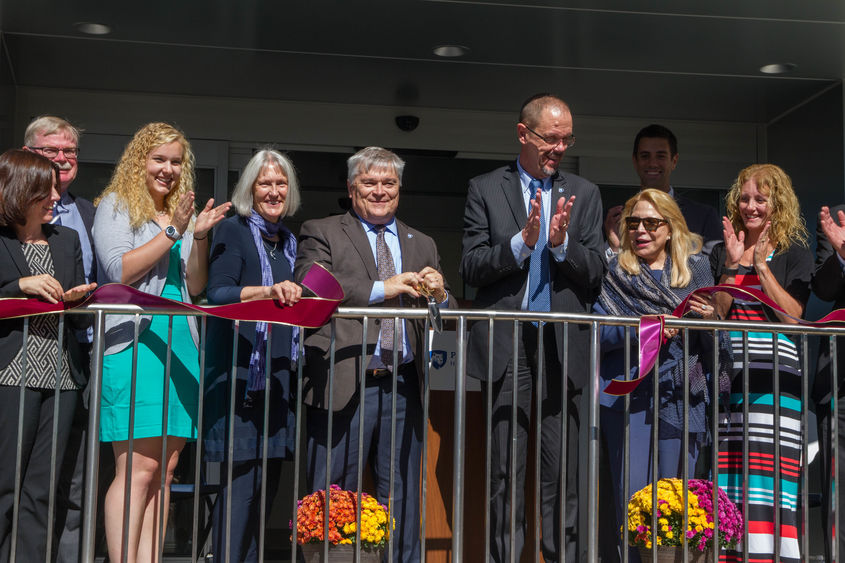 HAZLETON, Pa. — Penn State Hazleton rededicated its largest classroom building on Wednesday, holding a ribbon cutting to celebrate the $15.5 million renovation project. University President Eric Barron and other officials joined Penn State Hazleton Chancellor Gary Lawler to rededicate the Kostos Building, originally constructed in 1970.
"This project is the culmination of a long process of planning and construction to create a classroom building that best meets the needs of our current and future students and our faculty," Lawler said. "We're excited that the design will allow for better interaction among students and between students and their professors."
Barron said, "With the steady and strong demand from our students, our campuses have expanded their offerings and built innovative partnerships with the community. Penn State Hazleton has been doing this for nearly 85 years, and the work underway on this campus is enhancing student learning, while creating economic development opportunities and student career success. This is the type of transformative experience that's possible on a vibrant, connected campus."
The Kostos Building project implemented cutting-edge technology and state-of-the-art classrooms throughout the building, along with collaborative working spaces/study rooms and new faculty offices. It also includes new engineering, physics, chemistry and biology laboratories along with more spaces for conducting research. The large lecture room on the ground floor has been completely renovated and also serves as an auditorium.
Vice President for Commonwealth Campuses Madlyn Hanes said, "We all share tremendous Penn State pride as we rededicate the Kostos Building today and consider all of the wonderful advantages and opportunities a facility like this brings to a campus, the university, and our most important asset — our students."
The building was redesigned with a larger, handicapped-accessible main entrance to replace the original undefined entrance. The new entrance is inviting and highly visible from the campus mall. New stairs and a secondary entrance have also been created.
The Kostos Building now features energy efficiency throughout the building, including new windows in larger openings that create better views and let more light in. The new design replaces the dark corridors with ones that offer better visibility throughout the building.
All classrooms and laboratories have been redesigned and recreated and the mechanical and electrical systems have been entirely replaced. Restrooms have been redesigned and made compatible with the Americans with Disabilities Act.
The Kostos Building was named after Frank Kostos, who led the Hazleton campus for nearly 20 years. He came to the Hazleton campus in 1945 as a professor of engineering, was named assistant administrative head in 1946 and was named chief administrative officer in 1954, holding that role until he retired in 1973.
During his tenure, the campus achieved growth in its number of students and its footprint, with numerous buildings planned and constructed. He led a multi-million-dollar expansion program, which included the building that would posthumously be named for him, along with the campus library, first residence hall and dining hall. The physical education building was in the planning stage when he retired.
After his retirement, he was honored with the first "Hazleton Penn Stater Award" in 1978, commemorating his achievements and service. He passed away in 1984, and the building was named in his honor the following year. A portrait of him hangs in the Kostos Building to honor his legacy on campus.