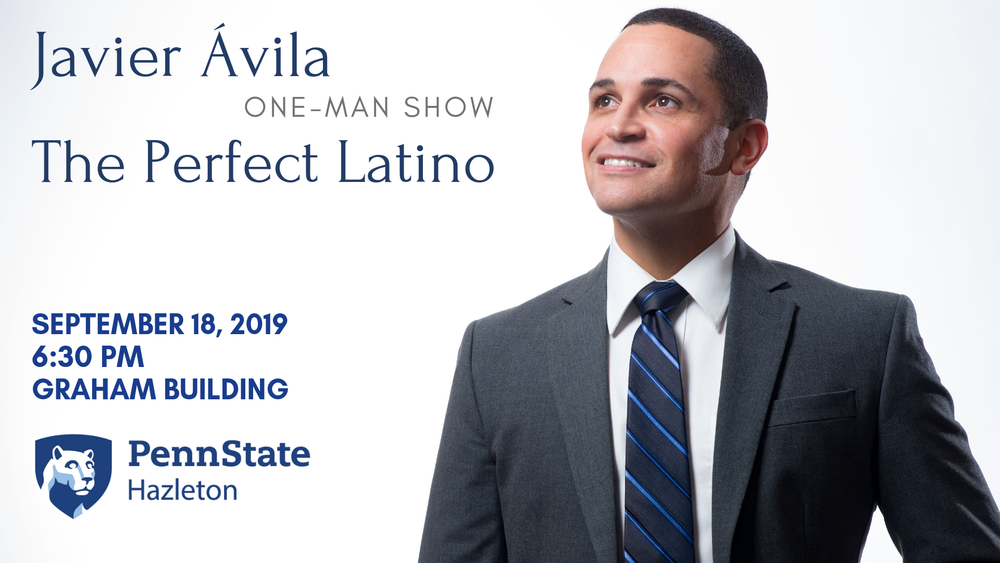 HAZLETON, Pa. — Author, professor and poet Javier Ávila will bring his one-man show to Penn State Hazleton at 6:30 p.m. Wednesday, Sept. 18, in the Evelyn Graham Academic Building. The presentation is free and open to the public.
Ávila's show, "The Perfect Latino," blends comedy and poetry to explore the American Latino experience. The show draws on the arts, education and entertainment to deliver a message about diversity, inclusion, race and representation. The presentation also provides audiences with a platform for further conversations about the future of America.
Ávila is a renowned poet and novelist. His novel "Different" became a bestseller and was turned into an award-winning motion picture titled "Miente," which was screened in more than a dozen countries. His poetry books "The Symmetry of Time" and "The Dead Man's Position" earned him awards by the Pen Club and the Puerto Rico Institute of Culture, respectively. He also has authored "Broken Glass on the Carpet," "The Professor in Ruins" and "The Oldest Profession." Ávila's books have been part of university curricula for years. He frequently visits colleges to discuss his work in the hopes of motivating students to become better readers and writers.
His career began in the Caribbean, where he taught English at the University of Puerto Rico for eight years. After moving to Pennsylvania, Ávila taught at Northampton Community College and received the 2015 Pennsylvania Professor of the Year Award, sponsored by the Carnegie Foundation for the Advancement of Teaching and the Council for the Advancement and Support of Education. He also was named the 2016 Hispanic Leader of the Year by the Greater Lehigh Valley Chamber of Commerce.
Ávila previously appeared at Penn State Hazleton for his show "The Trouble with My Name," which examined issues of language, race and social justice. The presentation shared his journey of moving between cultures to provide a perspective of American Latinos who struggle to dispel misconceptions about their identity and place in the world.
"The Perfect Latino" presentation at Penn State Hazleton is sponsored by the Office of Academic Affairs, the Office of Student Engagement, and the Spanish Club.