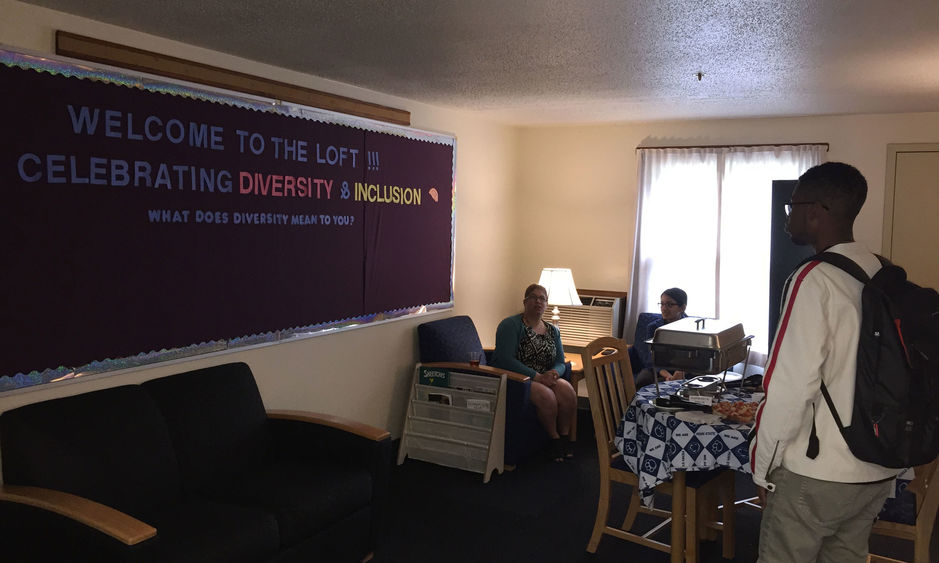 HAZLETON, Pa. — Penn State Hazleton dedicated a new student space for supporting diversity and inclusion at the campus.
The LOFT (Lions of Fusion Territory) has been designed as an informal area in a comfortable, lounge-like setting where students can spend time in an inclusive environment. Leaders behind the initiative said they wanted to provide support to international students and other underrepresented populations while providing the campus community with educational means to foster and display diversity and inclusion.
"We want to show our students that this campus is a place that celebrates differences while still talking about the difficult challenges we face in our lives," Associate Director of Student Services and Engagement Devon Purington said. "I think it's a great thing to expose them to the differences among us while offering support at the same time." She thanked Penn State Hazleton's Housing and Food Services for donating the use of the space in 501 West Halls.
Items in the space include puppets, statues and masks from different cultures around the world; board games, especially related to identity; and a mini library of books about identity. All the décor and items were specifically chosen to relate to diversity, be a resource for students or potentially spark conversations.
The space was intended to be student-centered and informal, where students feel free to spend time even when an event is not being held.
"Anytime you can establish open dialogue about differences and common ground, it's valuable," Director of Student Services and Engagement Tracy Garnick said. "Our students come from different states and around the world and we want them to feel comfortable and appreciated. The LOFT is a place where our campus can showcase how important diversity and inclusion are."
Staff and faculty members will offer an array of programming focusing on diversity and inclusion in the space, which is also stocked with resources to help students. The LOFT will be staffed by Andrea Jimenez, a native of Colombia. She will support international students and help them feel integrated with the campus.
"It's good to allow the students to be themselves and express themselves with each other. I think they can be more comfortable if they can come to a space and meet people that are like them," Jimenez said.
The first event she will host is a game night from 7 to 9 p.m. Thursday that will focus on helping international students meet and connect with others.
The Gender and Sexuality Alliance (formerly Allies) will also hold its biweekly meetings in the space.
The LOFT, located in 501 West Hall, will be open from 10 a.m. to 1 p.m. Mondays; 3 to 8 p.m. Tuesdays; 10:30 a.m. to 1 p.m. Wednesdays; and 3 to 8 p.m. Thursdays.