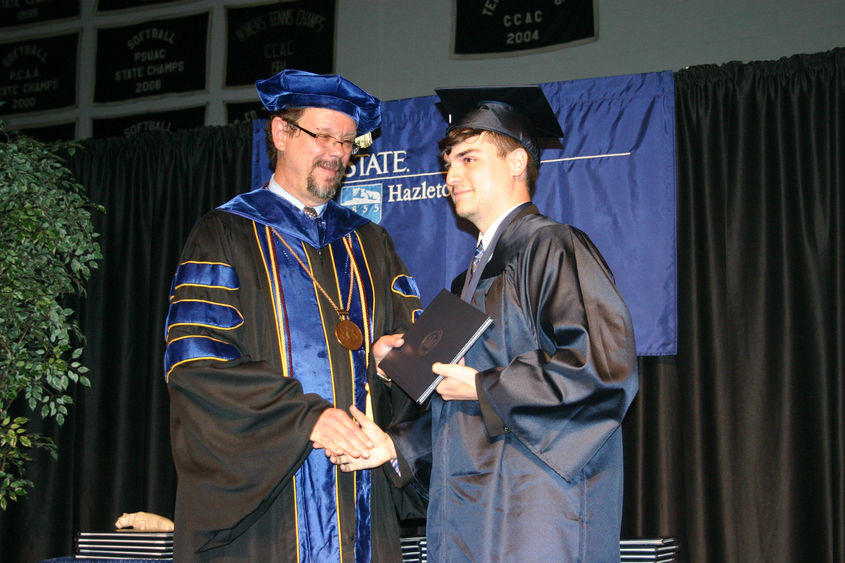 HAZLETON, Pa. — When Dante Toth earned his degree from Penn State Hazleton this May, he also made history: He's the first person to graduate with a bachelor's degree in administration of justice from the campus.
The major, implemented just last summer, allows students to earn either a bachelor of arts or a bachelor of science degree. It is ideal for students who want to learn about the criminal justice system, including law enforcement, the court system and corrections.
The bachelor of arts in administration of justice provides students with a basic background in administration of justice in addition to a foundation in the liberal arts, while students who pursue a bachelor of science in administration of justice can choose from either a field research emphasis or a research and policy analysis emphasis.
Elizabeth Wright, director of academic affairs at Hazleton, said the major prepares students for careers in the private and public sectors. "Graduates can find employment in government agencies on the local, state or federal level; corrections departments; court systems; private security and other opportunities. In the administration of justice major at Penn State Hazleton, students receive the education necessary to be outstanding employees in those fields," she said.
Toth came from Las Vegas, Nevada, to attend Penn State Hazleton while living with his grandparents in Hazleton. After visiting the Hazleton and University Park campuses prior to his senior year of high school, he knew Penn State Hazleton was where he wanted to be.
"All the students I saw were happy to be at this campus and they had pride in Penn State Hazleton. I liked that sense of pride," he said. He noted he's asked "all the time" why he came here from Las Vegas and is happy to tell people about his positive experiences at Penn State Hazleton.
He became interested in studying administration of justice after taking some introductory courses in the field with Pennsylvania Superior Court Judge Correale Stevens, a part-time instructor at Penn State Hazleton, and then learned of the development of the new major.
In his major, Toth studied a variety of courses in administration of justice, criminal justice and political science and completed a business minor.
"The major gives a broad view of professions in criminal justice, policing, and law and corrections, so you really get a little bit of everything," he said.
He is working with an Air Force recruiter to begin the process of officer training while working locally in the meantime. He wants to spend at least 10 years as an Air Force officer in law enforcement and then military police with the eventual goal of joining the Office of Special Investigations. After ending his time in the military, he hopes to transition to a position in government, possibly with the FBI.
On campus, Toth was involved in the Student Government Association (SGA) and Lion Ambassadors, holding leadership positions in both, roles that he believes he may not have had the opportunity to hold at a larger campus.
"Most people think I chose Penn State Hazleton because of affordability, but it's more about the chance I've had to do so many things during my college career. I don't think I would have had the opportunity to be a student leader of multiple organizations like I did here while still getting an excellent Penn State education," he said.
After three years with Lion Ambassadors, including a year as president, Toth joined SGA on the recommendation of the previous year's president, Casey Petty. He ran for — and was elected — president of the organization the same semester he joined.
"I was able to be in a student leadership position and get that experience early on in college, rather than having to wait three years to be in that position," he said.
As president, some of his main goals were to continue to institute campus pride and to create more events and a positive feel for the campus, ensuring the student experience remains enjoyable.
Toth is perhaps most proud of increasing the ranks of SGA and getting more students involved to influence the future of the campus. In a year with only two returning students, the membership grew to nearly 30, with the group passing seven pieces of legislation. Some of those include endorsement of the athletic field renovation project, which was quickly approved in part due to the students' opinions; endorsement of the upcoming Kostos renovation project; recommendations that faculty include a description of end-of-course rating tool SRTE (Student Rating of Teaching Effectiveness) in their syllabi; recommendations for updating the campus blue screen system; and recommendations for instituting a lion mascot scholarship for the student who portrays the Nittany Lion at campus events throughout the year.
He noted that this will be the third consecutive year with an out-of-state student at the helm of SGA, with Casey Petty from Idaho preceding him and Charles Ziegmont from Florida serving next year.
Involved in numerous other campus activities, Toth served as treasurer of the Spanish Club, created the Science Fiction Fan Club and excelled at soccer. He was named an Academic All-American by the USCAA in fall 2014.
He credited staff members Tracy Garnick, Ryan Aten and Bonnie Sukana for their guidance and support in his work with campus activities.
"I felt like I was somebody to them, not just another student," he said.
He also worked closely with Pamela Black, associate professor of administration of justice, who is the program coordinator and faculty adviser for students in the administration of justice major. With her help, he said, his project, "Evolution of London's Metropolitan Police Force Seen through the Eyes of Dr. Watson," won a first-place award at the campus research fair. The project explores Scotland Yard and the impressions people have of that police department.
Black said, "What impressed me the most about Dante was his ability to take very abstract concepts and apply them to real-life situations with little direction or assistance. He is a natural scholar."
While living in Hazleton, Toth has appreciated the opportunity to enjoy outdoor activities including hiking, visiting the Greater Hazleton Rails to Trails and venturing out to other locales.
"Students at Penn State Hazleton have so many opportunities," he said. "There's also a real sense of community here, a place where people know each other."