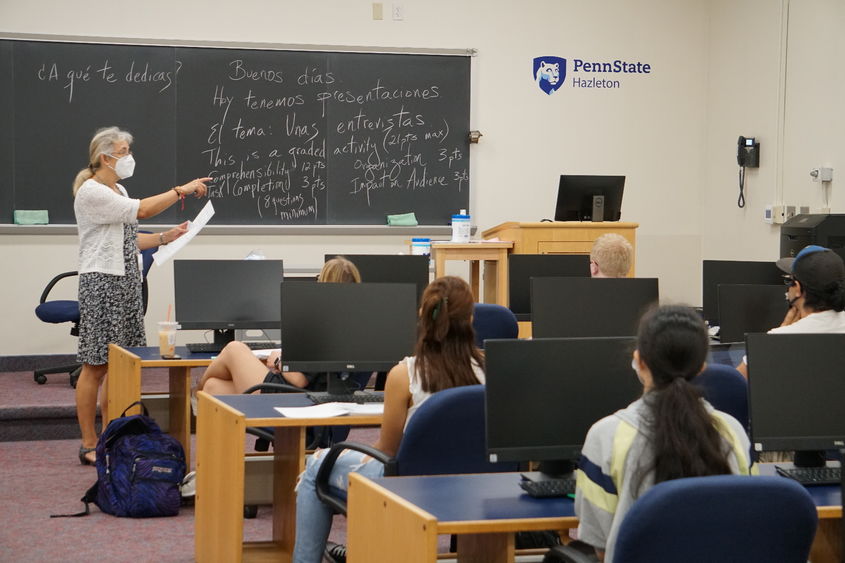 HAZLETON, Pa. — A digital textbook recently published by Beatriz García Glick, associate teaching professor of Spanish at Penn State Hazleton, is providing students with a pop culture learning element while contributing to a statewide push for affordable and accessible education.
Glick developed, wrote and published "Intermediate Spanish" with the help of Pennsylvania Grants for Open and Affordable Learning (PA GOAL) as part of an effort to decrease student costs through open educational resources — learning materials that are freely available.
The program, funded by the state Department of Education and Office of Commonwealth Libraries, awards grants to encourage higher education faculty to create and adapt no-cost course materials in their classrooms.
Glick was among the teachers from 21 statewide colleges and universities selected to receive grants in the most recent award cycle, according to PA GOAL.
"Open educational resources are essential to supporting student success," said Elizabeth J. Wright, director of academic affairs at Penn State Hazleton and associate dean of academic affairs for Commonwealth Campuses. "We applaud Beatriz's dedication to this important effort and look forward to working with our faculty to expand access to these materials for students."
Used as the course material for Glick's fall 2021 semester Spanish III course, the textbook features several modified integrated performance assessments (IPAs), task-based communication activities that are drawn from Spanish or Spanish-influenced movies, poems, songs and other materials.
One lesson, for example, required students to analyze a clip from a Spanish film about family, apply their understanding of the plot to recreate a memorable family event of their own, then share it with classmates in Spanish.
"Students find meaning in the experience by analyzing the material on their own as well as in collaboration with others," Glick said. "After dialogue and conversations with each other and the instructor, each student gives a presentation of the material using personal points of view to test their communicative skills as well as their understanding of the experience."
In comparison to traditional textbooks, the IPAs in Glick's textbook present authentic experiences from authentic materials written for and by native Spanish speakers, she said.
Not only was "Intermediate Spanish" featured as her course material, but Glick also shared its concepts during a presentation with fellow faculty members. She explained why she used modified IPAs in the textbook, their benefits, and how faculty could incorporate them into their courses.
Glick said the activities and assessments she featured in the textbook were ones she used herself over the course of her more than 10 years at Penn State Hazleton.
"As an instructor, you want to break away from the routine," she said. "You can do that by creating your own path."
View "Intermediate Spanish" online.