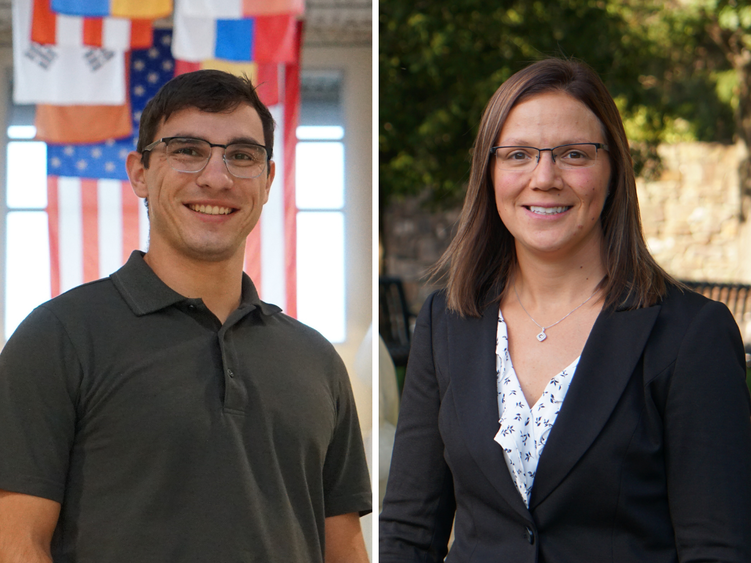 HAZLETON, Pa. — Alumni Zena-Marie Lewoc and Kevin Hinkle flourished during their years at Penn State Hazleton. Now back at their former campus as part-time faculty members, they'll have the opportunity to help current students find similar success.
Lewoc, lecturer in economics, and Hinkle, lecturer in engineering mechanics, joined the campus for the 2021-22 academic year. Both said they are looking forward to serving students in their new roles on campus.
"I learned many great things during my time on the campus and I'm excited to have the opportunity to teach future Penn State alumni," Lewoc said. "I had many unforgettable professors and I hope to be that collegiate memory for many students."
Lewoc, a 2012 graduate, enrolled in 2008 with plans to transition to University Park after two years but decided to stay on campus because "the experiences and opportunities were endless," she said.
"I was the only limit to my engagement and experience," she added.
In addition to participating in clubs and organizations during her four years on campus, she earned numerous accolades, including being the first student elected Student Government Association president in consecutive years and the first student to earn the Eric A. and Josephine S. Walker award in consecutive years — accomplishing both during her third and fourth years on campus.
Now in her 10th year with Geisinger Health System, Lewoc serves as central region operations manager of the central region Musculoskeletal Institute and has held past roles with the organization in logistics, strategic sourcing, and procurement. She earned her master of business administration degree in 2019 from the University of Scranton.
She also remains active with the campus, serving as a member of the Greater Hazleton Chapter of the Penn State Alumni Association and Penn State Hazleton Council, the campus advisory board.
"Being back at Penn State Hazleton is truly an indescribable feeling for me," Lewoc said. "As I walked the campus, it was great to see that things are very similar to how they were a few years ago, with many improvements. But most importantly, that the campus culture from everyone I encountered is still the way I remember it."
Hinkle, meanwhile, arrived on campus in 2016 after receiving an associate degree in automotive technology from the Pennsylvania College of Technology. In addition to earning a minor in mathematics during his two years at Penn State Hazleton, he served as a math tutor and participated in the Math Olympiad.
"I found it interesting to go beyond the scope of our classes, solving problems using different methods that I wouldn't have been exposed to through classes alone," he said.
Hinkle transitioned to University Park afterward and obtained his bachelor's degree in engineering science in 2020 and master's degree in engineering science and mechanics the following year.
He currently works full-time at onsemi in Mountain Top as an automotive applications engineer, a role that includes research, analysis, and testing newly developed and current products for customer-specific applications, he said.
Hinkle said students taking his class can expect to be challenged but at the same time, receive as much help as he can offer.
"I would like my students to not only succeed in the class, but to realize their maximum potential in mastering the subject," he said. "Students can expect my dedication and effort in helping them in that regard."