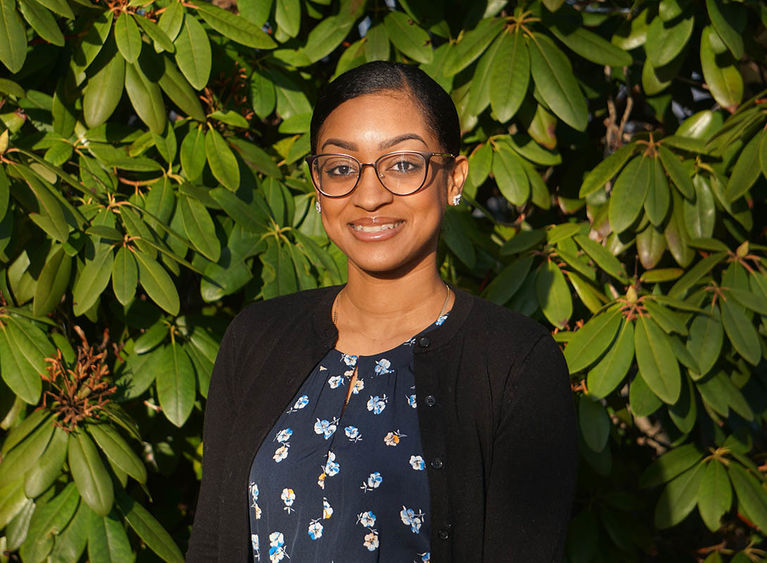 HAZLETON, Pa. — Alexandra Hernandez has joined the Office of Enrollment and Student Aid at Penn State Hazleton as a bilingual admissions assistant.  
Hernandez, who is fluent in English and Spanish, will support undergraduate enrollment by working with prospective students and their families during the application process, coordinating and presenting at on- and off-campus recruitment events, assisting in the evaluation of applications and processing transcripts and other supporting documents.
"The Office of Enrollment and Student Aid plays a critical role in expressing the value of a Penn State education, including providing crucial guidance and support to students and families whose first language may not be English," Penn State Hazleton Chancellor Elizabeth J. Wright said. "Alexandra's skillset will be an asset to the campus in our efforts toward educational accessibility and inclusion."
Director of Enrollment Management and Student Aid Aaron Mattern said, "Alexandra has already hit the ground running in her new role as bi-lingual admissions assistant. We're grateful for the addition of her to our team and look forward to working closely with her to support undergraduate enrollment at Penn State Hazleton."
Hernandez brings a familiarity with Penn State Hazleton, having attended the campus as a psychology major. She said she is excited for the opportunity to make an impact at the campus where she began her own college journey.
"I'm thankful to be back at Penn State Hazleton and look forward to making one-on-one connections with not only students but also their families," she said. "I'm excited to hear from them, listen to them, offer them my understanding of Penn State Hazleton, and ease them through the enrollment process."
After attending Penn State Hazleton from 2011-2013, Hernandez transitioned to John Jay College of Criminal Justice in the City College of New York (CUNY) where she graduated in 2015 with a bachelor's degree in forensic psychology and a minor in human services. She is a graduate of Hazleton Area High School.
Professionally, Hernandez most recently served as an income maintenance caseworker for the Commonwealth of Pennsylvania, where her duties included determining eligibility of public assistance benefits, retrieving and entering caseload data, and referring individuals to available community resources 
She also had roles as a career development counselor for Keystone Job Corps Center, a counselor with Bronx Works Betances Community Center in the Bronx, New York, and as an intern with the Institute for Contemporary Psychotherapy in New York City.
Additionally, Hernandez has worked in various administrative and management roles with Polanco General Services, a multi-service business in Hazleton owned by her parents.