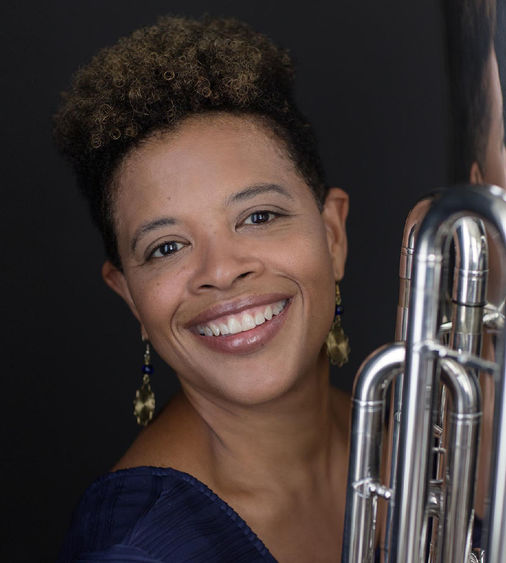 HAZLETON, Pa. — Velvet Brown, the 2022-23 Penn State Laureate, will visit Penn State Hazleton for a live performance at 12:10 p.m. on Thursday, Nov. 3, in the Black Box Theatre of the Slusser/Bayzick Building. The free performance is open to the public and campus community.
A tubist who has been teaching at Penn State since 2003, Brown is an international soloist, composer/arranger, chamber ensemble performer, recording artist, conductor and orchestral player. She currently serves as David P. Stone Chair and associate director for equity, diversity and inclusion in the College of Arts and Architecture's School of Music.
Brown has performed and taught throughout Europe and the United States, and in Russia, Japan, Cuba and Canada. Brown is currently the principal tubist of the New Hampshire Music Festival Orchestra and was previously principal tubist for the Hope and Harmony Ensemble, which recorded a video of fanfares for the 2021 Presidential Inauguration conducted by Marin Alsop.
She is the co-founder of MOJATUBA: Tuba and Dance Fusion Project and is in her 16th year as lead tuba with Howard Johnson's "Gravity" Tuba Jazz Ensemble. Brown is a founding and current member of Stiletto Brass Quintet, Monarch Brass Quintet and Brass Ensemble, and the Quintet of Americas. She is also a founding board member of the International Women's Brass Conference and artistic director of the Chromatic Brass Collective.
Brown, who has released five solo CDs, has performed and worked closely with jazz, commercial and classical artists regarded as some of the most influential musicians of all time, including Howard Johnson, Marie Speziale, Bob Stewart, Susan Slaughter and Doc Severinsen.
As Penn State Laureate, Brown plans to integrate the African Diaspora into a shared musical journey across the commonwealth through concerts, recitals, workshops and lectures.
"As a performing artist deeply grounded in excellence, I strive to engage audiences with unique collaborative performances, and to enthusiastically share soulful, creative inspirations," Brown said. "My goal is to merge a musical journey including African American music and education to elicit empowering emotions. It is imperative to reach out to communities regardless of race, origin or background to provide a positive and passionate musical and educational experience."
According to Brown, performing for audiences across Penn State campuses and the commonwealth will facilitate meaningful collaborations within the arts.
"I wish to share my artistic vision and help promote Penn State's artistic diversity and educational outreach within the Commonwealth of Pennsylvania and beyond. The focus on the African Diaspora will certainly yield an expanded community connectivity and leverage a unique edge to Penn State as a leader in diverse performances, along with its already meaningful presence in the arts and education."
For more information, contact the Office of Strategic Communications at 570-450-3180.