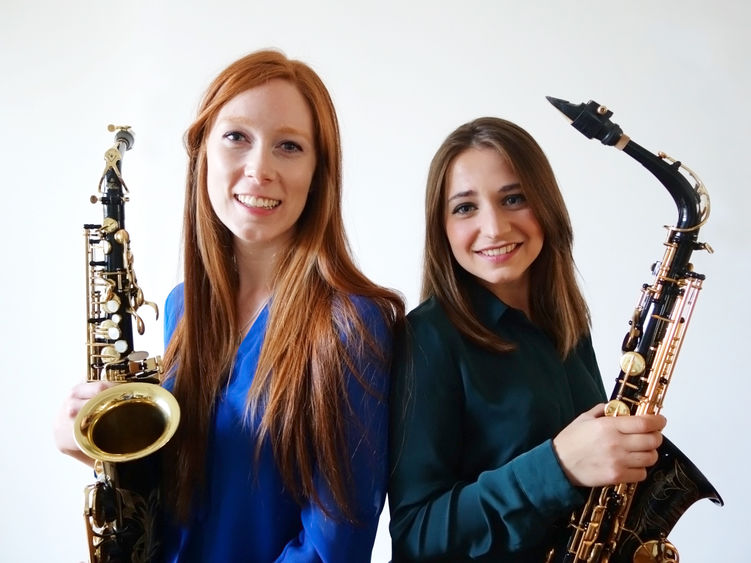 HAZLETON, Pa. — Penn State Hazleton will host a saxophone recital and lecture at 7:30 p.m. on Wednesday, Jan. 15, 2020. The presentation, "Over 100 Years of Women and the Saxophone," will be held in the Black Box Theater of the Slusser/Bayzick Building. Admission is free and the event is open to the campus community and the public.
"The presentation will celebrate the pioneering women who promoted the saxophone as an instrument capable of crossing all stylistic boundaries while exhibiting the highest levels of skill, technique and musicality," said Thomas Smialek, professor of music and integrative arts at Penn State Hazleton. "It is an honor and a privilege to welcome these talented performers to Penn State Hazleton."
During the event, British saxophonists Amy Green and Charlotte Harding will perform a sampling of pieces that were played in a variety of venues from wind band concerts, social/fraternal club entertainments, lyceum and vaudeville to early phonograph recordings and radio broadcasts. Green and Harding will be joined by pianist Ann Lee of Alexandria, Virginia.
To accompany the performance, Smialek will provide an illustrated commentary on the accomplishments of 19th-century saxophonists Etta Morgan, Louise Linden and Bessie Mecklem. The early 20th century will be represented by Helen May Butler and Ivy Benson, who led their own all-female bands. The program also will include performances of recent works by Charlotte Harding and L.A. Logrande, who have composed extensively for the saxophone.
The presentation will be repeated on two other occasions during Green and Harding's 10-day visit to the United States. On Jan. 10 they will appear with Smialek and Logrande at the 42nd U.S. Navy Band International Saxophone Symposium at George Mason University in Fairfax, Virginia. Their final performance will take place at 7:30 p.m. on Jan. 16 in the Penn State School of Music Recital Hall, located in Music Building I at University Park.
Green is one of the U.K.'s leading saxophonists. Twice selected as a Park Lane Group artist, she was the first saxophonist to win the Edward & Helen Hague Woodwind Prize and received the Royal College of Music's Tagore Gold Medal. She has given recitals at the Royal Festival Hall, Royal Albert Hall Elgar Room, Cadogan Hall, St. Martin in the Fields, St. John's Smith Square, and in the BBC Proms Plus series. Green is soprano saxophonist in the Laefer Quartet and saxophonist in the Riot Ensemble and ANIMA. Her orchestral work includes the London Symphony Orchestra, Royal Philharmonic Orchestra, BBC Symphony Orchestra, Royal Liverpool Philharmonic Orchestra, Philharmonia Orchestra, Bournemouth Symphony Orchestra, English National Opera, Rambert Dance Company, and the Michael Nyman Band. She appeared on the acclaimed Vida Guitar Quartet's 2017 album "Bachianas." Green studied at the Royal College of Music in London with Kyle Horch and at the Paris Conservatoire with Claude Delangle.
Harding is an award-winning graduate of the Royal College of Music, London, where she studied composition with Mark-Anthony Turnage and saxophone with Martin Robertson. Her recent projects include composing "Them" for the BalletBoyz double bill "Them/Us," which made its London debut at Sadler's Wells followed by runs at the Vaudeville Theatre (West End) and Edinburgh Fringe Festival; "Convo" for massed ensemble, which premiered at The Royal Albert Hall; and orchestrating and arranging the music of Barry White for The Love Unlimited Synth Orchestra (British Paraorchestra), which premiered at Glastonbury Festival 2019. Works for saxophone include "Voyage – A Concerto for Soprano Saxophone," which has been performed by eminent saxophonists including Richard Ingham and Gerard McCrystal, and "Solstice," which was the set piece for the Clarinet and Saxophone Society of Great Britain's Young Saxophone Soloist Competition 2019.
Green and Harding premiered "Over 100 Years of Women and the Saxophone" in 2015 at the 17th World Saxophone Congress in Strasbourg, France. Their project has since been repeated at other academic conferences across the United Kingdom.
For the past 10 years, Smialek and his co-investigator, composer L.A. Logrande, have been researching the early history of the saxophone in the United States, with particular emphasis on women who they found to have performed across a wide range of settings prevalent in 19th-century cultural life. Their work has been presented at regional and national meetings of the North American Saxophone Alliance (NASA) and three articles have been published in NASA's scholarly journal "The Saxophone Symposium." Their series of lecture-recitals with Green and Harding also will be performed in the United Kingdom in March 2021.