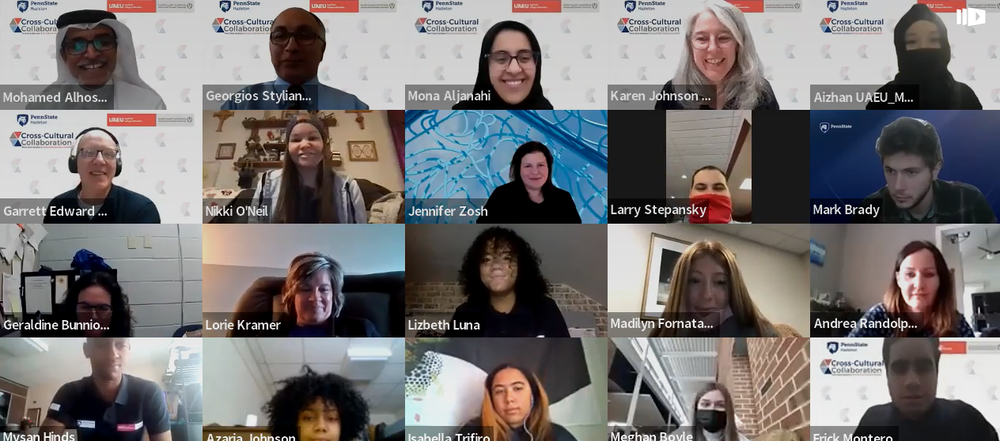 HAZLETON, Pa. — Separated by thousands of miles and a 20-hour time difference, students from Penn State Hazleton and United Arab Emirates University (UEAU) recently gathered virtually to reflect on a weeks-long collaboration dedicated to understanding and developing broader world views. 
The Cross-Cultural Collaboration Symposium featured students from two classes at Penn State Hazleton and two classes from UAEU who met virtually in groups during the fall semester to discuss cultural similarities, differences, and their experiences as college students during COVID-19. 
The symposium, organized by Penn State Hazleton faculty Karen Stylianides, Garrett Huck, Lorie Kramer and faculty counterparts from UAEU, provided students with a forum to present multimedia projects based on what they learned.  
"The Cross-Cultural Collaboration Symposium gave students from different backgrounds and different parts of the world the rewarding opportunity to interact and learn about one another," Stylianides said. "We are grateful for UAEU's perspective, contributions and commitment to collaboration, and we hope the experience will be something students can benefit from going forward." 
Students from Stylianides' Wellness Theory and Huck's Introduction to Disability Culture courses presented on topics like mental health and well-being. 
"Working together with students from a different country really put into perspective how they view the world compared to us in the United States," said Elizabeth Wegener, a second-year communication sciences and disorders major. "Despite being from two completely different worlds, we had a lot in common." 
"We spoke from our own experiences and used what we learned from talking with UAEU students and put it all together," added Nikki O'Neil, a fourth-year health policy and administration major. 
O'Neil was part of a group including classmates Mark Brady, Madilyn Fornataro, Lizbeth Luna Araujo and Terrence Thompkins which won one of three awards for best multimedia presentation. The two other winners were student groups from UAEU. 
Dedication to collaboration
In addition to giving students an outlet to share their learning outcomes, the symposium provided an opportunity for officials from Penn State Hazleton, Penn State, and UAEU to discuss their response to COVID-19. 
Elizabeth J. Wright, Penn State Hazleton director of academic affairs and associate dean of academic affairs for the office of the senior vice president for Commonwealth Campuses, served as the symposium's keynote speaker.  
Wright discussed the initiatives taken by the campus and the University to ensure students, staff and faculty received the resources and support to succeed during COVID-19. 
"At Penn State, we are very much interested in the power of collaboration, especially between faculty, staff, and students," Wright said. "I think events of last 20 months really illustrated our dedication to that principle." 
Zaki Anwar Nusseibeh, UAEU chancellor, echoed Wright's feelings on the impact of collaboration, particularly during an unprecedented event like the COVID-19 pandemic. 
"When we are presented with a problem to solve, we need to think as creatively as possible," he said. "We need to work with people who see the problem in ways we do not and have different resources to draw off of." 
David M. Callejo Pérez, associate vice president and senior associate dean of academic programs for Commonwealth Campuses, noted that uncertainties brought about by the pandemic allowed higher education institutions like Penn State to reflect on how they serve students. 
"I feel strongly about following our curiosities and developing our voice and I believe this conference will do this," he said. 
Gaining an EDGE
With limited background in organizing an event with the scale of the Cross-Cultural Collaboration Symposium, Stylianides connected with Penn State's Experiential Digital Global Engagement (EDGE) program.  
In addition to fostering virtual collaboration between Penn State students and students from around the globe through technology, EDGE works with faculty like Stylianides to internationalize their curriculum.  
The program provided Stylianides with insight and training on how to develop and facilitate the symposium. Stylianides also received a grant from EDGE to attend a workshop where she learned how similar global collaborations succeeded and the right tools to implement such an event. 
"The EDGE team held my hand, gave a listening ear, offered assistance, and inspired me in my quest for success," she said. 
Organizers plan to hold another Cross-Cultural Collaboration Symposium in 2022. 
View a recording of the event.