Faculty
Dr. Joseph Ranalli
Assistant Professor of Engineering
Engineering Program Coordinator
114 Kostos
570-450-3065
jar339@psu.edu 
Dr. Joseph Ranalli, assistant professor of engineering, brings a strong background for teaching the engineering of power systems to Penn State Hazleton. His doctoral research at Virginia Tech University involved the interaction of acoustics and combustion. During three years at the National Energy Technology Laboratory of the U.S. Department of Energy in Morgantown, West Virginia, he studied how that interaction could damage gas turbines. At Penn State Hazleton, he continues theoretical research on combustion but also investigates renewable energy by helping develop a smartphone app and software that find optimal locations for solar panels and preparing guidance for fighting fires at solar installations. For using a video game to teach principles of rocketry, Ranalli received New Faculty Fellow Award from the Institute of Electrical and Electronics Engineers in 2013.
Dr. Ranalli was named program coordinator of the engineering degree program in July 2017.
Kenneth Dudeck, Campus College Representative, EET Program Leader, Associate Professor of Electrical Engineering
104 Kostos
570-450-3085
ked2@psu.edu
Associate Professor of Engineering Kenneth Dudeck started his academic career at Penn State Hazleton as a student in 1977 and returned as an instructor in 1988. In between, he earned a bachelor's degree in electrical engineering at University Park, a master's from Villanova and worked nine years in the defense industry, specializing in stealth technology. While teaching electrical and computer engineering in Hazleton, Dudeck continued as consultant with the United States Navy. He twice won the George T. Bobby Advising Excellence award and also received the College of Engineering's PSEAA award for Outstanding Teaching in 2010.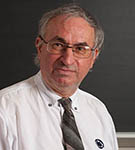 Dr. Wieslaw Grebski, Associate Professor of Engineering (Retired)
570-450-3087
wxg3@psu.edu

Dr. Wieslaw "Wes" Grebski brought renewable energy to Penn State Hazleton before he initiated the Bachelor of Science degree in General Engineering with Alternative Energy and Power Generation track. He drove around campus in a solar car and installed a wind turbine and solar panels across from the bookstore. An associate professor with more than 30 years on campus, Grebski earned his bachelor's, master's and doctoral degrees in mechanical engineering from Stanislaw Staszic University of Mining and Metallurgy, Krakow, Poland. He won the Milton S. Eisenhower Award for Distinguished Teaching, one of Penn State's highest honors. To interest young people in engineering, Grebski also teaches high school students. One of his classes built an airplane.
Dr. Grebski retired in June 2017.