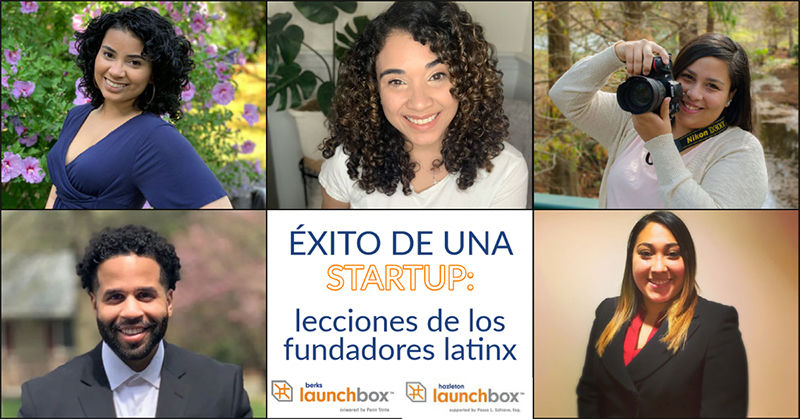 Latinx founders will share their startup journey, including why they decided to start their own business, obstacles they faced along the way, and key resources that helped them launch their companies. The event will be held virtually from 6:30 to 7:30 p.m. Nov. 18, to celebrate Latinx founders during Global Entrepreneurship Week and inspire new Latinx entrepreneurs in the Reading and Hazleton communities. This session will be presented in Spanish and is free and open to the public. Participants can visit the registration/connection page.
The panel discussion is hosted by the Berks LaunchBox and Hazleton LaunchBox and will be moderated by Fermin Diaz of the Hazleton LaunchBox and Lisa Weaver of the Berks LaunchBox.
Panelists include Nicol Cancelmo-Varona and Cory Dahlia Varona-Corniel, co-founders of DN Organics; Jessica Rodriguez, administrator at Manuel's Empanadas; Jennifer Malaga, co-Founder of Malaga's Cleaning Company; and Josue Torres, founder of Azure Vista Financial, LLC.
Penn State Berks graduates Nicol Cancelmo-Varona, 2013, and Cory Dahlia Varona-Corniel, 2011, founded DN Organics, a natural hair- and body- care company, after being dissatisfied with products on the market and the chemicals they contain. The sisters share duties for the company: Nicol manages all the branding, social media and marketing, while Cory enjoys testing new ingredients at home and researching new and upcoming clean beauty trends.
Jessica Rodriguez is a graduate of King's College with a bachelor's degree in marketing. She has been serving as administrator of Manuel's Empanadas, her family's business, since 2018.
Jennifer Malaga, 2014 ,started Malaga's Cleaning Company with her parents. The company provides residential and commercial services in Northeastern Pennsylvania. She manages all aspects of the company, from building their website to taking care of clients.
Josue Torres was born in the Dominican Republic, and moved to Reading, Pennsylvania, in his youth. He Josue earned a bachelor's degree in economics with a concentration in finance from Millersville University.
Most importantly, he began to develop financial knowledge and a strong desire to help people succeed. This passion led him to start Azure Vista Financial LLC, a company that offers credit education and repair services to his clients.
About the Berks LaunchBox
The mission of the Berks LaunchBox, located in Suite 105 of the GoggleWorks Center for the Arts in downtown Reading, is to support economic development and entrepreneurship. An innovation hub of Penn State Berks, the Berks LaunchBox connects local entrepreneurs to the support, resources, and facilities that they need to build sustainable and scalable businesses with a viable plan for growth. Services include assistance with prototyping, conducting market research, and connecting with advisors. The Berks LaunchBox offers entrepreneurship workshops, coworking space for startups, Meetups focused on business development, a makerspace with 3D printers for prototyping, and special youth programs.
The Berks LaunchBox is supported by Invent Penn State — a commonwealth-wide initiative to spur economic development, job creation and student success, launched by Penn State President Eric J. Barron in 2016. For more information, visit berkslaunchbox.psu.edu or contact Michelle Hnath, Berks LaunchBox facility coordinator, at [email protected] or 610-914-7595.