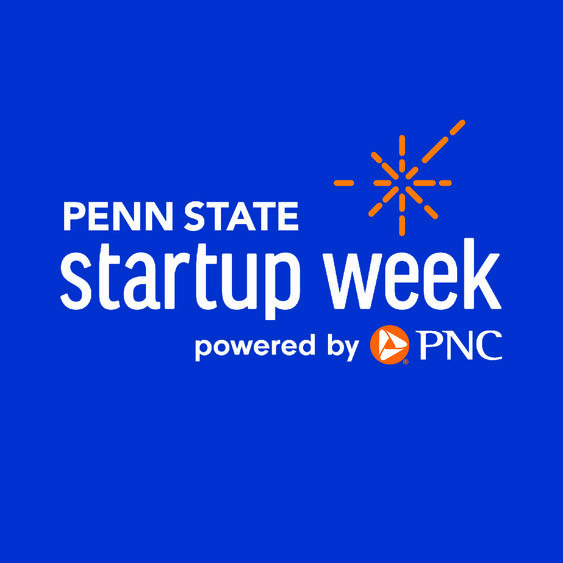 HAZLETON, Pa. – The Hazleton LaunchBox supported by Pasco L. Schiavo, Esq., Penn State Hazleton's no-cost business accelerator and coworking space, will host a variety of virtual events geared towards entrepreneurship and innovation March 22-26 during Penn State Startup Week powered by PNC. 
Startup Week, founded in 2012, connects participants with startup founders, corporate innovators and individuals achieving success in a variety of professional backgrounds. 
Throughout the week, the LaunchBox will offer free virtual presentations, speakers, workshops and networking opportunities for students, entrepreneurs or anyone interested in exploring their potential. 
Attendance links and registration details for the events below can be found at https://hazleton.launchbox.psu.edu/startup-week-2021. For a complete list of Startup Week events being held by Penn State campuses across the commonwealth, visit https://startupweek.psu.edu.
Monday, March 22 
Sustaining Pennsylvania's Entrepreneurship Ecosystem: Fostering K-12 Innovators - Noon-1:30 p.m.
About: Learn about K-12 entrepreneurship and innovation education and Penn State's initiatives that foster youth entrepreneurship and leadership and how to get involved. 
Building a Restaurant Chain with Juan Martinez  (Presented in Spanish) - 7 p.m. 
About: Gain insight on building a business from the ground up with speaker Juan Martinez. Owner of Don Juan Mex Grill, a multi-million-dollar business with locations throughout northeastern Pennsylvania, Martinez brings a strong background in project management, talent acquisition, marketing, growth and much more.  
Tuesday, March 23 
Feasibility, Structure, Licensing and Registration  - 5-6:30 p.m. 
About: Have you dreamed of being your own boss for many years but don't know where to start? Do you ask questions like, "How do I turn my idea into a successful business?" "What is the feasibility of my business idea?" "What kind of forms and licenses do I need?" "Where is the best place to open my business?" Learn the basics of starting and successfully operating your own business.  
Using Your Professional Skills to Build a Business with Nataly Montes de Oca  (Presented in Spanish)  - 6-7 p.m. 
About: Montes de Oca created Nath Soap Company in 2019 to bring natural, homemade products to the market in small quantities. She developed the passion for natural body care products while dedicating herself to homeschooling her children. She also has extensive experience in industrial engineering and supply chain.  
How to Convert Art to Business with Anaveli Encarnacion  (Presented in Spanish)  - 7-8 p.m. 
About: Join Anaveli Encarnacion as she shares how, due to the pandemic, she ventured into social networking to help continue pursuing her passion of creating artisan jewelry.  
Wednesday, March 24 
Why is Customer Discovery Important?  - 6-7:15 p.m. 
About: Customer discovery allows us to test our hypotheses by using interviews with potential customers. Penn State Hazleton Lecturer in Marketing Lori Reno will explain how customer discovery helps determine how well the product meets customer needs which will create a sustainable business model. 
15th Forum of Businesswomen and Entrepreneurs (Presented in Spanish)  - 7-9 p.m. 
About: Join us for this motivational business and networking event for women entrepreneurs and businesswomen who seek to relate, become visible and grow. This event will be livestreamed in Spanish and focuses on the promotion of the entrepreneurial spirit, business development of Latino and Hispanic female entrepreneurs, and owners of micro, small and medium-sized companies nationally and internationally. 
Thursday, March 25 
How the Standardization of Process Can Help Small Businesses Grow with Juan Hernandez  (Presented in Spanish)  - 4-5 p.m. 
About: Gain valuable insight from business consultant, professional technical trainer and industrial engineering professional Juan Hernandez. Hernandez brings more than 30 years' experience in the free zone, development of new products in the automotive and aerospace sectors, and advanced electronics. 
The Impact of Offering Good Services with Janna Morales  (Presented in Spanish)  - 5:15-6:15 p.m. 
About: Marketing professional Janna Morales brings more than 10 years of experience in entrepreneurship aimed at getting the greatest results from people by motivating and accompanying the undertakings in each of their phases. Morales also has extensive experience in sales, market research and national and international business consulting.  
Branding and Communication for Success with Rayvelis Roa (Presented in Spanish)  - 7-9 p.m. 
About: At a time when social networks monopolize much of our attention, effective communication becomes a fundamental tool to be able to sell or present our products and services. Rayvelis will share effective communication and branding techniques for ourselves and our businesses. 
Friday, March 26 
Beyond the Bottom Line: What's a Social Enterprise?  - 12:15-1:15 p.m. 
About: An increasing number of businesses exist not only to turn a profit, but to address a social or environmental mission. Learn what it means to be a triple-bottom line business, and the intersection of social entrepreneurship and certified Benefit Corporations. Hear examples from two social enterprises, one local and one international, and learn the process for becoming a certified B Corp.  
Social Entrepreneurship: A Success Story with Adis Ozuna  (Presented in Spanish) - 5-6 p.m.
About: Ozuna will share the story of her social entrepreneur project Dominican Access. The project is the result of the strategic alliance of leading companies specialized in different fields in the field of universal accessibility and design. With nearly 30 years' experience, Dominican Access offers the search and implementation of comprehensive solutions that generate competitive advantages in accordance with the reality and new trends in the sector. 
Tuesday, March 30 
Preparing a Small Business Plan and Financial Projections - 5-6:30 p.m.
About: The best way to prevent business failure is to plan your business properly from the start. This workshop assists entrepreneurs in starting down the path to successful business ownership by learning the steps to successfully prepare a business plan and financial projections.  
About Hazleton  LaunchBox:
Located at 13 W. Broad St. in Hazleton, the Hazleton LaunchBox supported by Pasco L. Schiavo, Esq., provides early-stage startups with support and resources they need to build a sustainable and scalable business and a viable plan for growth.
No-cost programs and services include coworking space, accelerator programs, free legal and intellectual property advice, and expert mentorships from Penn State's extensive network. The LaunchBox is open to everyone — community members and those affiliated with Penn State. The Hazleton LaunchBox supported by Pasco L. Schiavo, Esq., is a signature program of the Invent Penn State initiative and one of 21 innovation hubs located in Penn State campus communities across Pennsylvania.
Learn more at https://hazleton.launchbox.psu.edu.
Contact Hazleton LaunchBox Education Entrepreneurship Coordinator William Andahazy at [email protected] or Entrepreneurial Facilitator Fermin Diaz at [email protected] for more information. You can also reach the LaunchBox by phone at 570-450-3135.