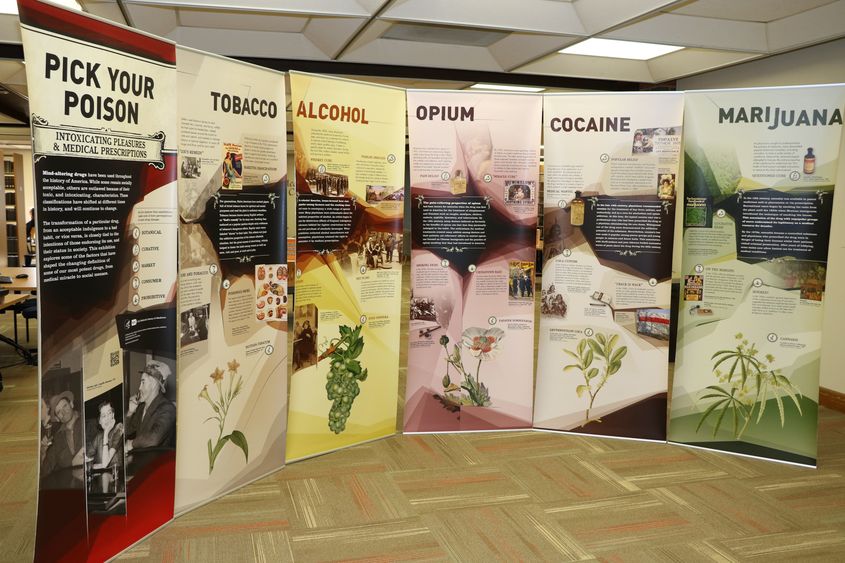 HAZLETON, Pa. — The Mary M. and Bertil E. Lofstrom Library at Penn State Hazleton will host an exhibition from the National Library of Medicine called "Pick Your Poison: Intoxicating Pleasures and Medical Prescriptions," which explores some of the processes, problems and potentials inherent in technologies that use life. The exhibition will be on display in the library from Feb. 4 to March 16. It was developed and produced by the National Library of Medicine, National Institutes of Health and the National Museum of American History.
Mind-altering drugs have been used throughout the history of America. While some remain socially acceptable, others are outlawed because of their toxic — and intoxicating — characteristics. These classifications have shifted at different times in history and will continue to change. The six-banner traveling exhibition explores the factors that have shaped the changing definitions of some of our most potent drugs, from medical miracle to social menace.
A digital gallery offering a selection of digitized, historical texts from the History of Medicine Division's diverse collections can be found as part of the online version of the exhibition. These images provide viewers with new avenues to explore beyond the exhibition. Educators will also find expanded resources online for middle school and college level classroom use.
In conjunction with the exhibition, Assistant Professor of Biology Megan Schall will give a lecture, "Investigating Everyday Poisons in our Waterways." The lecture will be held from 12:10 to 1:20 p.m. Thursday, Feb. 28, on the main floor of the library.
On a daily basis, we use a number of products. Maybe we take medicine daily for a condition, use cleaning supplies, or personal care products. Many of these products are unavoidable and a part of our daily lives. But what happens when the products we use get into the waterways around us? Studies have reported a variety of chemicals in surface water, sediment and tissues of aquatic organisms. Through personal recollection and consideration of scientific literature, Schall will scratch the surface of this complex environmental problem during the lecture and discuss some of our everyday products in the broader context of environmental health.
The lecture and exhibition are open to the public. To learn more about the exhibition, visit www.nlm.nih.gov/pickyourpoison.