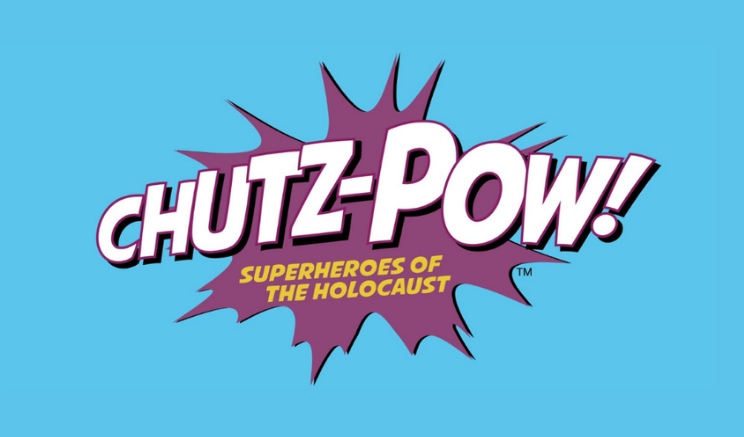 HAZLETON, Pa. — The dramatic true-life tales of courage illustrated in the comic-book "Chutz-Pow: Superheroes of the Holocaust" are proof that heroes don't need superpowers to make a difference, members of the team behind the series told Penn State Hazleton students during a recent virtual visit. 
Marcel L. Walker, project coordinator, writer and lead artist of the comic, and Lauren Bairnsfather, director of the Holocaust Center of Pittsburgh, which created and published the series, spoke about "Chutz-Pow" to students in Professor of Sociology Michael Polgar's Holocaust and Human Rights course. 
"We are grateful for the work of the Holocaust Center of Pittsburgh, including the 'Chutz-Pow' series, which emphasizes resilience and provides real-life heroes to us all," Polgar said. "As Marcel Walker noted, ink and paper can change the world by engaging popular audiences and participating in betterment and social justice." 
The anthology-style series details determination and bravery during the Holocaust, largely focusing on the theme of "upstanders," or those who stand up to or speak out against wrongdoing, Walker explained. 
"While comics of different genres have historically addressed the Holocaust, what distinguishes this series from other narratives is the use of comics as an art form, specifically its immediacy and engagement, to deliver micro-histories which in turn form a macro-history," Walker said. 
The series features four volumes to date: fact-based stories about upstanders who later relocated to the Pittsburgh area, upstanders from around the world, upstanders who were children during the Holocaust, and female upstanders.  
Some stories detail how individuals overcame adversity to survive the Holocaust while others explain how upstanders' courage helped others survive. Tying the stories together was the overarching theme that all of the upstanders were ordinary people, Bairnsfather said. 
"One hallmark of the books is that nobody has superpowers," she said. "These are true stories. This is what really happened." 
Walker and other artists spoke to many of the survivors to bring their first-hand accounts to life in the series. He credited them for opening up about their difficult experiences so "Chutz-Pow" could share its messages with audiences. 
"In telling the stories of the Holocaust we often are asking survivors to relive their traumas so we can learn from it," he said. 
Visit the Holocaust Center of Pittsburgh's website for more on "Chutz-Pow: Superheroes of the Holocaust."