Access, affordability and diversity are focus of presentation to Board of Trustees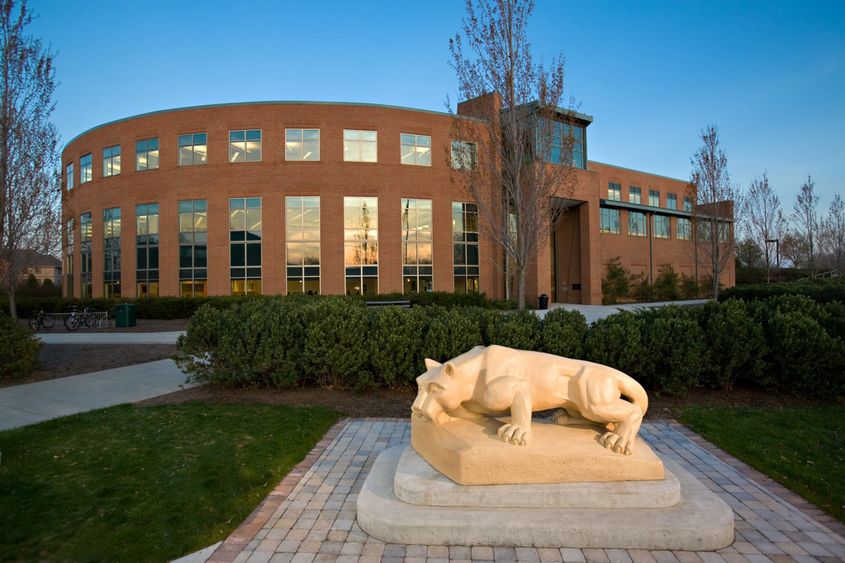 UNIVERSITY PARK, Pa. — Along with educational innovation, research and service, Penn State's 19 undergraduate Commonwealth Campuses play a vital role in making Penn State a modern land-grant university, according to University President Eric J. Barron.
Describing the University's campus structure as an "essential part of Penn State's success story," Barron discussed the valuable impact the Commonwealth Campuses have on students and communities across the state in a presentation to the Board of Trustees at its Friday (Nov. 9) meeting.
With nearly 30,000 students enrolled each year across Penn State's Commonwealth Campuses and more than 8,000 full- and part-time faculty and staff members, the campuses' share the University's mission, administrative units, student application process and governing board.
"We are one University, geographically distributed. Our integrated model promotes stability and allows every campus to be unique, while still benefiting from Penn State's global reputation," Barron said. "Most importantly, our campuses help the institution to serve the families of Pennsylvania, enabling students to access a world-class education and to live at home, work and go to school in their own local communities."
Today, more than 95 percent of Pennsylvania residents live within a 30-mile radius of a Penn State campus, while 75 percent live within 15 miles, according to Barron.
"Along with fulfilling our land-grant mission to provide an accessible and affordable education to Pennsylvania citizens, the campuses have a powerful economic impact throughout the Commonwealth, tie Penn State philanthropy and volunteerism to local communities, and support our strategic efforts and moral imperative to foster diversity and inclusion," Barron said.
At the board meeting, Barron shared key points that highlight the value of the campus structure:
Affordable access to a world-class degree
The campuses provide an avenue for Pennsylvanians, including first-generation students, non-traditional adult students and students from families of modest means to access a world-class degree, while still being close to home and able to work. Today, 37 percent of students at the campuses are the first-generation in their families to go to college, and approximately 33 percent of first-generation students at University Park started at a campus.
Integration provides stability
With steady enrollments over the years, despite shifting statewide demographics, the campuses serve rural, urban and suburban populations and enable the University to reach more Pennsylvania residents. Approximately, 82 percent of students at the campuses are from Pennsylvania, and nearly 3,600 students each year transition to University Park. This integrated structure also allows for specialization based on the needs of individual communities, such as nursing and health-related entrepreneurship at Penn State Berks given its proximity to Penn State Health St. Joseph, for example.
Pipeline for diversity
Fostering a welcoming and inclusive environment is imperative for building a diverse student body and workforce and continuing to attract the students of the future. The Commonwealth Campuses reflect the diverse populations in their communities — more than 24 percent of students at the campuses are from underrepresented groups — and help build diversity at University Park when students transition with the 2+2 plan. Today, approximately 25 percent of underrepresented students at University Park started at a Commonwealth Campus.
Economic impact to communities
Penn State ranks no. 6 among the top employers in the state, and the Commonwealth Campuses serve as cultural and economic centers within their communities. The number of Invent Penn State innovation hubs across the state has grown to 21, as students, faculty, staff and community members engage in entrepreneurial activities, including 1,529 students from the campuses. In total, 39 new Pennsylvania companies, 72 products and 89 jobs have stemmed from entrepreneurial activity at the campuses. Since 2015, these hubs have attracted nearly $5 million in external matched and leveraged funds.
Philanthropy tied to campuses
Individuals and businesses are connected to Penn State through the campuses, promoting philanthropy and volunteerism within local communities. In total, gift commitments to "A Greater Penn State" philanthropic campaign for the campuses have reached $128 million, and the number of endowments has grown 52 percent over the past 10 years.
During his remarks to the board, Barron said there are "hundreds upon hundreds" of examples of individuals who have demonstrated their commitment through charitable giving. He highlighted top donors with ties to the campuses, including Steve Taub, a Penn State alumnus, who continued his longtime support for Penn State Abington with a $17.3 million commitment, the largest gift in the campus' history.
"The strength of our institution can be measured by a host of factors — from our talent and expertise, to entrepreneurial and economic impact, to research innovation — and the campuses remain a vital component of this success," Barron said. "We needto continue to build our investment in the campuses and our students, faculty and staff located across the state to advance Penn State's land-grant mission to serve Pennsylvania families and communities."
To take a look at President Barron's full presentation, visit https://www.psu.edu/ur/newsdocuments/presidents_report_nov_2018.pdf.