Classes will transition to their regularly scheduled mode beginning Feb. 15 following remote period; students must complete COVID-19 testing if returning to campus community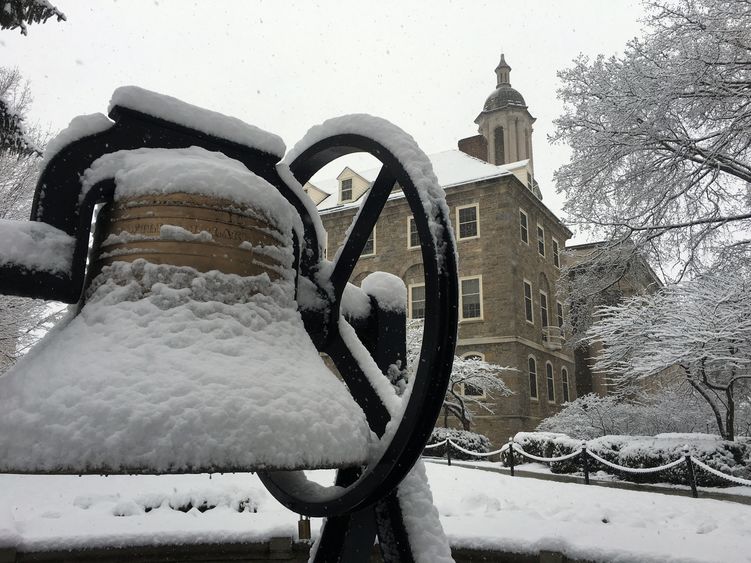 Penn State has decided to delay the start of in-person classes and transition to a fully remote learning environment for the beginning of the spring 2021 semester at all campus locations. This decision was made following extensive analysis and scenario planning given worsening virus conditions nationally and across the state indicating predictions of rising hospitalization rates in the coming weeks.
To provide an uninterrupted educational experience for students, all classes will be delivered remotely beginning on Jan. 19 and will continue remotely through Feb. 12. At this time, classes will transition to their regularly scheduled mode and resume across all campus locations on Feb. 15, though this date could change based on health and safety factors and guidance from the state. As currently scheduled, the 15-week semester will end on April 30, with finals week following from May 3-7.
"While we know this creates a number of challenges for our community, we are very concerned with the current outlook across the country and the commonwealth and believe this is the most responsible way to begin our semester. Shifting to a remote start has been a scenario we have been preparing for by building flexibility into every level of our operations in order to prioritize our students' academic achievement," said Penn State President Eric J. Barron. "Right now, prevalence rates and hospitalizations are moving in the wrong direction. We hope that will change, as we recognize the critical importance of a return to on-campus learning and to being able to offer in-person experiences that are not currently possible. We are committed to bringing our students back to our campuses, and in accordance with state and federal guidance."
Following continuous monitoring of national, state and local COVID-19 trends, the decision to shift to a remote start for beginning of the semester was made by Penn State leadership, in consultation with state health officials; faculty experts in epidemiology, infectious disease, medicine and public health; and the Board of Trustees. Delaying the return to campus of students during a nationwide resurgence of cases will help protect both the health and safety of the Penn State and local communities. This delay will allow many front-line healthcare workers to receive a COVID-19 vaccine and help protect these personnel both on and off our campuses.
This decision is also in alignment with the recent health and safety recommendations for higher education institutions from Pennsylvania's departments of Health and Education.
Students are strongly discouraged from returning to campus, off-campus locations, and group dwellings (e.g., apartments and fraternities) during the four weeks of the remote period. However, the University recognizes many students live off campus in the communities surrounding Penn State campuses and must return for work-related reasons and other important circumstances. Off-campus students who are returning to their campus community before Feb. 15 are required to be tested before their arrival. In addition, students in select professional programs will return to their campuses for in-person academic programs. These students will be contacted by their academic leaders, and also will be required to participate in COVID-19 testing prior to their return to their campus.
Learn more about steps all students who must return to a campus community before Feb. 15 need to take to lower the risk of bringing new COVID-19 cases into our communities.
The University will remain open for faculty and staff during the remote learning period, however employees who are currently teleworking should continue to do so, unless directed by their supervisor to return to on-campus work. During the remote learning period, the University asks all to be creative and work to reschedule or offer events virtually through Feb. 12, including student-sponsored meetings and activities.
Penn State's COVID-19 detection and management measures for the spring will be shared early in the new year. The University's plan does include an augmented testing strategy with required testing for all students prior to their arrival, post-arrival testing within the first two weeks of the semester for all students, on-demand testing for students and on-campus employees, random daily surveillance testing of at least 1.5-2% of the on-campus University population, strategic screening, data monitoring, contact tracing, and quarantine and isolation. In addition, Penn State has received provisionary approval for Clinical Laboratory Improvement Amendments (CLIA) certification to perform COVID-19 diagnostic testing in the Testing and Surveillance Center (TASC) at University Park beginning this spring, which at the appropriate time, will support increased testing and a faster turnaround time for students, faculty and staff.
The following information provides a high-level overview so students, faculty and staff can begin to adjust their start-of-semester plans.
Remote learning and support for students
"Our commitment to our students has not waivered and we are here to support you and ready to deliver the same high-quality education to enable you to move forward with your academic, personal and career goals," Barron said. "We know this continues to be a stressful and difficult time for many, and we encourage all students to reach out if you need support and to access the variety of academic, engagement, wellness and other offerings available through our University."
To help students meet their educational goals and continue their progress toward their degrees during the remote learning period, students will access their courses through flexible instructional modes, including remote synchronous and remote asynchronous instruction. These flexible modes provide opportunities to engage with peers, learn from the same faculty, and experience the same academic curriculum.
As students prepare for the remote learning period, there are a variety of Penn State resources available to offer guidance and support. The Keep Learning website offers a starting place for those who have questions or need more information about how to access services on topics ranging from academics and tutoring, engagement, technology support, disability services and more. In addition, there are a variety of virtual wellness, mental health and other support resources available to students at all Penn State campus locations, including YOU@PSU, WellTrack, virtual fitness programming and more.
Remote teaching
In preparation for spring, faculty and instructors have already prepared remote teaching plans for their courses in the event of a shift to remote learning. Leading up to January, faculty and instructors should continue to refine their course plans and syllabi for remote teaching and make adjustments as appropriate to transition any in-person activities and requirements to later in the semester.
Instructors are reminded of the following teaching and support resources:
Guidance for employees
Employees who are currently teleworking should continue to do so during the remote learning period, unless notified by their supervisor. In addition, supervisors will work with their staff to accommodate telecommuting for staff members whose responsibilities can be accomplished outside of a University office and/or traditional work schedule. Employees should talk to their supervisor and unit HR to discuss their telecommuting options.
On-campus research-related activities will continue to operate according to their established safety procedures.
Employees are reminded of the following resources and support options:
COVID testing during the remote learning period
Penn State will continue to offer COVID testing for students living on- and off-campus in campus communities during the remote learning period, as well as for employees working on campus who appear in the Return-to-Work database. Specific information about testing hours and locations at each campus will be shared with students, faculty and staff in January.
Housing during the remote period
The following provides housing information for on- and off-campus students:
Residence halls and campus dining facilities will not be reopened for normal operation during the remote-learning period (beyond the facilities that are already in use). Students who live on campus should not come back to campus to collect belongs during the remote period. For students who need to retrieve essential belongings, arrangements for temporary access may be able to be made depending on circumstances, please contact their campus Housing office.
Students remaining on campus during winter break: For students, including international students who are living on campus through the winter break, the University will work with you on an individual basis to make special visit or housing arrangements if needed through the remote learning period. Students should contact their campus Housing office.
Students who need housing during the remote period: Students, including international students, who cannot make alternative housing arrangements and must return to campus during the remote learning period due to extenuating and/or compelling circumstances, the University will work with you on an individual basis to make special visit or housing arrangements. Students should contact their campus Housing office.
In the coming weeks, planning for the return to campus will continue to move forward and additional details about Penn State's plans for the spring will be forthcoming. Updates will be shared on Penn State News and Penn State's Virus Information website. Individuals also can call the COVID-19 Response Center at 814-865-2121 for specific questions.