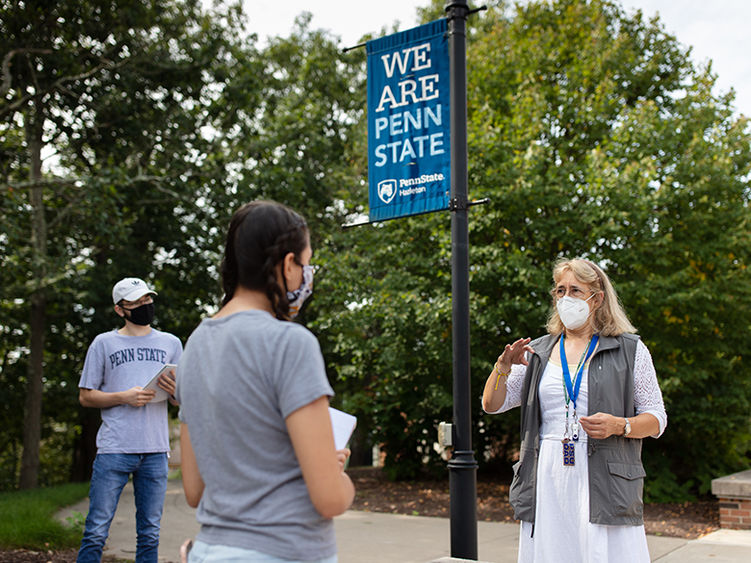 HAZLETON, Pa. – The Office of Admissions and Financial Aid at Penn State Hazleton is offering several major virtual events in November while also resuming in-person campus visits under careful requirements that prioritize the safety of our visitors and our campus community.
The next noteworthy virtual event for the Hazleton campus is our Open House at 10 a.m. Sunday, Nov. 15. These are the largest events hosted by the admissions team, giving prospective students and their families the opportunity to discover every aspect of Penn State and chat directly with current students and faculty.
Virtual one-on-one visits, meanwhile, will continue as a preferred option for families. These appointments are ideal for students who are looking to speak directly with an admission counselor in a more personalized setting.
Additionally, starting in November, prospective students and their families will once again have the option to visit campus in person.
To safeguard guests and our campus community, the visits will primarily be outside of buildings and will not include the inside of our Residence Halls or our Dining Hall. Groups will include no more than four people.
Visitors are required to register in advance and must follow COVID-19 rules and recommendations from the CDC, the state, and the University, including maintaining social distancing and wearing masks indoors and outdoors.
Furthermore, anyone who has traveled to a high-risk state or county within the past 14 days will not be able to schedule an on-campus visit until at least 14 days since their travel ended.
The return of in-person visits bolsters a robust offering of admission experiences designed to meet the needs of prospective students and their families, said Director of Enrollment Management Allen Koehler.
"I have been thrilled with our virtual events this entire year and the feedback we are receiving from families has been fantastic," Koehler said. "I'm proud of our team in this space. I'm also excited to start welcoming families for individual appointments as part of our variety of visit options we can provide to students. All of our visit and event options speak to the power of Penn State and the personalized attention we provide on the Hazleton campus."
In addition to virtual and in-person campus visits, several other virtual events are planned for November:
Application and Financial Aid Workshop
Thursday, Nov. 12 at 4 p.m.
Let a member of our Admission team help you apply to Penn State. We'll walk you through the application, waive your application fee, then help you submit your application that night! An optional portion of the event will feature information about FAFSA. You will need a registered FSA ID and your 2019-2020 tax information to participate in that part of the workshop.
Wednesday, Nov. 18 at 6 p.m.
This virtual visit with Penn State Hazleton allows prospective transfer students to learn information about the admissions process, transferring credits, academic programs, financial aid and more! We can also walk you through a transcript evaluation and get you connected with faculty in your area of interest. We're committed to making the transfer process as easy as possible!
Monday, Nov. 30 at 2 p.m.
Interested in finding out more about Penn State but not sure where to start? Tune in for our Virtual November Overview! Chat with admission staff about Penn State's 275+ majors and unique campus system, including how you can begin your journey at Penn State Hazleton as part of the 2+2 program or spend all four years here. Learn about the financial aid process and ask current students what it's like to be a Penn Stater.
Students who are considering transferring to Penn State Hazleton can also sign up for a one-on-one virtual appointments on Transfer Thursdays. Every Thursday at noon and 6 p.m., a transfer counselor is available to provide a transcript evaluation and explain the specific requirements for transferring into any academic program.
For more information on visiting Penn State Hazleton, contact the Admission Office at [email protected] or at 570-450-3142.