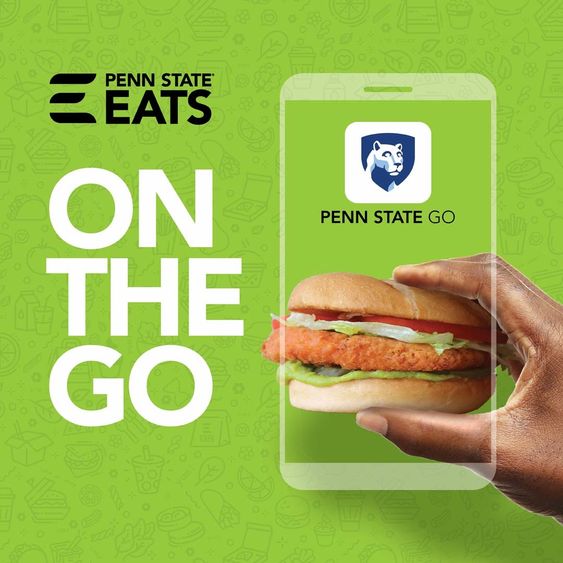 The wait is over! Penn State Eats, the online food and drink app is now available through the Penn State Go app. Skip the lines and order all your favorites.
Last week, Penn State's Food Services launched Penn State Eats mobile ordering. The new mobile ordering system, integrated through the recently launched Penn State Go app, under the Dining tab. The new mobile ordering app allows students, faculty, staff, and guests the option to order food from their mobile devices, providing them with a cashless and contactless food service experience.
Mobile ordering is currently available at 35 food service locations across the University. At University Park, mobile ordering is currently available at 20 food service locations across five residential areas, including North, South, East, West, and Pollock Commons. Additionally, mobile ordering is available at the HUB-Robeson Center's Starbucks, McAlister's Deli, and Sbarro, and the Starbucks in Paterno Library. There are 15 additional locations at nine of the Commonwealth Campus , including Altoona, Beaver, Berks, Behrend, Brandywine, Greater Allegheny, Hazleton, Harrisburg, and Mont Alto.
Mobile ordering is available for breakfast, lunch, dinner and even late-night snacks. Several locations are open until 11 p.m. for those late-night study breaks. Some of the convenient stores are open until midnight, offering convenient pick-up and go with mobile ordering.
When placing orders, users have the option to pick up their orders at the first available time slot, usually within 10 minutes, or they can select a later time frame to pick up their order and pay with their campus meal plan, Lion Cash, or credit card. Orders are available for pick up at designated locations so there is no waiting in line.
Single sign-on through the app allows users fast and easy setup and continuous use without always having to sign in each time. Your order history allows users to easily reorder their favorite items without having to input all of the details each time. It also helps to keep track of their spending habits and meal plan budgeting throughout the semester. And, there are no added transaction fees to worry about.
In September of 2018, members of the University Park of Undergraduate Association (UPUA) met with Housing and Food Services to discuss the initiative of mobile order-ahead dining at Penn State. Soon after, a committee and project work teams were formed, along with members from Housing and Food Services, HFS Purchasing, UPUA, and the Association of Residence Hall Students (ARHS).
Before anyone ever heard of COVID-19, mobile ordering was something customers were anticipating. The mobile ordering team devised a soft launch at University Park in Findlay Commons. East Halls houses the largest student population on campus, primarily first-year students. Instead, mobile ordering was launched in 35 locations across ten residential campuses to exceed safety measures for the fall 2020 semester.
Mobile ordering will continue to expand to include other locations and offer more diverse menu options throughout the academic year. Students attending classes in the Bryce Jordan Center will soon be able to enjoy mobile ordering at the Penn State Bakery kiosk and the Roaring Grill, located inside Gate A. Scan 'n' Go shopping options at the convenience stores will also be offered in the coming weeks, providing our students with the cashless and contactless options they expect.