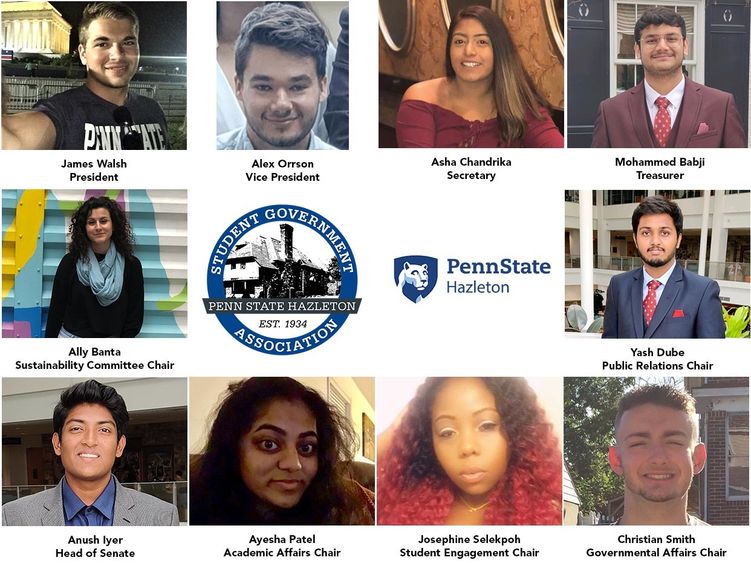 HAZLETON, Pa. — When the 2020-21 Penn State Hazleton Student Government Association (SGA) convenes in the fall, it will be with a slate of new ideas backed by one of its largest groups of returning students in some time.
Nearly two dozen returning students have already committed to the SGA, an unusual amount considering the start of the semester is still weeks away, said SGA co-adviser and Student Engagement Coordinator Rob Knight.
"This is a testament to the past success of the association, its newly elected leadership and the campus's support of its initiatives," Knight said.
While everyone in the SGA may already know their way around campus, most are new to student government.
In addition to several senators serving for the first time, newly elected President James Walsh and Vice President Alex Orrson are the only officers/chairs returning to the association, meaning there will be eight new student leaders on campus.
Walsh is looking forward to the fresh viewpoints.
"It is always good to have some turnover, as now we have eight brand new perspectives and brains to think of ideas," he said.
One of those first-timers will not only be advocating for Penn State Hazleton students in the 2020-21 academic year, but for students across all University College campuses.
Head of Senate Anush Iyer will also serve as a student representative to the University Faculty Senate (UFS).
Iyer, a junior information sciences and technology major, and Penn State Scranton student Emily Scarfo were elected to two open seats on the UFS, beating out five other students from University College campuses during an online voting period.
Iyer will represent students during Faculty Senate meetings at University Park.
Director of Student Services and Engagement Tracy Garnick said the opportunity is just one of many ways those who get involved in student government can gain valuable leadership skills.
"Being a member of student government affords students at Hazleton the opportunity to meet with upper level administrators, such as President Eric Barron, to represent and advocate for their peers in substantial ways," Garnick said. "These experiences help to lead students to success as members of our Penn State and global communities."
Once the semester begins, Walsh expects even more students will take an interest in student government. After all, that's how he got involved.
Walsh, a sophomore majoring in psychology, was introduced to SGA during Welcome Weekend in 2019.
At first, Walsh joined because he was a freshman looking to make friends, but his interest grew as he began to see all that the association accomplished, he recalled.
"Instead of simply being a part of SGA as a way to become involved on campus, I saw that SGA had a real voice in improving our campus," Walsh said.
Improving campus is the focus of several goals SGA has already set for the coming year, he added.
Walsh said he and his fellow officers plan to push for improvements to commuter life, sustainability and the way SGA operates.
A commuter himself, Walsh hopes to establish a carpool for students who can't get to campus on their own, add a kitchen where commuter students can cook food they brought from home, and form a commuter student association which will further advocate for the needs of commuter students.
Improving sustainability means advocating for greater waste reduction in dining areas and seeking more funding to tackle other sustainability initiatives, Walsh said, noting that Vice President Alex Orrson spent the last few semesters as the SGA sustainability chair.
"He did a lot of great things," Walsh said. "He'll take the lead on most of the sustainability initiatives and I know he'll make sure they turn out well."
Penn State Hazleton's 2020-21 Student Government Association:
President: James Walsh
Vice President: Alex Orrson
Head of Senate: Anush Iyer
Secretary: Asha Chandrika
Treasurer: Mohammed Babji
Sustainability Chair: Ally Banta
Academic Affairs Chair: Ayesha Patel
Public Relations Chair: Yash Dube 
Governmental Affairs Chair: Christian Smith
Student Engagement/Student Life Chair: Josephine Selekpoh (JoJo)
Senators:
Jocelyn Hafer
Mayesha Molla 
Meliah Kennedy 
Bennitta Bruce
Shawn Lindsey 
Shloka Shinde
Star Rotzell
Wei Chen
Lorin Khuseyn
Joan Vasquez