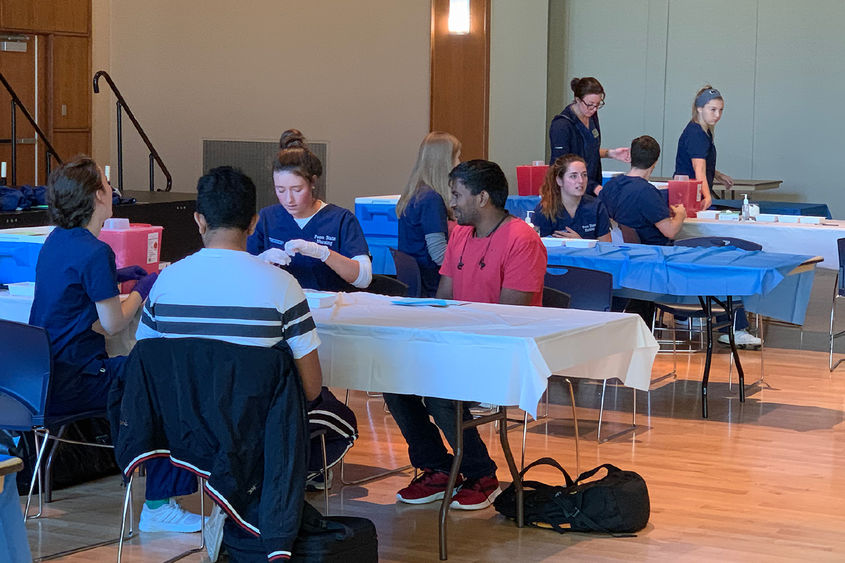 UNIVERSITY PARK, Pa. — Under normal circumstances, the dedicated nurses who work at Penn State's Commonwealth Campuses already provide essential resources and guidance to the students in their care. Now, during the pandemic, they're working together to find ways to continue to serve their communities.
"There are times when [we are] like another mother to some of our students," said Andrea Mull, associate director of student health at Penn State Harrisburg. "The traditional college-aged population is shifting from pediatric [health care] to adulthood, and we are here to help with that transition by helping them learn about themselves, showing how to navigate some circumstances on their own, and occasionally holding their hand or giving them a hug – with permission, of course."
"[Penn State's] commonwealth nurses have a positive impact on students, not just through health education and services, but also through their overall well-being and growth as adults," Mull added.
Jennifer Laregina, a nurse at Penn State Hazleton, echoed Mull's views on how the commonwealth nurses fill a type of alternate parent or guardian role.
"Most of our clients, though they are considered adults, have never seen a health insurance card, made a call to schedule a doctor's visit, or even attended a medical visit on their own," she said. "We also have to help students in instances where, for example, they have to seek care off-campus due to severity of illness. We are their resource for community information, or even help with transportation in some cases where high-end care is needed."
Continuing to find creative ways to serve students and University community members during the remote instruction and social distancing necessitated by the coronavirus pandemic has required both creative thinking and innovation. Since many of the commonwealth nurses are the lone source of health care services on their campus, they rely on their peers spread across Pennsylvania for collaboration and support in their creative, innovative endeavors.
Mull explains that while the distance separating the nurses and the differences in their respective campuses can create challenges, they find ways to overcome and help each other.
"We are always sharing thoughts through our listserv about programming and other ideas regarding our positions," she said. "Our annual nurse's meeting typically brings us together in May, although that wasn't possible this year."
While their annual in-person meeting was called off in the wake of COVID-19, Mull says it hasn't diminished the group's collaboration.
"The pandemic has really brought us closer together," she said. "I typically speak to at least one other commonwealth nurse two-to-three times per week, whether for personal or professional reasons. After this is all over, I think we may want to get together more than once a year, which would be great for added support."
Although each Commonwealth Campus is home to a unique student population with their own unique needs, Penn State nurses said that their initial reactions to Penn State's decision to transition to remote instruction was the same across every campus – a focus on how to best serve their students during this challenging time. Laregina spoke of relief that students wouldn't have to decide to risk their safety by attending class in person. Mull's concern was how students' mental health would fare given the stress and challenges of the situation.
Meanwhile, nurse Michele Scott of Penn State Abington was dealt a particularly unique hand. Penn State Abington was one of three campuses that was closed by order of Gov. Tom Wolf as part the state's coronavirus response.
"I packed essentials and made a miniature nurse office at our Lions Gate residence hall," Scott said. "The conference room there became my office, and I was there daily for two weeks."
Scott noted that the virtual learning format removed about 88% of her campus's residential students. However, she still works from her makeshift office on Mondays and Fridays, and then works from home the remaining days of the week – all so that the Abington students who remain still have access to the health care they need.
Laregina and Scott echo Mull's point that working through the pandemic's challenges has deepened collaboration and community spirit among the commonwealth nurses. Laregina's comments, in particular, showcase the entire group's dedication to their respective campuses.
"All the nurses made staying connected to students during this pandemic a priority, despite the physical distance," she said. "Even though we can't provide hands-on nursing services, it was, and is, pertinent to continue building relationships and support students' long-term health and wellness."
Perhaps unsurprisingly, Penn State's commonwealth nurses can identify several positive takeaways they'll apply to their work when the pandemic loosens its grip on the world. Among the highlights are a heightened awareness of their colleague's needs, broader knowledge of resources, willingness to creatively solve problems, and general preparedness to deal with unexpected issues.
"Most of the campuses transitioned to telehealth and showed that we were able to adapt to the changing circumstances and the students' needs," said Mull. "Nursing at Penn State's Commonwealth Campuses has always been unique, and because of this pandemic, our centers will be more prepared and better equipped to serve our students."
This year, the worldwide nursing community is celebrating the 200th birthday of the "Mother of Nursing," Florence Nightingale. During the Crimean War, it was Nightingale's efforts to organize and provide care for wounded soldiers that paved the way for modern nursing as we know it.
At Penn State, Valerie Fulton (a nurse herself) is an infectious disease manager and the liaison to the commonwealth nurses. Through their work, she sees Nightingale's example brought to life each day.
"I love the family feel that I get from the commonwealth nurses," she said. "Their kind and caring nature shows in everything they do from the programs they organize for students to assisting them in times of need. I also think they've played a crucial role in this pandemic. The students know the nurses are there for them and give them someone to reach out to for help in this crisis."
"We Are" stories
The "We Are" spirit is perhaps more important than ever before, and Penn Staters everywhere are coming together in new and amazing ways. During these challenging times, our community is continuing to realize Penn State's commitment to excellence through acts of collaboration, thoughtfulness and kindness. As President Eric Barron has written on Digging Deeper, this truly is a "We Are" moment — and we want to hear your "We Are" stories.
Visit news.psu.edu/WeAre to share how you or other Penn Staters are supporting each other to overcome the collective challenges presented by COVID-19. We are!