Oct. 27 lecture by faculty biologist Carl Frankel complements exhibit theme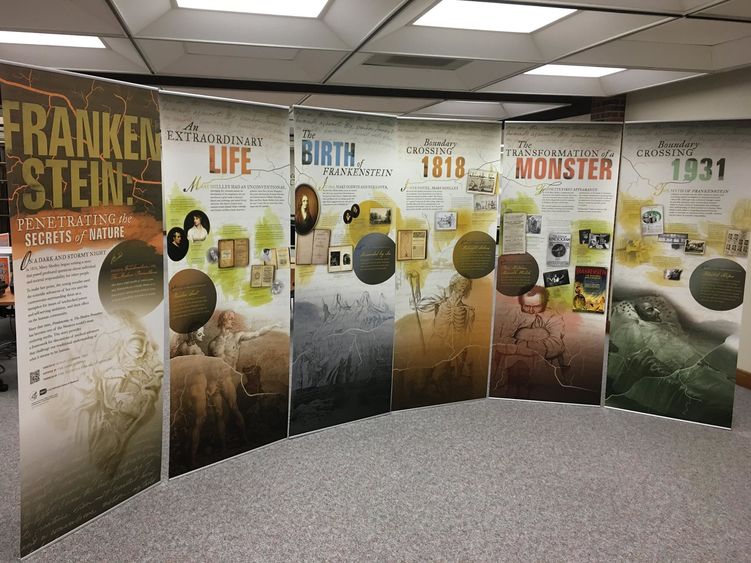 HAZLETON, Pa. — A writing competition and troubling dream inspired Mary Shelley to write "Frankenstein," a story that endures 200 years later as both a Western myth and a framework for discussions of medical advances. On display through Friday, Dec. 2, at Penn State Hazleton Library, the traveling exhibit "Frankenstein: Penetrating the Secrets of Nature," explores the birth of Frankenstein, the life of author Mary Shelley, the scientific search for the principle of life, and the transformation of the "monster" in popular culture.
The exhibit, which is free and available to the public during the library's operating hours, was developed and produced by the National Library of Medicine, National Institutes of Health, and curated by Susan Lederer, Robert Turell Professor of Medical History and Bioethics and department chair at the University of Wisconsin.
The six-panel exhibit features elements of Shelley's novel interwoven with related illustrations and graphics. In conjunction with the exhibit, Carl Frankel, assistant professor of biology at Penn State Hazleton, will speak on the "Understanding of What Life Is" from noon to 1 p.m. on Thursday, Oct. 27, in the Hazleton Library.
For more information or to inquire about accommodations or physical access, contact head librarian Valerie Lynn at 570-450-3172 or [email protected].