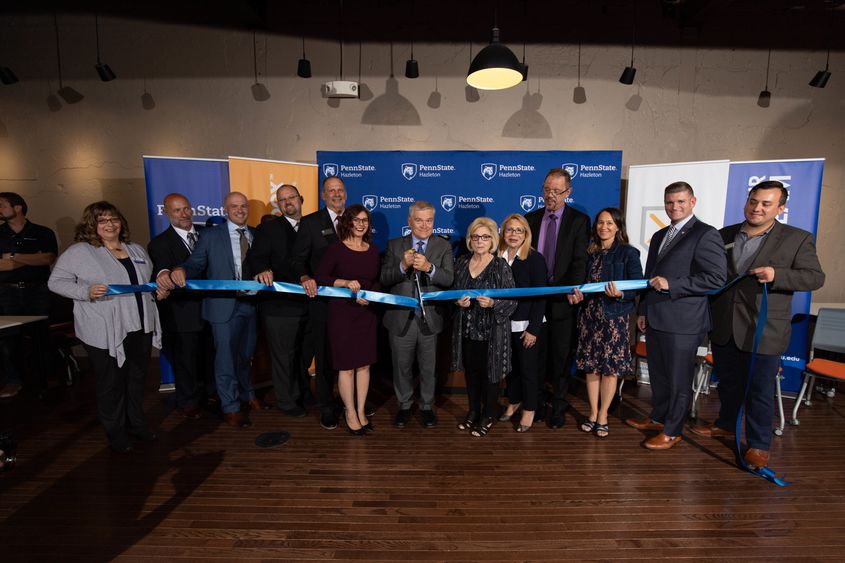 HAZLETON, Pa. — On Sept. 18, Penn State President Eric J. Barron and Penn State Hazleton Chancellor Gary M. Lawler were joined by community partners, Penn State administrators and local leaders for a ribbon-cutting ceremony to celebrate the opening of the Hazleton LaunchBox supported by Pasco L. Schiavo, Esq., one of 21 innovation hubs across the commonwealth that are part of the Invent Penn State initiative.
Located at 13 W. Broad St. in Hazleton, the Hazleton LaunchBox, scheduled to open shortly, is a no-cost startup accelerator and co-working space designed to provide early-stage startup companies with the support and resources needed to build a sustainable business and a viable plan for growth. It is open to community members and those affiliated with Penn State. The Hazleton LaunchBox is named after the late attorney Pasco L. Schiavo, a longtime philanthropist for Penn State Hazleton and the surrounding community who passed away Dec. 29, 2018. The naming recognizes Schiavo's stature in the region and a $1 million gift from his estate to the campus.
Barron spoke during the dedication along with Lawler and state Sen. John Yudichak; Downtown Hazleton Alliance for Progress (DHAP) Executive Director Krista Schneider; CAN BE Coordinator of Entrepreneurial Services Jocelyn Sterenchock; and Neal DeAngelo III, president of Tri-Mountain Ventures LLC and president of the DHAP board of directors.
"Today Penn State has 21 innovation hubs across Pennsylvania, including the one we are dedicating today," said Barron. "Like each of our innovation hubs, this one is unique, shaped by the distinctive needs of the campus and surrounding community. It reflects a strong town-gown relationship, and a common mission: to inspire and advance innovation and entrepreneurship, and to help transform great ideas into viable products and business opportunities."
Barron said Invent Penn State is having a significant impact as reported during its first two years of activity in 2016-18, with only some of the innovation hubs open for the full year. Some results include engaging more than 5,000 faculty, staff and students in entrepreneurial activity; supporting 2,000 community entrepreneurs; and developing 325 new products and startups. Notably, the innovation hubs have led to the creation of 45 companies, supporting nearly 500 student internships and jobs.
"With the opening of the Hazleton LaunchBox and the continuing projects in the Arts & Innovation District in downtown Hazleton, we are well on our way to seeing a revitalized downtown area — and the future is very exciting," said Lawler. "We are very honored to be part of this community collaboration, which is anticipated to impact the entire business community and economic development."
Additional support for the Hazleton LaunchBox has been received from area businesses and organizations and from grants. Community collaborators include the Downtown Hazleton Alliance for Progress, CAN DO, CAN BE, the Greater Hazleton Chamber of Commerce, the Society of Hispanic Business Professionals, and other organizations engaged in the Hazleton Innovation Collaborative. Additional partners are the Small Business Development Center at Wilkes University, Ben Franklin Technology Partners of Northeastern Pennsylvania, tecBridge, Muzo, Luzerne County Community College, Lackawanna College, and the Hazleton Art League.
Funding partners include the Pennsylvania Department of Community and Economic Development (Keystone Communities Program and Neighborhood Assistance Program), Commonwealth Financing Authority (Luzerne Local Share Account), Wells Fargo, Mid Penn Bank, DHD Realty Inc., PPL, FNCB Bank, Luzerne Bank, Community Bank N.A., Landmark Community Bank, First National Bank, and Woodforest National Bank.
LaunchBox is a signature program of the Invent Penn State Initiative, a commonwealth-wide system to spur economic development, job creation, and student career success. It is a $30 million initiative to generate economic development, create jobs and drive student career success. The initiative, launched by Barron in 2015, redefines the University's land-grant mission to include entrepreneurship and innovation programs, including the development of "innovation hubs" in Penn State Commonwealth Campus communities across the state.
Invent Penn State blends entrepreneurship-focused academic programs, business startup training and incubation, funding for commercialization, and University-community collaborations to facilitate the process of turning ideas into viable products and services.