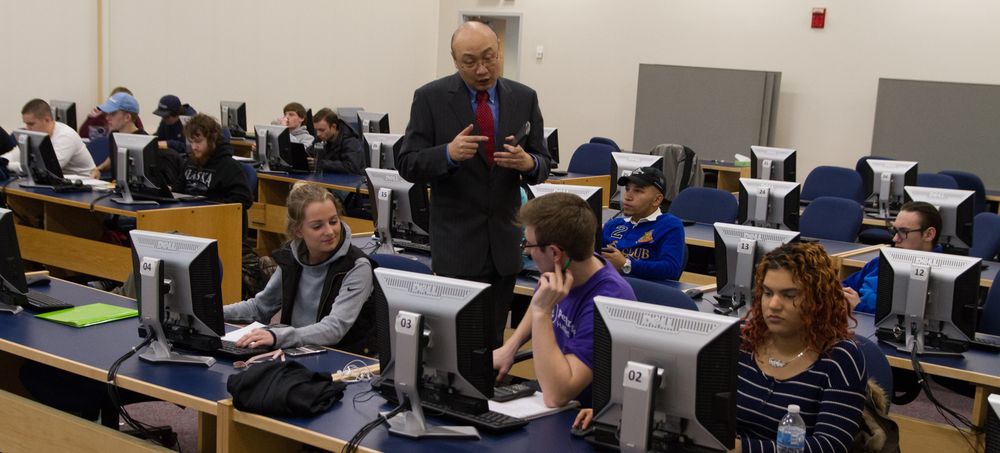 HAZLETON, Pa. — Penn State Hazleton will offer a bachelor of science degree in project and supply chain management beginning in fall 2018, Chancellor Gary Lawler announced.
The degree will be offered as part of a consortium with the Schuylkill, Scranton and Wilkes-Barre campuses. The first students will be accepted into the program for a fall 2018 start, and a full complement of upper-level classes will be offered beginning in fall 2019.
"We are looking forward to welcoming the first students to our newest program. Interest in our baccalaureate degree in business is already high and the addition of a program focusing on business logistics was a natural next step. This will provide additional opportunities for current and future students," Lawler said.
The project and supply chain management major has been designed to develop knowledge, skills and abilities in both project and supply chain management for both current and future opportunities in the business world. Project management skills include developing new projects in addition to coordinating procurement and project delivery systems. Supply chain management emphasizes the integration of manufacturing and service operations, logistics, purchasing and distribution in order to enable organizations to develop value-creating supply chain networks. Students will receive the supply chain management certification with SAP and be prepared to obtain project management certifications offered by the project management institute. SAP is the most popular ERP (enterprise resource planning) system used by companies around the world.
The major provides students with an opportunity to acquire the quantitative and personal skills necessary to design and to operate today's complex management systems. Students learn how to manage critical components in organizational supply chains, and to apply business analytic methods for organizing and integrating supply chain practices throughout the organization.
Director of Academic Affairs Elizabeth Wright said, "The new degree will be of particular value locally and was devised to meet the needs of employers in northeastern Pennsylvania, which is home to numerous distribution centers and related businesses along a network of interstates that provide access to much of the country. Its interdisciplinary nature lends itself to a variety of careers prevalent in our region and beyond."
According to the National Bureau of Labor Statistics, jobs in project and supply chain management are projected to increase by 5 percent in Pennsylvania and 2 percent nationally through 2024. Career opportunities for graduates with the degree are found in fields such as transportation and logistics, purchasing and supply management, operations management, inventory management and control, demand and supply chain planning, and project management in jobs such as managers, business analysts, production managers, procurement managers, distribution center managers, or managers in logistics and transportation firms.
The program will be coordinated at Penn State Hazleton by Zugang "Leo" Liu, associate professor of business. In addition to leading the program, he will teach courses and mentor new faculty members.
"The fields of project and supply chain management are growing very fast, particularly in northeastern Pennsylvania. In modern corporations, more than half of the activities are project based, so project management skills are very valuable for business professionals," Liu said. "Supply chain management is another critical field in business, which includes activities such as procurement, production, logistics and transportation, and inventory management. Professionals with project and supply chain management skills are in high demand. Students who graduate from our program will help companies in northeastern Pennsylvania grow their businesses. We will also maintain strong connections with companies in this region so that both our program and the companies can benefit from collaborations at different levels."
Since 2007, the Hazleton, Schuylkill, Scranton and Wilkes-Barre campuses have worked together to offer three baccalaureate degrees collaboratively: the bachelor of science in business, bachelor of science in information science and technology (IST) and bachelor of arts in corporate communication.