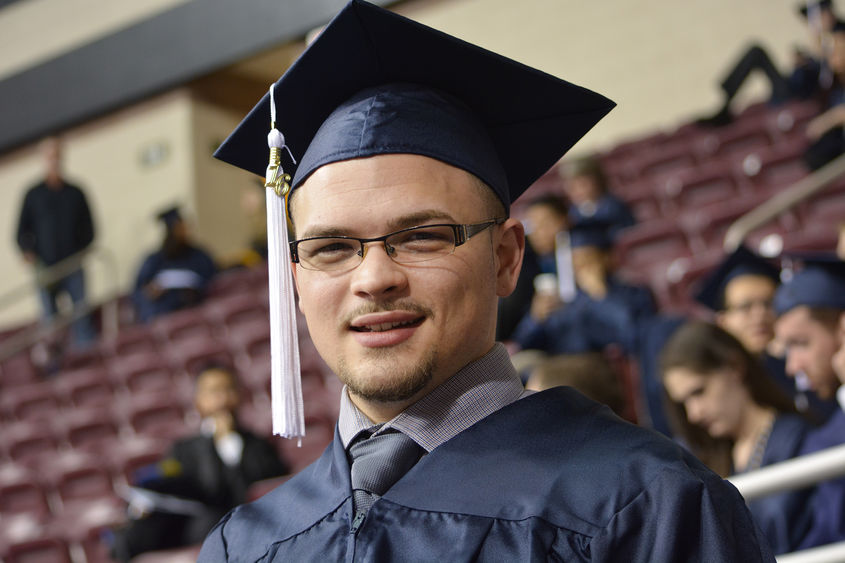 MIDDLETOWN, Pa. — Marc Anthony Merino Jr. was one of more than 250 students to receive his degree at Penn State Harrisburg's fall 2016 commencement ceremony on Saturday, Dec. 17. He received a bachelor of science in criminal justice from the School of Public Affairs, with a minor in psychological science. It was a moment of triumph for Merino; it was also a moment that almost didn't happen.
On March 26, 2010, he was in a car accident where he almost died on the scene. His injuries were severe — he broke all his ribs, fractured vertebrae in his back, ruptured his spleen, loss seven pints of blood, punctured his left lung with a rib, and received a huge laceration on the side of his head, along with smaller ones on his head and body.
Merino was revived and air lifted from Eckley Miners' Village, Pennsylvania, a small mining town in the Poconos outside of Hazleton, to Lehigh Valley Hospital in Allentown, where he was immediately rushed to surgery due to swelling in his brain. His parents and grandparents were told that it would be a miracle if he survived his injuries past the first 72 hours.
Merino went into a coma due to the trauma of the accident. He woke a month later. His parents were told that he would never be the same and that brain injuries affect everyone differently, but to expect the worst.
After leaving Lehigh Valley Hospital, he went to John Heinz Inpatient Rehabilitation Services in Wilkes-Barre. Following two weeks of intense physical, occupational, and speech therapy, he was released to his home, but had to still go to outpatient therapy four days a week.
He finished his junior year of high school from home and was determined to graduate on time. He returned to school at the start of his senior year. During that year, he was awarded the Honorary Deputy United States Marshals award from the United States Marshals Service to honor his dedication to law enforcement.
"Through my determination, ambition, and support of my love ones, I graduated on time with first honors and my high school diploma," Merino said.
It was now time for Merino to begin considering college. He had heard that Penn State had an excellent criminal justice program, so he applied there first and was accepted at Penn State Wilkes-Barre, where he majored in administration of justice.
After his first semester, however, he was struck with the side effects of a fresh brain injury and had to leave his studies for medical reasons. He transferred to Penn State Hazleton the following semester so that he could live at home again. After another year there he took a year off to work and save money to help pay for a move to Penn State Harrisburg.
Within the first couple months of moving to the Harrisburg area, tragedy struck Merino again when his mentor and role model, his grandfather, passed away due to complications of Alzheimer's disease.
"After a long struggle with bouts of depression and anger, I came back with a stronger fire inside to graduate and make something of myself for my grandfather and my family," Merino said.
Merino returned to Penn State Harrisburg in fall 2015. He was working full time, as well as taking five classes with an independent study for two consecutive semesters. He made dean's list for the first time that semester and again the following semester. While doing this for two semesters he also was elected to two terms as president of the Criminal Justice Club, at the time known as Phi Sigma Upsilon.
With the help Jennifer Smith, lecturer in criminal justice, as well as other faculty and staff in the School of Public Affairs, he and the other members revitalized the club, which now boasts more than 20 members.
Merino also recently presented at the Northeast Conference on Public Administration on research that Jennifer Gibbs, assistant professor of criminal justice, he, and fellow students worked on for the past year and a half.
He was also a nominee for the Eric A. and Josephine S. Walker Award during the spring 2016 semester. Merino is now applying to federal agencies in hopes of becoming an intelligence analyst in an effort to help make a difference in the country.
"I believe my story is one of defeat, tragedy, and sadness that turned into success, accomplishment, and achievement," Merino said. "Not only because of my determination and ambition, but because of the love and support from my fiancé, family, and friends, as well as a huge support from Penn State Harrisburg's School of Public Affairs and their amazing faculty and staff who have helped me in more ways than I ever imagined.
"I tell my story because I believe there is so much more to a graduation than just a degree. There is a story behind every person graduating. I could not be in this position without the people who helped me get here."