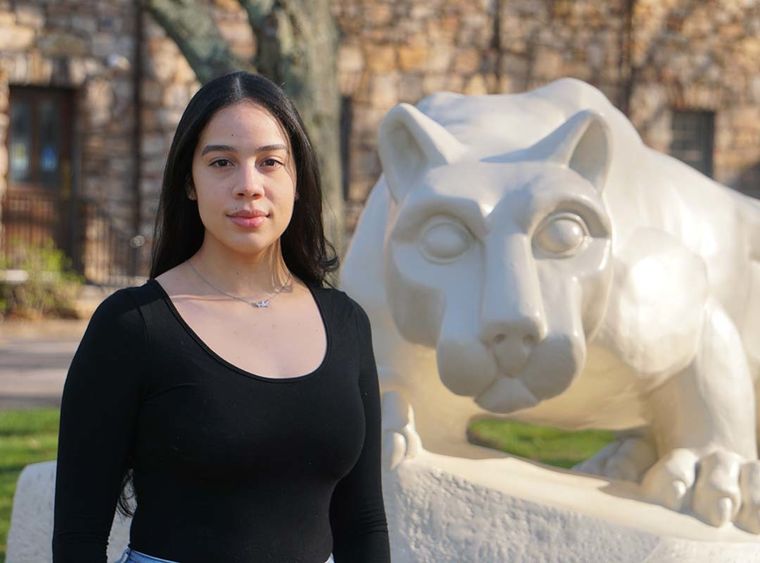 HAZLETON, Pa. — As part of the curriculum in the bachelor of science degree in health policy and administration (HPA) program at Penn State Hazleton, students are required to complete an internship in a health care-related setting with the aim of gaining valuable experience and contacts in the industry. 
Gisely Nunez's internship was all that and more. 
A senior in the program, Nunez earned a full-time job as an engagement specialist at Service Access and Management after completing her internship there in fall 2022. The company is a nonprofit human services provider based in Reading, but Nunez carries out her responsibilities remotely. 
Nunez said she appreciated how the HPA program not only gave her the knowledge to enter the health care field, but through its internship component, provided her with an opportunity to work in the field while earning her degree.
"The HPA program is great because it's more than just everything we learn in the classroom, it's also a great way to form connections and to be introduced to careers that we may not think are out there because of our internships," she said.
At Service Access and Management, Nunez first sat in on meetings and participated in trainings, but moved on to higher-level responsibilities as her role within the company grew. She eventually learned how to complete documents, work with service coordinators, and perform outreach to individuals with chronic illnesses or functional disabilities about available programs and resources.
"I help people who can't get around and help themselves," she said.
The takeaways were similar for Margaret Duncan, a third-year HPA student. She completed a paid internship at the pharmacy in Redner's Warehouse Markets in Shenandoah. There, she learned about regulations related to medications, how to properly ship and store medications, and how to verify shipments.
"My experience with the HPA program has been nothing but positive," Duncan said.
Beth Greenberg, lecturer in health policy administration and coordinator of the program, said the curriculum is designed to teach students how to succeed in the workforce.
"The internship is such an important part of the HPA program because it provides students a unique, mentored opportunity to apply the skills and knowledge they gained in the classroom and prompts them to expand their network of healthcare professionals, boosting their confidence and professionalism as they enter the job market," Greenberg said.
Nunez said she appreciated how Greenberg went the extra mile to make her experience in the HPA program a positive one.
"It was nice to know someone was there to help me when I felt defeated trying to find one." she said. "You could tell she really cares about us and what we're learning." 
Nunez's internship experience was such a beneficial one that she nominated her preceptor at Service Access and Management, Molly Dressler, for the Penn State HPA Preceptor of the Year Award. The award honors an individual who works with a student within the organization at which they are interning. Dressler was named one of the winners for 2022 and was recognized during the program's annual Mayer's Lecture in April.