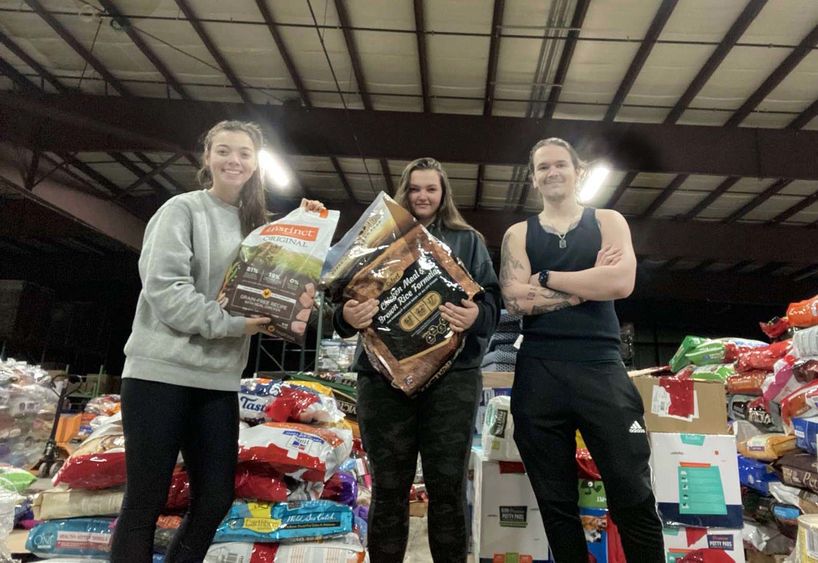 HAZLETON, Pa. — Each year, students enrolled in the Clinical Reasoning for the PTA course in Penn State Hazleton's Physical Therapist Assistant program head out into the community to volunteer their time for those in need. Each year, their experiences are the same.
"The word we always hear is 'rewarding,'" said Gina Tarud, associate teaching professor of Physical Therapy and instructor for the course. "I've never had anyone who said they didn't enjoy it."
Madi Entz and Raven Van Gogh are no different. Both are in their final semester of the two-year PTA program and are among the PTA students enrolled in the course for spring 2023.
Each is part of a three-member group charged with helping others not with the physical skills they've learned, but instead by utilizing their compassion, care, service, social responsibility and other qualities critical to a successful physical therapist assistant. 
"In the physical therapy profession, we're very involved in community outreach, especially time spent volunteering," Tarud said. "Part of our duty to the profession is getting students to realize that we play a role not just in helping people with physical ailments but getting out there and helping those in need in our communities as well."
Groups are given guidelines but largely have free reign over how they conduct their projects, including where they would like to volunteer. They spend about eight weeks working with their chosen organization.
Van Gogh's group volunteers at AGAPE in Bloomsburg, a community organization that provides food, clothing, home goods and other essentials to people in need. His group helps log inventory and sort donations that come into AGAPE's 100,000-square-foot warehouse.
"It was really awesome to be able to get out in the community and work with people," he said. "It just makes you want to do more and more of it."
Entz and her group chose Brandon's Forever Home, a nonprofit in Hazleton that offers services to children in foster care. Foster families can visit Brandon's Forever Home to pick up food, clothing, toiletries, toys and more. Entz and her group also helped organize donations.
"It's nice to experience a different way of helping people," Entz said. "As PTAs, we're getting them back to their normal lives physically, but this course gives us a chance to see the profession from a new perspective."
Tarud said she implemented the volunteerism aspect of the course into her curriculum about 13 years ago to give students the experience of working as part of a team.
"These projects get them out there to experience being engaged in a community and working closely as a group," she said. "It gets them to think on their own."
The PTA program has been offered at Penn State Hazleton for 40 years and has been accredited by the Commission on Accreditation in Physical Therapy Education (CAPTE) since 1983. Its comprehensive curriculum offers general education courses and major course work in topics including anatomy, physiology, kinesiology, therapy procedures, rehabilitation, human musculature and functional anatomy, and professional issues in clinical practice.
Both students spoke highly of the program, particularly their experiences in clinical experiences. Students must complete clinical learning experiences in acute, outpatient and inpatient care, ensuring they are capable of treating patients of all ages in various situations.
"I started off not wanting to go into inpatient care but now I'm starting to think that might be something I want to try," Entz said. "Having that experience helps me decide where I might want to have a job."
Tarud said students in the Physical Therapist Assistant and Rehabilitation and Human Services programs will work together on service projects beginning in spring 2024.
Entz, Van Gogh and the rest of the PTA students in the course will conduct presentations on their service projects on April 13 at 8 a.m. in Room 7E of the Physical Education Building.