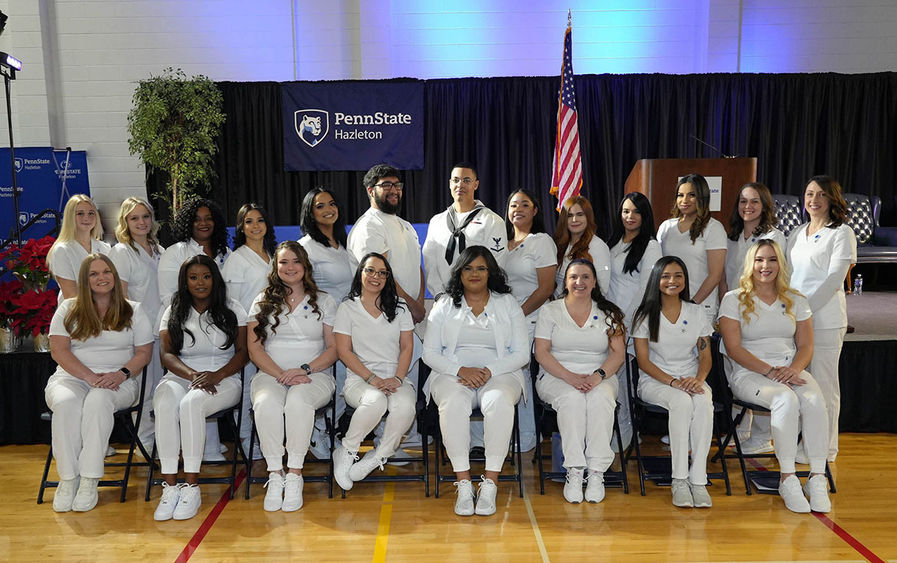 HAZLETON, Pa. — Graduates of Penn State Hazleton's Practical Nursing program marked the successful completion of the program during a ceremony on Friday, Dec. 19, in the Dr. Thomas M. Caccese Gymnasium in the Physical Education Building. The class of 22 students completed the requirements to earn a certificate in practical nursing and will be eligible to test for the National Council Licensure Examination-Practical Nurses, or NCLEX-PN.  
The class began their studies in August 2021 for the 18-month program that was held in the evenings and on weekends in the classroom and laboratory in the Slusser/Bayzick Building. Students took classes at Penn State Hazleton and attended clinical studies at area partner facilities.  
Chancellor Elizabeth J. Wright presided over the ceremony along with Interim Director of Academic Affairs Albert Lozano-Nieto and Practical Nursing Program Coordinator Andrea C. Shook. 
During the ceremony, graduates received their certificates and pins to signify successful completion of the program.  
Graduates and their hometowns included: Christina Marie Brehm, Hazleton; Shereina Latara Bryant, Freeland; Jennifer Caraballo, Hazleton; Brendaly Trinidad Coplin, Wilkes-Barre; Jose Fernando Cuevas, McAdoo; Brittany Cunnington, McAdoo; Mary Grace DaCunha, Freeland; Andrew DeJesus, Hazleton; Skylar Rebecca Duffy, Sugarloaf; Jessica Miguelina Hernandez Diaz, Hazleton; Alexis Paige Hinckley, Berwick; Hayley Desire Hoffman, Long Pond; Katherine Jimenez Badia, Tamaqua; Alisa Erin Milnes, Freeland; Jenny I. Mordan Diaz, Hazle Township; Leydy Mordan Pimentel, Hazleton; Shakinah Quaisha Moultrie, Kingston; Abigail Santos, Hazleton; Hilary Marie Shershen, Hazleton; Trinity Michaela Sockriter, Berwick; and Arianna Renae Welch, Muncy. 
A practical nursing certificate was also presented posthumously to the family of Amanda Rose Miller of Nescopeck. 
Several members of the graduating class also earned special recognition with an award. The awards and winners included:  
Excellence in Clinical Practice, an award presented to the nursing student who best displays a high regard for clinical care and clinical aptitude. This year's recipient was Hayley Desire Hoffman. 
Award for Leadership and Professionalism, which recognizes outstanding leadership and professionalism during the nursing education process. Hilary Marie Shershen was this year's recipient.  
Most Compassionate, an award presented to the student who displays exceptional emotional capacities of empathy and sympathy for others. This year's recipient was Jose Fernando Cuevas. 
Community Service, which is presented to the student who displays the initiative to reach out to those in need within the community. This year's recipient was Andrew DeJesus. 
Spirit of Nursing Award, which recognizes the student who shows excitement, motivation and enthusiasm toward the nursing profession. This year's recipient was Brittany Cunnington. 
Patricia D. Kelly, R.N. Academic Award in Practical Nursing, an award presented to the student earning the highest overall grade-point average. Skylar Rebecca Duffy was this year's recipient.
Commencement Speaker
Guest speaker for the event was Cynthia Cappel, DNP, RN-BC, NE-BC, vice president of Lehigh Valley Health Network's Department of Education. In this role, she is responsible for interprofessional services, with oversight of approximately 100 full-time employees across a wide range of teams such as professional development, transition in practice (including nurse residency program), interprofessional simulation, continuing education, library services, patient education, Epic (EHMR) education, educational technology, the Joseph F. McCloskey School of Nursing, academic student affiliations, graduate medical education, and youth programming. These services span education across all Lehigh Valley Health Network entities.
During her 35-year career as a registered nurse, she has held leadership positions within nursing and education. Her career began as a registered nurse in a medical-surgical unit at Lehigh Valley Hospital in 1987, a position she earned after serving as a nurse extern on that same unit the previous summer. She joined Lehigh Valley Health Network in November 2007.
Her experience includes 18 years in progressive nursing leadership roles at health systems throughout Pennsylvania. She has managed medical surgical, cardiac, critical care and emergency departments, and led projects in electronic medical records conversions, trauma accreditation, and the implementation of the Future of Nursing recommendations, including the initiation of a nurse residency program.
Cappel holds a doctoral degree in nursing practice in executive leadership and an MBA, both from DeSales University, a post-master's certificate in nursing education from Rutgers University, a master's degree in nursing administration from Villanova University, and a bachelor of science nursing from Allentown College of St. Francis DeSales, now DeSales University. She is also dual-certified as a nursing professional development specialist and as a nurse executive by the American Nurses Credentialing Center. She has presented at the local, regional and national levels and serves as a peer reviewer for the Journal of Continuing Education in Nursing.