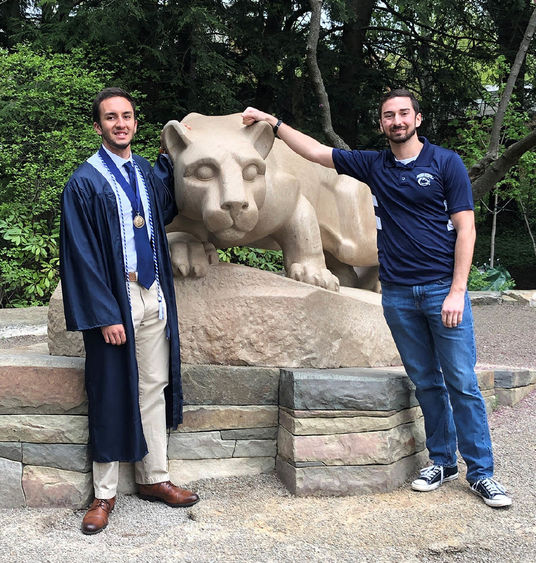 HAZLETON, Pa. — Brothers Nick and Robert Vitagliano attended Penn State Hazleton three years apart, but that may be where the difference in much of their college experience ends.
The similarities — such as gaining guidance from faculty mentors, supporting their classmates as tutors, and graduating as Schreyer Honors Scholars with bachelor's degrees in engineering — were part of an overall journey that helped the siblings achieve another thing they have in common: careers as flight test engineers for the U.S. Navy.
The brothers provide essential support for naval aviation aircraft and weapons systems at Naval Air Station Patuxent River in southern Maryland, headquarters to Naval Air Systems Command (NAVAIR).
There, Robert Vitagliano designs tests that pilots execute in the field, then analyzes and fine-tunes the resulting data. Nick Vitagliano focuses on hardware-related tasks such as propulsion and subsystems in helicopters. Both works closely with Navy and Marine pilots.
As students, they participated in the 2+2 Plan, which allowed them to complete the first two years of their degree programs at Penn State Hazleton before transitioning to the University Park campus to complete their degrees.
"I wasn't surprised we went to Penn State together, but the fact that we both ended up here doing flight test engineering is definitely a surprise," Robert said. "I'm glad we get to circle back together as adults."
Robert and Nick grew up in Hazle Township, not far from Penn State Hazleton, and became familiar with the campus after attending the Office of Continuing Education's summer youth camps there.
Nick enrolled at Penn State Hazleton in 2017, transitioned to University Park in 2019, and graduated with a bachelor's degree in mechanical engineering in 2021. He credited the 2+2 Plan for helping him get acclimated to college and gain the confidence to carry his skills forward.
"Getting those two years at Penn State Hazleton under my belt was so influential in me having the success I ended up having."

—Nick Vitagliano , Class of 2021
"Getting those two years at Penn State Hazleton under my belt was so influential in me having the success I ended up having," Nick said. 
While at Hazleton, he worked as a tutor in the Math Dimension, the campus' mathematics learning center, and was a member of the Science and Engineering Club. He also held a part-time job off campus. 
However, Nick said it was the one-on-one attention he received from faculty members that made his experience most meaningful. He credited math professors Gina Monks and Frank Marko for being mentors, helping him succeed in his transition to college, and pushing him to be the best version of himself. 
In fact, when it came time for Nick to graduate, Monks and Marko were among those he thanked in his thesis, titled "Analyzing the Implementation of TPMS Lattices in Non-Pneumatic Tire Design." 
"They saw ability in me I may not have seen in myself," Nick said. 
Monks said both Nick and Robert were ideal candidates to serve as tutors. 
"Because I already knew Robert and what a talented tutor and student he was, I met, hired, and had Nick working as a math peer tutor from the very first week of his first year on campus," Monks said. "I could tell he would do a fantastic job guiding his peers to having a better understanding of the content in their math courses and, indeed, he didn't disappoint." 
Like his younger brother, Robert appreciated the smaller class sizes and other opportunities Penn State Hazleton had to offer. He attended from 2014 until 2016 before transitioning to University Park. He graduated in 2018 with a bachelor's degree in aerospace engineering. 
"Being able to start at Penn State Hazleton was a great financial boon," Robert said. "I got to stay at home, work on campus and at other jobs to earn money, and it gave me opportunities to get more scholarships that maybe I'd be passed over for at another university. And instead of diving into college too fast, it gave me a good transition and a good foundation." 
In addition to serving as a tutor in the Math Dimension, he was also a member of the Student Government Association (SGA), where he helped other campus clubs and organizations get started. In this role, Robert was able to meet and collaborate with fellow SGA members from other Penn State campuses across the state.
In addition to cocurricular experiences, Robert also had the opportunity to perform undergraduate research alongside faculty who are experts in their field. In 2015, he researched solar energy resource assessment with Associate Professor of Engineering and Engineering Program Coordinator Joe Ranalli. The results were published in an article in the scholarly journal, "Solar Energy."
Ranalli said undergraduate research is a hallmark of Penn State Hazleton and working with Robert was an example of how successful a project can turn out.
"He was very creative and engaged and made several important contributions to the paper," Ranalli said. "I really value those types of opportunities to work closely with students and there's no question that research experiences help students develop into independent learners."
With steady jobs in their field, both brothers agreed that their experiences at Penn State set them up well for their future.
"I ended up coming out of Penn State well prepared for the career I've chosen," Robert said.
Nick added, "It turned out to be one of the best decisions I've ever made."