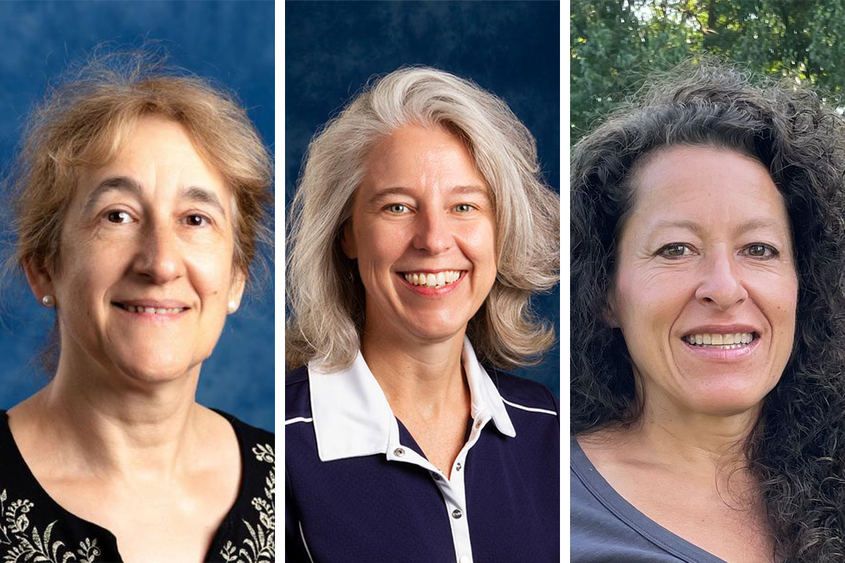 HAZLETON, Pa — Penn State Hazleton faculty members Beatriz García Glick, Karen Stylianides and Nicole Young have earned promotions in their academic ranks. 
Glick was promoted to teaching professor of Spanish, Stylianides was promoted to associate teaching professor of kinesiology, and Young was promoted to associate teaching professor of mathematics. 
"Throughout their time at Penn State Hazleton, Beatriz, Karen and Nicole have continually demonstrated excellence in teaching, research and creative accomplishments, and service," Chancellor Elizabeth J. Wright said. "We applaud them for their dedication to student success and faculty excellence and congratulate them on achieving this proud milestone in their careers." 
Glick has taught Spanish and French courses since she began her full-time career at Penn State Hazleton in 2009. She said the promotion is validation of her commitment to students and the campus' commitment to faculty success. 
"I love my job because it allows me to be creative in supporting the interests of our students," Glick said. "I've been very fortunate in that all the endeavors I've wanted to pursue have been supported by the administration and campus community." 
Outside of the classroom, Glick has published several works on topics including language and learning style, podcasting in Spanish, and culture and language appreciation in Latin America history courses. 
In 2021, she wrote and published "Intermediate Spanish," a digital textbook that was available to students for free. The textbook was funded by a grant from the state Department of Education and Office of Commonwealth Libraries as part of an effort to help decrease student costs by providing them with no-cost learning materials. It was used during the fall 2021 semester by students in Glick's Spanish III course. 
Glick has presented at numerous conferences both in the United States and abroad. She also serves as the faculty adviser for the campus' Latinx Culture Club. 
Glick earned a bachelor's degree in piano from the Royal Conservatory of Madrid, in Spain, a bachelor's degree in biology from Bryn Mawr College, a master's degree in Spanish from Millersville University, and a doctorate in modern languages (Spanish and French) from Middlebury College in Vermont.   
Stylianides started her career at Penn State Hazleton in 2011. She has taught courses in kinesiology, fitness, and first aid/CPR, and is certified through the American Red Cross in mental health first aid, lifeguard training and instructing, and water safety training and instructing. She currently serves as an adviser to the Swim and Water Polo Club and as president of the Penn State Hazleton Faculty Senate. 
In addition, Stylianides has shared her experiences and expertise in numerous publications and presentations.  
She was featured in the recently published "Rethinking Inclusion and Transformation in Special Education" as a lead writer on the chapter "Adapted Physical Activity: Overcoming Diversity Through Physical Education and Sports," which examined how to include physical activity among people with special needs and inclusive environments in physical education and sports. 
Stylianides said she takes pride in ensuring students have the most meaningful possible experiences on campus. 
One of those experiences came in 2021, when Stylianides and fellow Penn State Hazleton faculty members organized the Cross-Cultural Collaboration Symposium. The online symposium brought together students from Penn State Hazleton and United Arab Emirates University (UAEU) to discuss cultural similarities and differences, and how the COVID-19 pandemic impacted their experiences as college students. 
"I enjoy working and I love my job. So, as hard as it was to earn this promotion, I was always happy to try to achieve more," Stylianides said. "Doing so benefits our students, who are the heartbeat of our campus. I love helping them succeed." 
Young began her Penn State Hazleton career in 2008. She teaches courses in algebra, trigonometry, statistics, calculus, and computer science.
She said she enjoys providing encouragement to students who may not be fully confident in their math skills. 
"Students will tell me 'I'm not good at math,' and I really enjoy encouraging them and saying, 'Let's explore this together and you'll see with some hard work and determination you can do anything you put your mind to,'" she said. 
Young said she is passionate about incorporating technology into her courses and providing students with low-cost educational materials. 
In addition to other teaching positions, her past professional experience includes roles as a software engineer and programmer/analyst. She has also presented at several professional meetings and conferences.   
Young earned a bachelor's degree in computer science from Penn State, a master's degree in curriculum and instruction with a certification in secondary mathematics from Bloomsburg University, and a master's degree in mathematics from Nicholls State University.