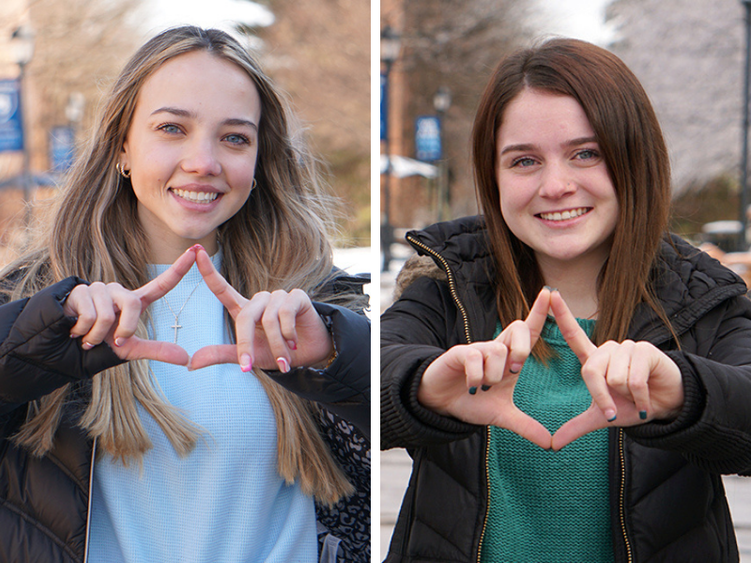 HAZLETON, Pa. — Penn State Hazleton students Maria Carrelli and Caitlyn Williams will represent the campus at THON as the 46-hour nonstop dance marathon makes its return to an in-person experience from Feb. 18 to 20 at the Bryce Jordan Center on Penn State's University Park campus. 
Carrelli will experience THON for the first time while Williams will mark her second year as a dancer after participating in last year's virtual event. Both are active members of the student-run Penn State Hazleton Benefitting THON organization, which helped raise more than $3,500 for THON in advance of the event. 
"Being part of THON has been life-changing," said Williams, a fourth-year rehabilitation and human services major from Kingsley. "I didn't know much about it before I came to Penn State Hazleton, but once I learned the impact it has and how many lives it affects, I knew I wanted to be part of that." 
Starting at 6 p.m. on Friday, Feb. 18, Carrelli and Williams will take the dance floor alongside hundreds of other Penn State students from across the commonwealth who will remain on their feet until the marathon wraps up at 4 p.m. on Sunday, Feb. 20, when the fundraising total for the year is revealed. 
"It's definitely going to be a challenge staying up for almost two days straight but I'm very excited," said Carrelli, a second-year biology major from McAdoo and chair of Penn State Hazleton Benefitting THON. "THON stands for such an amazing cause and to be able to represent Penn State Hazleton and support the Four Diamonds families means so much."  
The largest student-run philanthropy in the world, THON has raised more than $190 million through its network of student volunteers and partners since its inception in 1976. Ninety-six percent of all funds raised go directly to Four Diamonds at Penn State Health Children's Hospital to fund pediatric cancer research and support children and families battling pediatric cancer. Despite being held in a virtual format, THON 2021 raised more than $10 million. 
Carrelli and Williams said they are eager to feed off the crowd's energy as the event returns to an in-person format this year. 
"It's going to be so inspiring to look up in the audience and see so many people rooting us dancers on," Williams said. 
Penn State Hazleton will provide free transportation to the Bryce Jordan Center for students interested in cheering on Carrelli and Williams during THON. Transportation will leave from West Hall at 12:15 p.m. on Friday, Feb. 18, and 10 a.m. on Saturday, Feb. 19, and Sunday, Feb. 20, returning to campus each night. Students should sign up in the Student Engagement Office in Butler 105. 
To enter the Bryce Jordan Center, students will need to either be fully vaccinated against COVID-19 or produce a negative COVID-19 test prior to departure from campus. Rapid tests will be provided before departure. 
For those who can't cheer them on in person, Carrelli and Williams encourage people to support them in their effort to help families affected by pediatric cancer by donating online at thon.org/donate. Donations also can be dropped off in person at the Student Engagement Office. 
A livestream of the event can be viewed at thon.org/livestream.