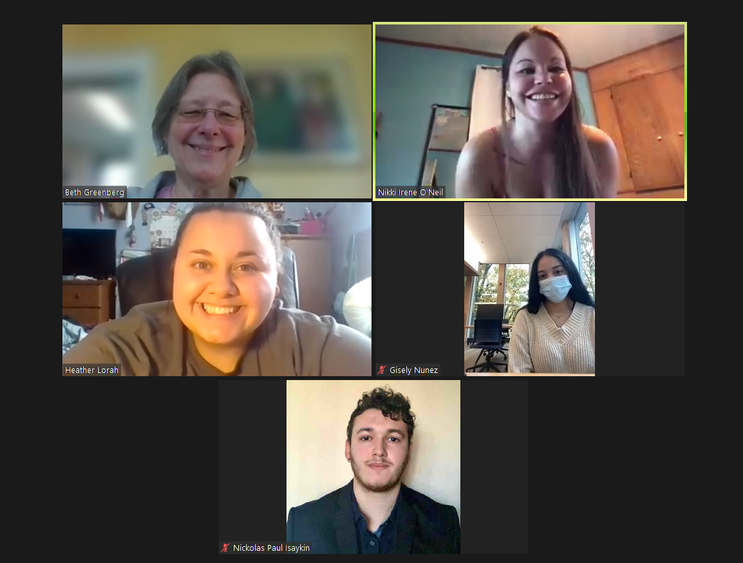 HAZLETON, Pa. — When Penn State Hazleton Health Policy and Administration (HPA) major Nikki O'Neil noticed there wasn't a club or organization on campus where she could share ideas, experiences and resources with fellow HPA majors, she decided to start her own. 
Now, with its membership and goals growing, the HPA Club joins an increasing number of newly formed and/or active clubs and organizations for students to get involved with at Penn State Hazleton.  
O'Neil said the club is designed for those majoring in health policy and administration, a baccalaureate degree program that prepares students for careers in the health care industry, but she encourages any students with an interest in health care to join. 
"I wanted to start something where I could bring together and get to know the people that have the same interests as me," said O'Neil, a fourth-year student from Ringtown. 
For students like O'Neil who may be unable to find a club or organization that meets a particular interest, starting one of their own is a process the campus Student Services and Engagement team works to make as simple as possible, said Associate Director of Student Services and Engagement Rob Knight. 
First, Student Services and Engagement reviewed O'Neil's concept for the HPA Club to make sure one with a similar purpose didn't already exist, Knight said. Then, they helped her develop and draft a constitution so the club could be considered a recognized student organization (RSO).  
Having a club or organization officially recognized by the University comes with perks like free use of University facility space for activities and events, free web space, a table at the fall and spring semester involvement fairs to recruit new members, and the right to request use of funding, Knight noted. 
"After drafting a constitution, we work with the student to schedule and run their first meeting and help with best practices in recruiting and maintaining members," Knight said. 
As a current member of the Student Government Association and Lion Ambassadors, O'Neil drew on her experiences with how those clubs and organizations operate when creating the HPA Club, while also embracing the opportunity to serve in a leadership role, she said. 
"It's exciting that I get to step up and not just follow someone but be a leader myself," she said. 
What began with only a sign-up sheet quickly turned grassroots, with O'Neil recruiting classmates and HPA majors at other campuses, she said.  
"I'm just really excited to see where things go with it," she said, adding that she hopes to plan activities and invite guest speakers in the future. 
Beth Greenberg, lecturer in HPA and the club's faculty adviser, said it is gratifying to see a student's enthusiasm for the program turn into something others can benefit from. 
"It is a great opportunity for her to continue to develop her leadership skills, for club members to develop friendships and skill-building opportunities, and for students to direct their club to provide activities that meet their interests," Greenberg said. 
Additionally, students who participate in clubs and organizations can gain skills and experiences that build on what they are learning in the classroom, said Director of Student Services and Engagement Tracy Garnick. 
"Clubs and organizations like the HPA Club allow students the opportunity to grow outside of the classroom by learning skills that enhance their academic journey, boost their resume, and that they can apply to their careers," Garnick said. "They're also a great way to make friends, build connections, and get the absolute most out of their overall experience at Penn State."  
The HPA Club joins a variety of clubs and organizations currently active at Penn State Hazleton, including the Student Government Association, Campus Activities Board, Lion Ambassadors, THON, Blue and White Society, Residence Hall Association, Pride Alliance, Latinx Club, Women's Empowerment Club, Gaming Club, Drama and Improv Club, and Hillel (Jewish Campus Life).  
There also are several clubs and organizations focused on academic programs, such as the Criminal Justice Club, Business Club, Science and Engineering Club, Psych Club, and Information Sciences and Technology Club. 
For questions on how to get involved, contact Student Services and Engagement at [email protected], call 570-450-3160, or stop by the Student Services and Engagement office in Butler 105. 
Students who want to start their own club or organization can begin by filling out a form. 
To join the HPA Club or for more information, email O'Neil at [email protected].