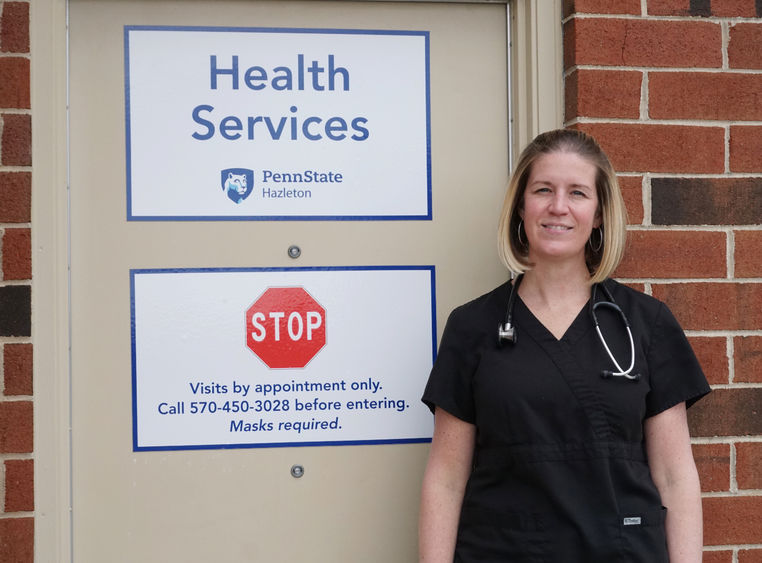 HAZLETON, Pa. — As the new campus nurse at Penn State Hazleton, Laura Gerth-Makarczyk is eager to apply her years of skilled nursing experience and passion for helping others.
Gerth-Makarczyk, of Mountain Top, recently joined the staff at Penn State Hazleton after spending the last 15 years as a registered nurse with Geisinger Health System, including the last 10 years in the oral surgery department.
Chancellor Gary Lawler said, "Laura's 15 years of nursing experience make her ideal for the campus nurse position. We are confident our students will be served well thanks to her skills in patient care and ability to develop caring relationships."
Gerth-Makarczyk will assess and treat patients in the temporary campus health clinic in West Hall. She will also administer emergency care and refer patients for additional services as needed.
"Laura's skill and dedication as a frontline health care worker will be an invaluable resource for our students," said Director of Student Services and Engagement Tracy Garnick. "We are very excited to welcome her to the staff and look forward to the leadership she will provide in health services for our campus community."
Gerth-Makarczyk said providing quality care and ensuring a safe, comfortable environment for students are among her top priorities as campus nurse, she said.
"I'm here to help and to make sure the students have a great experience," she said.
Additionally, Gerth-Makarczyk said she is looking forward to developing educational health programming for students, faculty and staff. She will also serve on committees focused on health and wellness, crisis intervention and other important topics.
"You have to make it interesting and fun," she said. "I'm excited to start working on that."
Gerth-Makarczyk earned her master's in nursing at Wilkes University. She holds a bachelor's degree in exercise physiology from East Stroudsburg University.