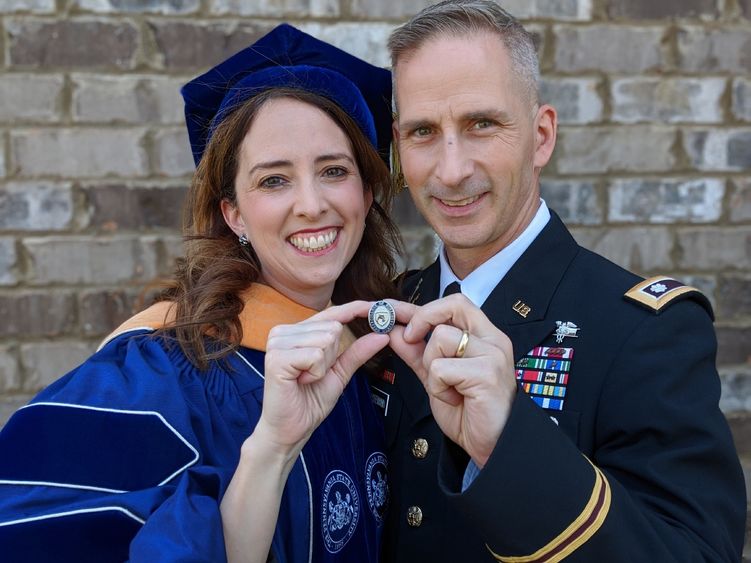 Throughout Lieutenant Colonel Michael Wissemann's educational journey as an undergraduate and graduate student, he never regarded himself as a standout student. That was until he found the college and program that supported and motivated him onto an engaging and exciting career path.
Wissemann's collegiate career first began at Penn State Hazleton in 1993 where he was considering majoring in political science. Unsure of an exact career path to pursue and remaining interested in serving in the military, he joined the Reserve Officers' Training Corps (ROTC). While working on his undergraduate degree, Michael decided to enroll in a first aid class and began volunteering for the West Hazleton EMS. Shortly after, he transferred and moved from Hazleton to University Park. There, he continued his undergraduate studies and took an EMT class while running calls with Alpha Ambulance, now known as Centre Lifelink. Continuing his work in EMS, he found that his work as an EMT was a natural progression toward health care. This ultimately pushing him to switch to majors and in 1998, Michael obtained his bachelor of science in nursing (BSN) and was commissioned as an Army Nurse Corps Officer.
As a commissioned Army Nurse Corps Officer, Michael deployed to Kuwait in January 2003. Shortly before crossing over into Iraq in 2003, Michael met his now wife Jennifer Wissemann, who coincidently was also an Army Nurse Officer at the time. As their relationship developed, so did their careers as nurses. After leaving the Army, with tours in Iraq and Afghanistan, Jennifer obtained her master of science in nursing from Gonzaga University, and most recently, her doctor of nursing practice (DNP) degree from Penn State, while working as a women's health educator at an Army community hospital.
After obtaining a master's in health care administration from Baylor in 2009, Michael continued serving his country and community, both locally and internationally. While deployed a second time in Kuwait in 2017, Michael was selected to attend the US Army War College (USAWC) – a school designed to prepare US Army senior leaders to think critically and challenge assumptions at the strategic level, as well as translate and assimilate civilian leadership policy into actionable items. Not only was simply being accepted into the US Army War College a humbling experience – a heavily performance and assignment based board selected process, the culmination of a 20-30 year career in uniform with less than 1% of Army officers getting accepted – Michael achieved academic distinction as a US Army War College Distinguished Graduate. He graduated this past summer with a Master's in Strategic Studies.
Despite not having achieved many accolades as a high school and undergraduate student, Michael's hard work while enrolled in the US Army War College program paid off.
"I was never a great student in high school or college. In fact, I needed a waiver for my GPA to enter the nursing program. Between ROTC, being a resident assistant, and working as an EMT my first few years of college, my studies had indeed taken back seat. But the school of nursing dean took a chance on me and I raised my grades. I'm grateful to this day," said Michael. "The fact that I graduated in the top 10% of Army career officers who have advanced to the top of their profession, the future General Powells of our country, I'm really in awe."
Michael was able to accomplish such high honors and significantly improve his academic standing since finding a nursing avenue that he loved and that motivated him to do more. In 2001, he realized his passion for global health engagement while deployed in Kosovo. While there, he had the opportunity to treat locals in the villages and saw many civilians who needed care that the local system could not provide.
From his EMT, nursing, and other skill sets, Michael applied his knowledge to assist in providing basic care to help stabilize fragile countries and protect them from violent extremist organizations. The enthusiasm for global health led him to write his first research project titled, "Global Health Engagement to Advance US Strategic Objectives", while still studying and working full time, and won him the USAWC Foundation Academic Writing Award. He was also published for his research publication "A Gray Future: Implications for EMS". Michael continues to write, with his next manuscript focusing on the future battlefield's impact on medical care in urban terrains, co-authored with Lieutenant Colonel Brad Tibbetts, a 1998 Penn State nursing graduate.
Michael is now a chief nursing officer and deputy commander of a field hospital in Fort Campbell, Kentucky. He ensures the nurses and clinical staff are clinically and physically ready to deploy, while Jennifer is now advancing the clinical knowledge of the women's health team at the on-post hospital in Fort Campbell, Kentucky. She has also submitted a publication on the education initiatives related to COVID care from the nurse educator's perspective, and finding the latest information on transmission, precautions and patient care.
Michael and Jennifer attribute their many successes to Penn State and the faculty who supported them along the way. Darlene Clark, Dean Dieter and Sandy O'Connor were always helpful and encouraging with Michael through the BSN program, and Mike Evans and Lorah Dorn who greatly supported Jennifer through her DNP program.
"Penn State was a springboard in leveraging the maturity I gained in college, and helping mold and form professional connections with others. With moving every two to three years, the alumni associations from Seattle to Nashville have welcomed us." said Michael. "During my last deployment to Kuwait in 2017, many of my fellow deployed Penn Staters formed a pseudo alumni association on Camp Arifjan, coming together to watch the football games. Jennifer and I even repainted my office blue and white. We look forward to continuing to connect with other alumni and share our experiences while continuing with my military career."