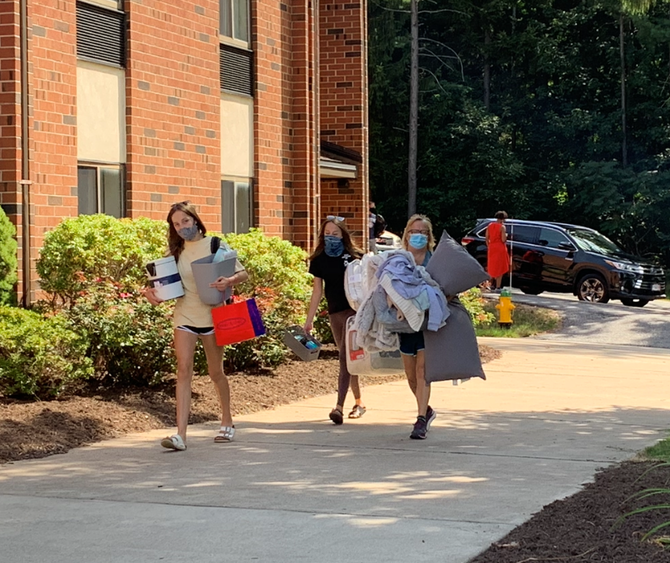 HAZLETON, Pa. – They may have all been wearing masks, but it was easy to spot the excitement on the faces of first-year students Friday during move-in day at Penn State Hazleton.
The sunny but cool late summer day made lugging boxes and towing suitcases a manageable task for students and their families. Many shared hugs and handshakes. Some shed a few tears before parting ways.
For Joey Vitiello and his family, it was familiar territory.
The family went through the move-in day experience last year with their daughter, Alyssa, now in her second year. Their father is also a Penn State alumnus. Now, it was Joey's turn.
Vitiello, from Little Egg Harbor Township, New Jersey, was one of the first students to arrive. By late morning, he was settled in and exploring campus.
Vitiello said he isn't sure what he wants to major in just yet, but does have his mind set on one goal for his first year on campus.
"I'm excited to make new friends," he said. "It's a good time to reach out and start new."
Vitiello joins 220 other members of the Class of 2024 who are starting new this academic year. About 170 of them will call either North Hall or South Hall home as of Friday, the official start of Welcome 2020.
The celebration is designed to welcome new students and help them get to know campus. Welcome 2020 features games, giveaways and opportunities to make new friends, join clubs and explore academic opportunities. It is highlighted by a special virtual convocation on Sunday night.
The Welcome 2020 events, however, are just a taste of what students can expect to enjoy throughout the semester, explained Student Engagement Coordinator Rob Knight. New events are added regularly to Campus Labs, he noted.
"We have as robust a social activities schedule as we've had in the past, it just looks different," Knight said. "In lieu of the trips and in-person events, we have a lot going on remotely. We have singers/songwriters, comedians, open mic nights. So, there's no shortage of things to do."
Connor Soo, another first year student, found plenty to do his first day living on campus.
After unpacking, Soo spent part of the afternoon snapping pictures with his family at the Nittany Lion bench. From Mill Hall, Pennsylvania, Soo is majoring in psychology and is a member of the men's basketball team.
As for what he's looking forward to the most?
"The Penn State experience," Soo said. "The culture here is very motivating."
Satchit Hegde, meanwhile, is at the opposite end of his Penn State journey.
An information sciences and technology major from Mumbai, India, Hegde was returning to campus for his senior year and offered a bit of advice for students just getting started.
"Just keep an open mind and make the most of the opportunities you have because that's what college is for," he said.