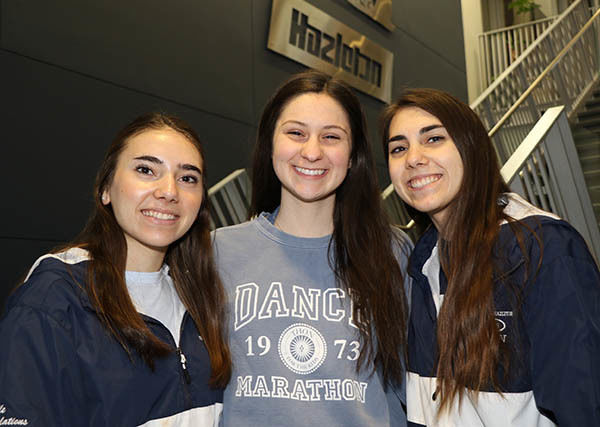 Penn State Hazleton students Meghann Principe, Christine Turse and Camille Principe will be among the more than 700 dancers from across the commonwealth participating in THON 2020 from Feb. 21 to 23 at the Bryce Jordan Center at the University Park campus.
The 46-hour Penn State IFC/Panhellenic Dance Marathon, THON for short, raises money for pediatric cancer treatment and research through the Four Diamonds Fund at Penn State Health Children's Hospital in Hershey. The largest student-run philanthropy in the world, THON has raised more than $168 million for families affected by pediatric cancer over the past 47 years.
Meghann Principe, a senior Letters, Arts, and Sciences major from Jim Thorpe, is "looking forward to the experience with my sister and best friend and our THON family, the Blanchards." Meghann also serves as THON family relations chair.
A senior Rehabilitation and Human Services major and THON chair, Turse said, "I can't think of a better way to end our senior year. Dancing at THON is a great experience not everyone gets to have." Turse is from Drums.
Camille Principe, a junior Letters, Arts, and Sciences major from Jim Thorpe who is also THON finance chair, said she is "excited to be dancing with her sister and Christine because they will be graduating soon. We're focused on making it the best possible experience for the kids with cancer who serve as our inspiration."
The dancers encourage anyone interested in supporting them to donate now at: https://donate.thon.org/index.cfm?fuseaction=donorDrive.event&eventID=1747
In all, more than 16,500 Penn State students participate in a variety of roles during THON weekend.
The dance marathon got its beginnings in 1973, when 34 dancers raised $2,000. Since then, participation in THON and funds raised have grown dramatically. THON is the largest student-run philanthropy in the world, and 96 percent of all funds raised go directly to the Four Diamonds Fund. Four Diamonds picks up where insurance leaves off, enabling families to solely focus on care for their child. Assistance from Four Diamonds ensures counselors, social workers, music therapists and other specialists are available to provide comprehensive care in a family-focused atmosphere.
For more information, visit THON.org
A livestream of the event will be available at: thon.org/livestream