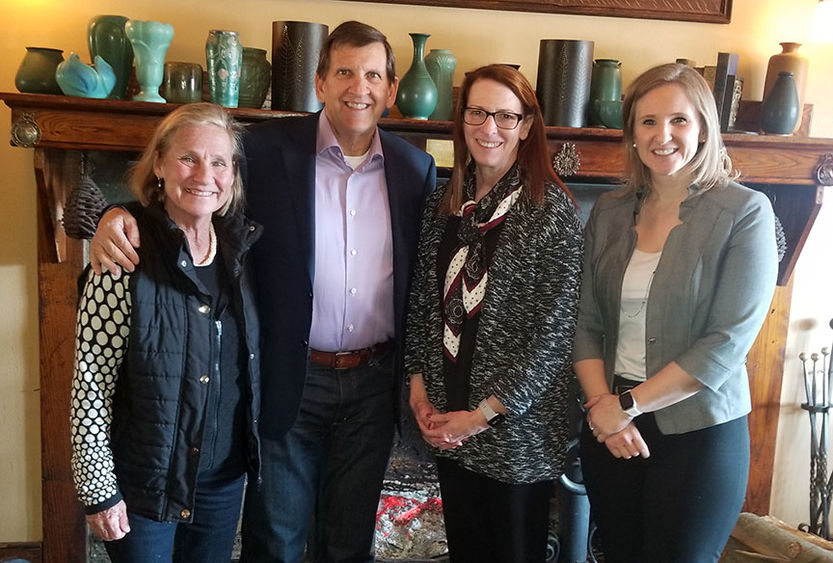 As a Boy Scout leader in Hawaii, Penn State alumnus Rick Shema, who attended both the Hazleton and University Park campuses, frequently encountered Scouts with different learning abilities. He felt they were very intelligent, but their abilities were overshadowed by outward disruptive behavior and mental health conditions. Leaders had difficulty understanding the kids and how to work with them. As a result, the "problem" Scouts could not keep up with their peers, disrupting meetings and outdoor activities.
"Underlying the behavior were smart, creative kids that could solve conventional problems in unique ways. Their intellect ranged across the board from art and music to engineering and science. When given the opportunity, their hidden talents benefited the organization," Shema said. "These kids felt they were not good enough for college. There's a gap in support for them and attaining a higher education. If we recognize and advocate for these students, they will gain strength and hope for a better life."
Shema wondered if potential Penn State Hazleton students were not seeking higher education because of obstacles they face with learning disabilities. To assist with financial challenges, he and his wife, Tamlyn, created a new scholarship to lessen the burden of getting a higher education.
"Financial aid won't solve every hurdle, but it's a start. I wish we could do more to close the gap," he said.
The Gifted Abilities for Penn State Success Scholarship (GAPSS) is an annually funded scholarship, with $10,000 a year going directly to support students for the next five years. It is available for part-time or full-time undergraduate students at Penn State Hazleton who have a learning disability and are registered with the student disability resources coordinator at the campus. The Shemas are making their gift through the Shema Family Charitable Foundation, a donor-advised fund (DAF).
"My formative years were at Penn State, and I greatly value the experience there. I know others would benefit too if they had the chance. Helping students who learn differently attend Penn State has been a dream for a long time," Rick Shema said.
Penn State Hazleton Chancellor Gary Lawler said, "The Shemas' gift is a valuable way they can support a cause that is important to them. We appreciate their commitment to Penn State Hazleton and its students. Penn State Hazleton is a welcoming place for all students, including those with special needs, and this scholarship will give the assistance that could be crucial for some of them."
Student Success Center and Student Disability Resources Coordinator Tammy Spevak said, "The scholarship provides a great opportunity for students who learn differently to come to Penn State Hazleton and get the additional support they need in our Student Success Center. It will surely give peace of mind to the recipients, who can then focus on achieving their goals."
The scholarship continues the Shemas' tradition of helping youth with different learning abilities. Rick Shema initiated and developed the Gifted and Physically Disabled Scouts committee (GAPS) at Aloha Council, Boy Scouts of America. The committee is dedicated to assisting Scouts with various learning abilities and equipping their leaders with resources to help them. In past years, the Shemas have also made contributions toward the Penn State Hazleton Student Success Center, which offers free academic support for students.
Rick Shema attended Penn State Hazleton before finishing his degree in biology at University Park. He joined the U.S. Navy and received his commission from Officer Candidate School. After eight years of sea duty, he earned a master of science degree in meteorology and oceanography from the United States Naval Postgraduate School. He then served as a meteorologist and oceanographer until 2002, when he retired after 24 years of active duty service. The Shemas' last duty station was in Hawaii, where they became residents after retirement. Shema then founded Weatherguy.com, where he is currently president. Last summer, the Shemas returned to Pennsylvania and now reside in Lakeville in the Pocono Mountains. They are still active in the Hawaii chapter of Penn State Alumni Association.
Tamlyn Shema graduated from San Jose State with a degree in art. She began her career designing house renovation projects in California. For the last 20 years, she has been employed part time as a sales associate for West Marine Products, a nationwide boating supply company. She has been a volunteer leader of religious classes for children every Sunday and as a lead meal provider for Family Promise, a nationwide charity supporting homeless families.
GAPSS scholarships will advance "A Greater Penn State for 21st Century Excellence," a focused campaign that seeks to elevate Penn State's position as a leading public university in a world defined by rapid change and global connections. With the support of alumni and friends, "A Greater Penn State" seeks to fulfill the three key imperatives of a twenty-first-century public university: keeping the doors to higher education open to hardworking students regardless of financial well-being; creating transformative experiences that go beyond the classroom; and impacting the world by fueling discovery, innovation and entrepreneurship. To learn more about "A Greater Penn State for 21st Century Excellence," visit greaterpennstate.psu.edu.
For more information on giving opportunities at Penn State Hazleton, contact Christen Reese, director of campus development, at 570-450-3015 or [email protected].