Sisters in Bellisario College, part of a family of four current Penn State undergraduates, have taken different paths to success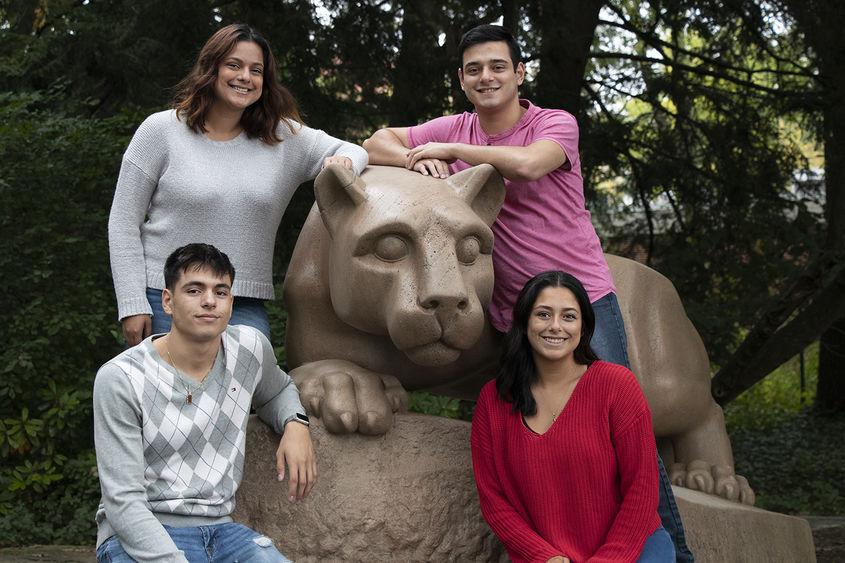 UNIVERSITY PARK, Pa. — Briana and Kaitlyn Aguiles may share a birthday and an academic college at Penn State, but the fraternal twins have their own stories to tell.
Briana, a telecommunications major with a history minor, and Kaitlyn, a broadcast journalism major with minors in psychology and world literature, have found their own success at the University. They just took different paths to get there.
"We come from a family that didn't really go to college," Kaitlyn said. "They either dropped out or just never went."
Things changed when their older brother Aaron was accepted to Penn State. "Then my parents were really passionate about all of us going to Penn State," Kaitlyn said.
All four siblings from East Stroudsburg, Pennsylvania, are now Penn State students. Briana and Kaitlyn joined Aaron (senior-mechanical engineering), and younger brother David (sophomore-forensic science) followed as well.
While Kaitlyn was hesitant at first to follow her parents' push and brother's footsteps to Penn State, she has paved her own path and fallen in love with her experience on campus and in the Donald P. Bellisario College of Communications. Joining The Underground in the first month of her freshman year, Kaitlyn quickly found a community that she was passionate about.
Three years later, she still remembers how the multicultural student-run media site helped her to break out of her comfort zone and speak to people with ease, skills that have proven to be critical in her success as an aspiring journalist. Now, as The Underground's entertainment and culture editor, Kaitlyn still can't deny the additional sense of security she felt with her big brother on campus in her first year.
A built-in tour guide, math tutor and occasional chauffeur when it rained, Aaron helped to make his younger sister's transition to campus as smooth as possible — a favor Kaitlyn was happy to repay as a seasoned University Park student when her twin sister and younger brother arrived on the University Park campus.
Looking to begin her college career at a smaller campus, Briana started her studies at Penn State Hazleton in 2016 and came to University Park two years later.
"At first I was really, really nervous," Briana said, remembering the transition. "Now that I'm here I don't know why I was so nervous, but it was just a bigger campus and I didn't know where everything was, but having them there to help me and tell me where things were, it was nice."
Since then, Briana has taken advantage of all the Bellisario College has to offer. After attending both the Success in the City and JobExpo.Comm communications-specific career fairs, Briana secured an internship with WPSU. Gaining hands-on telecommunications experience, some of her duties include capturing and logging footage at different sporting events, including football.
Kaitlyn has also found success in campus media opportunities as the technical director for "Centre County Report," the award-winning student newscast, where she is in charge of getting graphics on-screen, assisting with live shots, crafting scripts and working closely with the director. She will also serve as an intern for WPSU Radio during the spring semester.
Although they have different majors, the twins have taken two classes together and collaborated on projects outside of the classroom. Kaitlyn's strength in English and Briana's videography skills have proven to make a successful team.
Briana, a facilities assistant, and Kaitlyn, a commons desk representative, both hold jobs on campus as well. When they're not working, studying or staying involved, the twins can be found in their shared apartment on campus.
They're each scholarship recipients. Briana gets support from the Eric Rabe Family Trustee Scholarship and Kaitlyn previously received support from the Philip and Joan Currie Trustee Scholarship.
With such active lives the four Aguiles have limited time to spend together. When they do find time, it's often quick moments reserved for catching up, hanging out, or just doing laundry together.
"We always make sure to stay in contact," Kaitlyn said. "It's good to have those people to call just in case anything were to happen. It's like a safety net."
Kaitlyn and Briana said their sibling group chat has been one of the best ways to keep in touch on campus. Sharing memes when they can't find time to share a meal, the four siblings make sure to stay connected even when they are not under the same roof. Although the twins' favorite member of the family, a beagle/hound mix named Bella, has only visited campus once, they still find comfort in knowing the rest of their siblings are nearby when they need it.
With Briana, Kaitlyn and Aaron all graduating in May 2020, the Aguiles siblings are not sure if they will all end up in the same place again. They do agree, however, that staying together would be much easier than finding new roommates.
As each of the four Aguiles siblings writes their own story, shared values have set the foundation for this Penn State family.
"Essentially, we're all chasing the same goals," Briana said. "It's just that we're each taking a different path to get there."