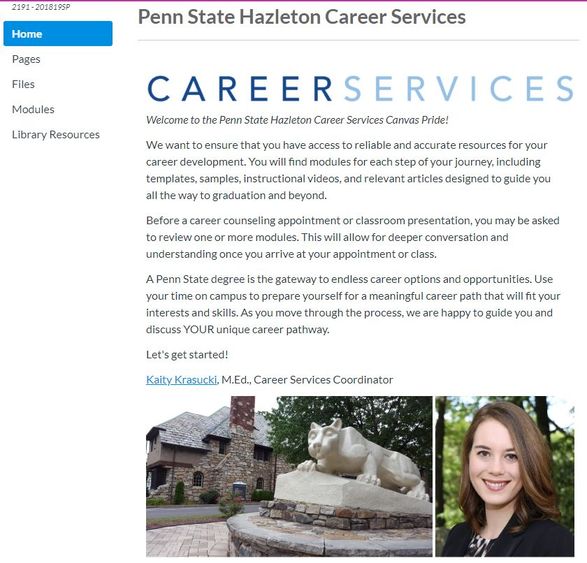 HAZLETON, Pa. — Starting this fall, students at Penn State Hazleton can access career-related articles and resources via a Canvas Pride developed by Career Services Coordinator Kaity Krasucki.
The new online resource, hosted within Canvas, Penn State's learning management system, will be available to all students enrolled at the campus and includes modules for every stage of career development — from major exploration to résumé writing and interview preparation to salary negotiation. Each module offers carefully selected content, including relevant articles and templates from Penn State and trusted external resources.
Krasucki modeled the Pride after the Office of Career Strategy's Pride at Penn State Lehigh Valley, using Hazleton-specific information to share with students.
"Students often rely on generic internet searches for answers to various career-related questions, but that may not provide the best information," Krasucki said. "Additionally, students may need answers to common questions at times when I'm not available to help them. The Pride is a reliable resource that is accessible 24/7."
Krasucki said she also anticipates the Pride will lead to more efficient meetings with students.
"We don't have to have an entire appointment about the purpose of a résumé and what it should include. Using the Pride, students can prepare a draft based on the available resources and we can begin a face-to-face conversation with a hard copy of their resume, ready to review," she said.
The Pride also will aid in delivery of presentations and workshops, both in and out of the classroom.
"If a faculty member asks me to present to their class on interviewing, students can be directed to review materials in that module prior to my visit. This will allow for deeper learning and retention of information — before, during and after the presentation," Krasucki said.
Overall, Krasucki hopes the Pride will increase student engagement with Career Services, including individual counseling appointments, attendance at events and workshop participation.
"The Pride is a good introduction to how Career Services can help students, and I hope it means I will get to meet more students face to face as they navigate their career paths," she said.
For additional information on Hazleton's Canvas Career Services Pride, contact Krasucki at [email protected].