May event provided low-cost professional development opportunity for IT professionals across the University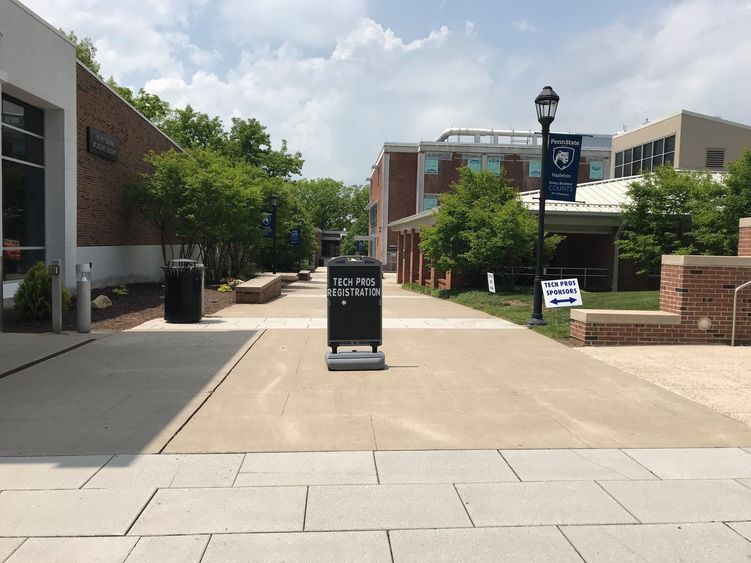 HAZLETON, Pa. — In May, more than 200 IT professionals from across the University gathered at Penn State Hazleton for the 10th annual Tech Pros Conference.
Tech Pros is dedicated to frontline and backroom technical employees at Penn State and provides a low-cost professional development opportunity for IT professionals across the University to network and share best practices. The conference is hosted by a different Commonwealth Campus each year.
According to Kari Williamson, director of IT in the Office of the Vice President for Commonwealth Campuses, the event offers a low-stakes environment for IT colleagues to present to their peers.
"It's a nice way for IT folks to visit other Commonwealth Campus locations to communicate face-to-face and share knowledge and ideas," said Williamson.
This year's conference was organized by a steering committee made up of IT staff members from several campus, college and administrative areas at Penn State, and co-chaired by Williamson and this year's host campus IT director, Christine Mencer. Title sponsor Dell, as well as 25 other sponsors, made it possible for IT professionals to attend this year's conference at no cost.
The concept for Tech Pros was developed in 2009 during an informal dinner conversation between Mencer; John D. Hoh, senior director of IT for the Commonwealth Campuses; and Dan Mroz, former director of information technology at Penn State Mont Alto.
"Tech Pros is the epitome of an idea that started out small and became bigger," said Williamson. "And to think that it all began 10 years ago with an idea written on a cocktail napkin."
The first-ever Tech Pros took place at Mont Alto in 2010 and consisted of two tracks and 100 attendees. Over the years, Tech Pros has had 313 presenters and panelists, 1,722 attendees and 192 sponsorships. Starting next year, a new Web Pros event will be added to the conference schedule.
In addition to a 3-hour, preconference training session exploring Microsoft Office 365 applications, this year's two-day conference showcased 35 sessions that covered five tracks encompassing subjects related to the Web, service fulfillment/classroom technology, security, infrastructure and professional effectiveness.
Presentation topics focused on optimizing IT investments in such enterprise-level technology trends as the Enterprise Active Directory service and Enterprise Firewalls and Data Centers, as well as a focus on change and transition.
The first day of the conference featured a keynote by the executive director of the Reimagining IT (RIT) initiative, Adam Caimi, who described the RIT initiative as a new way of thinking about IT and partnering across the University.
"Reimagining IT will enable us to get the right people, with the right skills, in the right place, doing the right things to continue a lot of the good work that has already happened across the University," said Caimi.
Caimi touched on the three main goals of the RIT initiative, which are to align resources, optimize investments and create capacity to support innovation. He also encouraged attendees to look for ways to position themselves and their unit's efforts to align with the RIT vision and goals.
Next year's Tech Pros Conference will take place on June 4 and 5, 2020, at Penn State Beaver. The new Web Pros event will take place prior to the conference, on June 3.
Follow Penn State Tech Pros on Facebook for news and information about this year's and future events.