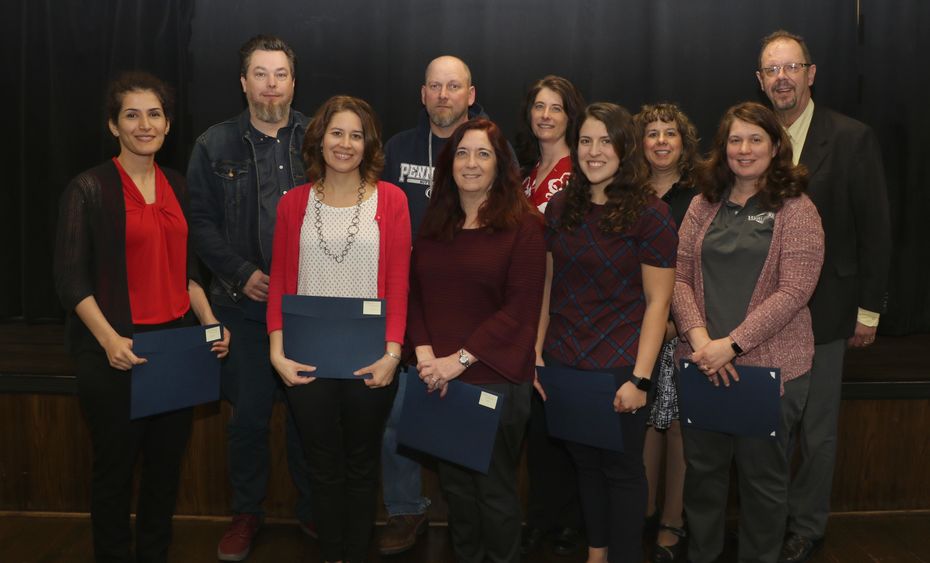 HAZLETON, Pa. — Penn State Hazleton held its annual years of service celebration on April 16, honoring employees who marked milestone anniversaries. Chancellor Gary Lawler presented gifts to the employees.
Employees honored were:
One year: B. Douglas Edmonds, assistant professor of physics; Sabrina Krupko, admissions counselor; Christian Kuehn, helper/repairer; Kimberly Lombardo, assistant financial coordinator; John McDevitt, police officer; Victor Owusu-Nantwi, assistant teaching professor of economics and finance; Jennifer Oshinski, regional human resources consultant; Ellen Raineri, assistant teaching professor of business; Kelly Shaffer, food service and production worker; Dana Sukeena, counselor; Narjes Tahmasbi, assistant professor of information sciences and technology; and Lori Ann Yeager, research technologist.
Five years: Ryan Aten, assistant director of athletics; Michael Blass, IT generalist; Lorrie Deffley, regional human resources strategic partner; Yusuke Hayashi, assistant professor of psychology; Michael Morrison, director of finance and business; Dan Patel, assistant professor of chemistry; Randall Shatto, research technology; and Nicholas Tomaskovic, senior admissions counselor.
Ten years: Tracy Garnick, director of student services and engagement; Zugang Liu, associate professor of business administration; Sandra Maylath, janitorial worker; Mary Millbyer, food service janitorial worker; Donna Sabol, janitorial worker; Dean Williams, network analyst; and Nicole Young, assistant teaching professor of mathematics.
Fifteen years: Elena Boyle, assistant director of admissions; Lisa Goguen, associate professor of psychology; and Michael Polgar, associate professor of sociology.
Twenty years: Suzanne Bahrt, administrative assistant, and Eileen Morgan, assistant teaching professor of English.
Thirty years: Kenneth Dudeck, associate professor of electrical engineering.
Thirty-five years: Alfredo Jimenez, associate professor of mathematics, and Molly Wertheimer, professor of communication arts and sciences and women's, gender and sexuality studies.