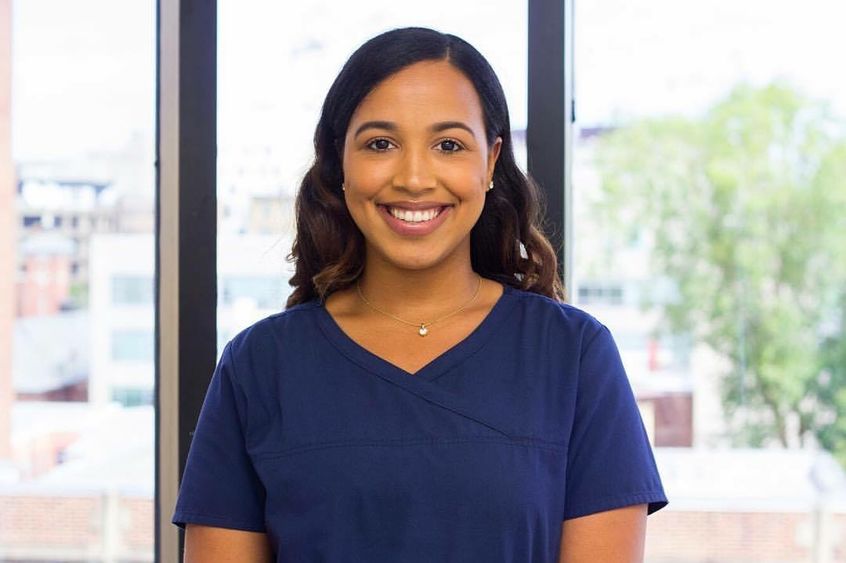 HAZLETON, Pa. — Julia Carter will serve as the speaker for Penn State Hazleton's commencement on Friday, May 3, Chancellor Gary Lawler announced. Commencement exercises begin at 7 p.m. in the Thomas M. Caccese Gymnasium of the Physical Education Building.
Carter is a 2015 graduate of Penn State with a bachelor's degree in biology and a minor in Spanish. She attended Penn State Hazleton for her first two years of college before transitioning to University Park. She is a student at Rutgers New Jersey Medical School and currently lives in Newark, New Jersey.
Carter earned a master's of public health degree in epidemiology with a global health certificate from the University of Pittsburgh and is a 2011 graduate of Hazleton Area High School. She holds a certification in public health from the National Board of Public Health Examiners.
She has received numerous scholarships, honors and awards, including the following: Chancellor's Scholar, Rutgers New Jersey Medical School; Dean's Service Award, University of Pittsburgh, Graduate School of Public Health; National Society of Leadership & Success, Student Leadership Program Grant; National Society of Leadership & Success, Global Leader Scholarship; second-place award for poster presentation, Penn State Hazleton Undergraduate Research and Scholarship Fair; certificate of accomplishment, Third Annual Penn State Regional Undergraduate Research Symposium; Academic Achievement Award, Penn State; M. Leonard Shaevel Award, Penn State University; Scholar's Lion Award in the Eberly College of Science, Penn State; and Academic Achievement Award, Penn State.
Carter worked as a graduate student worker for the Center for Global Health, and a graduate student researcher for the Department of Epidemiology for the Graduate School of Public Health, both at the University of Pittsburgh.
She served internships with the Summer Immersions Research Program at the Michigan Institute of Clinical and Health Research, University of Michigan; Bureau of Assessment, Statistics, and Epidemiology, Allegheny County Health Department as a Hepatitis C and Lyme disease surveillance intern; and the Student Clinical Preceptorship Program at the Penn State Milton S. Hershey Medical Center.
Carter is secretary for Public Understanding of Medicine in Action at Rutgers New Jersey Medical School (NJMS), medical student preceptor for the Minimed School at NJMS, Class of 2022 student representative for NJMS Student Council, Patient Centered Medicine (PCM) course representative at NJMS and Office of Admissions student interviewer at NJMS.
She presented "A Critical Discussion Regarding the Underrepresentation of Black Men in Medicine," at the Association of American Medical Colleges' Northeast Group on Student Affairs/Northeast Organization of Student Representatives Regional Conference in 2019. Carter was a co-presenter of "Developing a Spring Break Travel Embedded Course: An English Instructor Discovers Puerto Rico and Belize through Student Research" at the Pennsylvania College English Association in 2012 about her spring break trip led by Penn State Hazleton Assistant Teaching Professor of English Eileen Morgan.
She is the founder of the Carter Family Foundation and a member of the Association of American Medical Colleges and the Student National Medical Association.
Carter recently competed on the hit CBS reality show "Survivor: Edge of Extinction," which featured 18 castaways separated into two tribes trying to win the $1 million prize. Carter made it to week eight before she was eliminated.