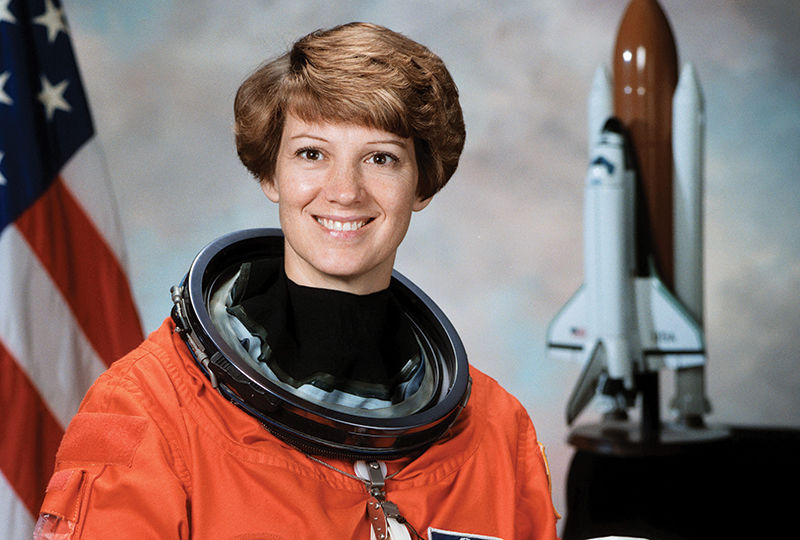 Penn State student organizations and units at campuses across the Commonwealth will be holding events in honor of National Women's History Month. Here's a look at some of the events taking place at the University's campuses during the month of March.
This list will be updated as events are added throughout the month; the University community is invited to send diversity and inclusion events for consideration to [email protected].
PENN STATE UNIVERSITY PARK
All month — In STEM-degree programs and industries, women and gender-diverse individuals make up far less of the fields than male-identified individuals. #IAmPSUSTEM, a social media initiative, will celebrate Penn State's women and gender-diverse individuals who study and work in STEM fields. Throughout March, people may post photos of themselves using the campaign hashtag and by tagging @PennStateGenEq and @CodeforHer (Instagram: @Code.For.Her). Photos may also be mailed to Jennifer Pencek, programming coordinator of the Gender Equity Center, at [email protected] for online placement.
March 11 — As a member of the Student Nonviolent Coordination Committee, Joyce Ladner organized civil rights protests in Mississippi in the early 1960s alongside Medgar Evers, Bayard Rustin and other leaders in the historic movement. Ladner will visit Penn State for a discussion on her life in the civil rights movement, sponsored by the Africana Research Center in the College of the Liberal Arts as part of the Barbara Jordan Lecture Series. 6 p.m., March 11, Paterno Library's Foster Auditorium.
March 11 — Schreyer for Women — a club of Schreyer Scholars — will celebrate International Women's Day with an open mic night that invites faculty and students to share their experiences or stories as women and/or about women in their life through speech, song, poetry, etc. Contact Anushka Shah, Schreyer for Women Special Projects Chair, for further information at [email protected]. 7 p.m. in the Mann Assembly Room in Paterno Library.
March 11-13 — The artists from Urban Bush Women, a dance-theater company, will feature three engagement events — Hair Party, Community Sing, and Dance for Every Body — at downtown State College locations. Each event is free, but attendance is limited and reservations are required. Visit Community Engagement events for details.
March 12 — Penn State's Gender Equity Center and the Office of Career Services are co-sponsoring a screening of the film "MAKERS: Women in Business" and a discussion with panel afterward. 6 p.m., 103ABC Bank of America Career Services Building.
March 14 — Urban Bush Women, a dance-theater company that gives expression to the vitality and boldness of African-American women, will perform "Hair & Other Stories." This multidisciplinary work addresses race, gender identity and economic inequality in the lives of women of color. 7:30 p.m. Thursday, March 14, in Eisenhower Auditorium.
March 20 — Activist, writer and lecturer Rachel Cargle will present a talk, "Unpacking White Feminism." Cargle's work is rooted in providing intellectual discourse, tools and resources that explore the intersection of race and womanhood. Her social media platforms boast a community of more than 185,000 where she guides conversations, encourages critical thinking and nurtures meaningful engagement with people all over the world. 6:30 p.m., Flex Theater, HUB-Robeson Center.
March 22 — Women in Business, a Smeal College of Business student group, invites the public to its first celebration event, "The Power of Us Gala," in recognition of the children in the Reunification and Independent Living Program at Centre County. The ticketed event is $15, is formal/black tie and includes appetizers and a dessert bar as well as a small silent auction. Sign up here. 6:30-9 p.m. at Pegula Ice Arena Club Level.
March 25 — Ana María Archila, one of the sexual assault survivors to confront Sen. Jeff Flake in the elevator during the Brett Kavanaugh confirmation hearings, will give a talk titled "This is about the future of our country, sir". Archila emigrated to the U.S. from Colombia at the age of 17 and has become a leading voice for racial justice, economic justice and immigrant rights in New York and nationally, first as co-executive director of Make the Road New York, and now as co-executive director of the Center for Popular Democracy. CPD and its affiliates represent a multi-racial alliance of immigrants, African Americans and white working-class communities working to advance an agenda of racial and economic justice, and a vibrant democracy. 6:30 p.m., Freeman Auditorium, HUB-Robeson Center.
March 28 — A free public lecture will be presented by Austin Channing-Brown, a leading new voice on racial justice, and author of "I'm Still Here: Black Dignity in a World Made for Whiteness." Channing-Brown is committed to exploring the intersections of racial justice, faith and black womanhood. Her voice is one of a kind, infused with justice, pop culture, humor and truth-telling. 7 p.m., Worship Hall, Pasquerilla Spiritual Center.
PENN STATE ALTOONA
March 12 — Women of Color Traveling Black History Museum, sponsored by Penn State Altoona's Student Diversity and Inclusion Programming. 10:30 a.m.–4:30 p.m. in the Slep Student Center.
March 14 — A Women's History Month celebration reception will be held, including influential women from Penn State Altoona and the Altoona community. Sponsored by the Penn State Altoona Women's Studies program. 4:30–6:30 p.m. in the Slep Student Center.
March 18 — Penn State Altoona will host a showing of the film "Hidden Figures," followed by a discussion. Sponsored by Penn State Altoona's Student Diversity and Inclusion Programming. 6:30 p.m. in Slep Student Center.
March 19 — "Women Leaders in Criminal Justice: Then and Now" panel and discussion will feature representatives from the Blair County District Attorney's Office, the Blair County Court of Common Pleas, Blair County Family Services Inc., and the Penn State Altoona police department. The event will begin with a brief history of some famous women in criminal justice, followed by a panel discussion at which panelists will offer advice to students thinking of entering the criminal justice field. Sponsored by Penn State Altoona's Women's Studies program and the United in Leadership group. 6:30 p.m. in 101–102 Misciagna Family Center for Performing Arts.
March 21 — Pretty Big Movement, a full-figured dance company specializing in various dance genres such as hip-hop, jazz, African, and modern, will feature eight dancers from the group performing and speaking about positive body image. 7:30 p.m. in the Auxiliary gym of the Adler Athletic Complex.
March 26 — A student panel, titled "What's at Stake: When Visionary Women Must Act," is sponsored by the Penn State Altoona Women's Studies program. 12:05–1:20 p.m. in Slep Student Center.
March 27 — A showing of the documentary "RBG: Ruth Bader Ginsburg" is being sponsored by the Penn State Altoona Women's Studies program. 6 p.m. in Slep Student Center.
April 1 — "A Family Feud - Women's History and Current Issues," an event sponsored by Penn State Altoona's Student Diversity and Inclusion Programming. 5:30-7 p.m. in Slep Student Center.
PENN STATE BERKS
March 20 — NASA astronaut Eileen Collins, the first female to pilot a U.S. spacecraft with the Discovery shuttle flight in 1995, will reveal encouraging perspectives and insights on the leadership skills needed to break barriers and become a successful pioneer in any field. This event is free and open to the public. 7 p.m. in the Perkins Student Center Auditorium.
March 27 — In an event open to the campus community, the Penn State Berks Commission For Women is holding a March program in celebration of Women's History Month titled "Women Empowering their Communities." The program will focus on the positive impact of community service and will include a short film focusing on women empowering themselves and their communities, followed by an informal discussion highlighting individual Penn State staff, faculty and student stories. To share a story, contact Jayne Park-Martinez in advance at [email protected]. Space is limited; RSVP by March 20th using this link. 12:15 p.m. in the Lion's Den, Perkins Student Center.
PENN STATE BRANDYWINE
March 12 — Students, faculty and staff at Penn State Brandywine are invited to a Commission for Women luncheon in honor of Women's History Month, featuring a talk by Tanya Dapkey, entomologist, research technician and mother of two, working at the University of Pennsylvania's Barcode of Life Project. She is co-founder and co-leader of the 500 Women Scientists Philly Pod, and also cultivates STEM outreach activities for children in the greater Philadelphia area. Noon, Tomezsko Lounge.
PENN STATE GREATER ALLEGHENY
All Month — Women in Arts & Literature: Displays celebrating Women's History Month will focus on women in art and literature. J. Clarence Kelly Library lobby.
All Month — Women in Sports: We will be commemorating professional and local female athletes with displays celebrating women in sports. SCC Upper Concourse.
March 18 — Women in Politics: Join us for "On the Basis of Sex," the true story of Ruth Bader Ginsburg, her struggles for equal rights and her confirmation as U.S. Supreme Court Associate Justice. 6 p.m., McKeesport Hall lobby.
March 19 — Women in Society: Jodi Merriday, higher education professional and diversity and inclusion speaker, will talk about women and the many "-isms" encountered in our society. 12:15 p.m., Ostermayer Room, Student Community Center.
March 27 — Women in Music: Nashville recording artist Kristen Merlin, featured on NBC's "The Voice" will wrap up this month's celebration with a performance. Make sure to see APCA's 2018 Female Solo Artist of the Year! 12:15 p.m., FCC.
April 15 — Women in Leadership: To continue our focus on women's history and impact beyond our month of programming, we will be hosting a brown bag lunch in April with Penn State Greater Allegheny Chancellor Jacqueline Edmondson, as she leads a conversation on women in leadership. 12:15 p.m., Ostermayer SCC.
PENN STATE HAZLETON
March 21 — Penn State Hazleton will host a Women in Leadership program with speaker Abigail Kennedy, a 2018 Penn State graduate who co-authored "Madam President: Five Women Who Paved The Way." The book highlights women who ran for the presidency in the United States. Lunch will be served and the program is open to students, staff and faculty. 12:20 p.m. to 1:15 p.m. in the Black Box Theater of the Slusser/Bayzick Building.
March 28 — A Women in STEM Lunch and Learn panel will feature Vicki Blazer, research fish ecologist, United State Geological Survey (USGS); Rebecca Hott, mapping supervisor, Pepco Holdings; Allison Dennison, senior engineer, UGI Utilities; and Eshani Lee, assistant professor of chemistry, Penn State Hazleton. All students are welcome and should RSVP to [email protected] by March 21. 12:20-1:10 p.m., Black Box Theater of the Slusser/Bayzick Building.
PENN STATE LEHIGH VALLEY
March 27 — A Women's History Month presentation on "Women World Leaders," featuring speaker Nichola Gutgold, will be hosted by the Office of Student Affairs and the Campus Engagement Committee. Lunch will be provided. 12:15 p.m., Room 302.
PENN STATE NEW KENSINGTON
March 19 — A Dinner and Dialogue event with Jodi Merriday. Merriday is a social justice ambassador, multicultural/diversity trainer and premier Black History and Women's History Month speaker, with more than 20 years of experience working in higher education. Reservations are requested; call 724-334-6062. 5:30 p.m., Penn State New Kensington Art Gallery.
PENNSYLVANIA COLLEGE OF TECHNOLOGY
March 4-8 — Penn College will celebrate Women's History Month 2019 with "Beating the Odds: Honoring Women of Inspiration and Hope," a display at the Bush Campus Center.
March 29 — Hear stories of strength from women on campus and take part in their journey of empowerment at a community event, "Students Speak! Honoring Students of Inspiration and Hope," honoring Women's History Month. 6 p.m., Thompson Professional Development Center, Mountain Laurel Room.