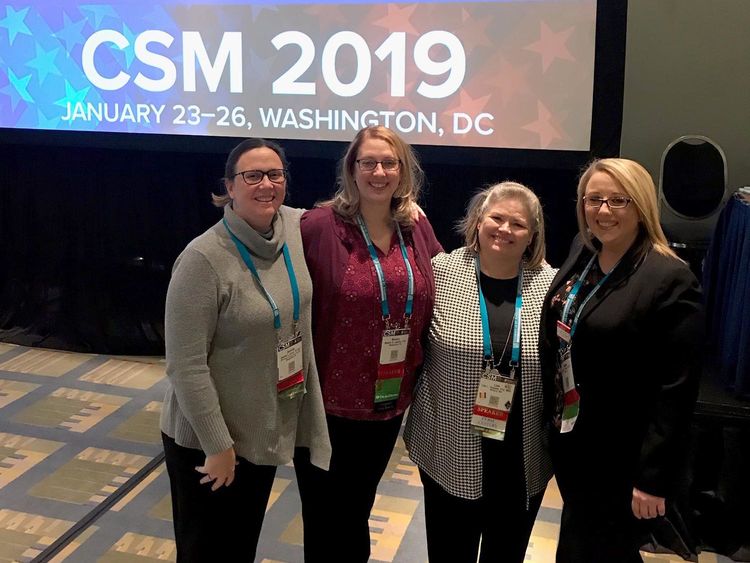 HAZLETON, Pa. — Beverly Labosky, academic coordinator of clinical education in Penn State Hazleton's physical therapist assistant program, was a featured presenter at a national physical therapy conference in January.
The Combined Sections Meeting (CSM) in Washington, D.C., brought together more than 16,000 physical therapists, physical therapist assistants and physical therapy students for the largest conference on physical therapy in the country.
Labosky and Jennifer Jewell, associate teaching professor and clinical coordinator of the PTA program at Penn State Shenango, gave a presentation entitled "Best Practice in PTA Education: Developing a Foundation for Clinical Readiness." Their presentation focused on how PTA educators can identify barriers to student clinical readiness and recognize the association between classroom behaviors and clinical performance. They also addressed how to recognize the impact of emotional intelligence on clinical behaviors and develop pedagogical strategies to enhance student success in clinical settings.
"This year marks the 50th anniversary of physical therapist assistant as a profession. It was an honor to be recognized for our work and have the opportunity to speak at the conference," Labosky said.
Labosky has presented twice before at the Combined Sections Meeting. In 2016, she, along with Jewell; Pamela Pologruto, associate teaching professor and academic coordinator of clinical education at Penn State Fayette; and Gina Tarud, associate teaching professor of physical therapy at Penn State Hazleton, presented "Transforming the Role of the PTA to Meet the Vision of the Physical Therapy Profession." In 2014, Labosky, Jewell and Pologruto gave the presentation "Flip Together! A Collaborative Model for Flipping the Classroom."
"As educators we can develop a better understanding of individual students through the information presented at the conference. We also learn how to support their professional development, identify needs and develop strategies in the classroom as we prepare them to enter into real-life situations during their clinical experiences," Labosky said.
The PTA program at Penn State Hazleton, granted initial accreditation in 1983, was the first offered within Penn State. It has prepared thousands of physical therapist assistants since that time. Today, the PTA program employs four full-time instructors and one full-time lab assistant who work closely with students to encourage professional and personal growth. The campus admits 54 students to the program each year.