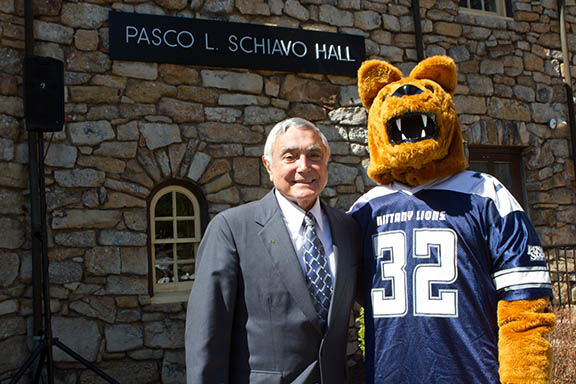 HAZLETON, Pa. — Pasco L. Schiavo, one of the largest benefactors in Penn State Hazleton's history, passed away Dec. 29, 2018.
His involvement with the campus spanned more than 50 years and included roles as a donor, president and member of the campus advisory board, advocate and instructor.
"Pasco's involvement with Penn State Hazleton and his passion for education cannot be stated enough. His financial contributions have enabled us to make a Penn State Hazleton education possible for numerous students," Chancellor Gary Lawler said. "He was always willing to lend his expertise when needed and was supportive of so many groups throughout our area. He will be greatly missed."
Schiavo chaired For the Future: The Campaign for Penn State Students at Penn State Hazleton, leading the campus to a total fundraising of $7.6 million, 127 percent of its goal. He was named an honorary alumnus in 2015 and recognized by the Penn State Alumni Association during a special reception at The Nittany Lion Inn.
The campus administration building, Pasco L. Schiavo Hall, was named in his honor after Schiavo donated a generous $1 million to the campus. He was recognized during a 2014 ceremony with then-Penn State President Rodney Erickson and other dignitaries. The ceremony included the unveiling of building signage, Schiavo's induction into the Laurel Circle of the Mount Nittany Society and the presentation of a plaque that was installed in the lobby of Schiavo Hall.
In total, Schiavo established and endowed four scholarships for local students at the campus beginning with Louis and Josephine Shayna Schiavo Scholarship in memory of his parents in 2001. He also established and endowed the Louis and Josephine Shayna Schiavo Trustee Scholarship and the Pasco L. Schiavo Scholarship. Most recently, he made a $35,000 gift to establish the Pasco L. Schiavo Open Doors Scholarship. The gift was part of the University's current fundraising campaign, A Greater Penn State for 21st Century Excellence. Schiavo made the gift at a time that leveraged a 2:1 University match, endowing the scholarship at $105,000. The Pasco L. Schiavo Open Doors Scholarship at Penn State Hazleton supports the Pathway to Success: Summer Start (PaSSS) program, which assists first- and second-year students with resources to help them graduate on time and save costs on additional tuition and fees.
His affiliation with Penn State began in the early 1960s when, as a recent law school graduate, he began teaching at Penn State Hazleton as an adjunct instructor. Schiavo taught both law and Spanish at Penn State Hazleton on a part-time basis for seven years. This initial involvement turned into a lifelong affiliation with the campus, during which he made substantial contributions of time, effort and money to Penn State Hazleton. As a member of the Penn State Hazleton Council, he held leadership positions including president, vice president, committee chairman and event volunteer. He spent many years working to add a key piece of property to the campus grounds.
Schiavo was active in many other organizations in Greater Hazleton, including the Downtown Hazleton Alliance for Progress, Greater Hazleton Chamber of Commerce, Hazleton Area Public Library and Eckley Miners' Village Associates. He also gave his time, talents and finances to the Hazleton Area School District, Hazle Township, City of Hazleton, Immanuel Christian School, MMI Preparatory School and others.
He was honored as a Distinguished Citizen of the Year by the Boy Scouts of America, by the Luzerne County Bar Association for years of distinguished law practice and by the UNICO Club of Hazleton as an outstanding Italian-American.
Born and raised in Hazleton, Schiavo earned a bachelor's degree from Lafayette College in 1958. He then entered the U.S. Army Reserve and became a first lieutenant. He decided to study law and received a juris doctor degree from the University of Pennsylvania Law School in 1962. He became an assistant district attorney and opened his own legal practice. Schiavo was a Luzerne County assistant district attorney, a member of the Disciplinary Board of the Supreme Court of Pennsylvania and a designated Super Lawyer. He held Martindale-Hubbell's highest rating for lawyers and was listed in the National American Law Directory and as a civil trial specialist by the National Board of Trial Advocacy.
Schiavo was the author of two books, "Betrayal and Deliverance of a Community," published in 2011, and "The Lattimer Massacre Trial," published in 2015. He also wrote many legal articles that were published in national and state law journals.