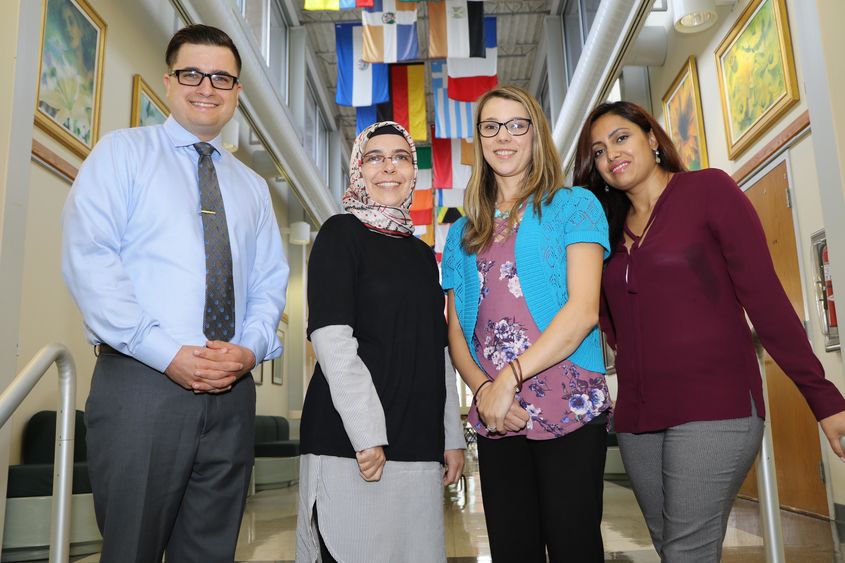 Four new faculty members have been hired to start the 2018-19 academic year at Penn State Hazleton, Chancellor Gary Lawler announced.
Megan Schall has been hired as assistant professor of biology, Eshani Lee has been named assistant professor of chemistry, Joshua Parcha has been named assistant professor of corporate communication and Mesude Bayrakci Boz has been hired as assistant teaching professor of engineering.
Lawler said, "We welcome Dr. Schall, Dr. Lee, Dr. Parcha and Dr. Boz to Penn State Hazleton and look forward to seeing the contributions they make to our students and programs at the campus."
Director of Academic Affairs Elizabeth Wright said, "Our new professors have already established themselves in their fields of research and we are confident they will share a great deal of knowledge with our students through classroom and laboratory instruction, along with undergraduate research."
Schall will teach courses in general biology, cell and molecular biology, including laboratory classes. She holds a doctorate in ecology from Penn State, a master's degree in wildlife and fisheries science from Penn State, and bachelor's degrees in cellular and organismal biology and environmental and ecology biology from Lock Haven University.
Schall worked as a graduate research assistant for Penn State with the Pennsylvania Cooperative Fish and Wildlife Research Unit, where she coordinated fish health surveys for smallmouth bass in the Susquehanna River Basin. Schall also has served as a teacher, guest lecturer and mentor to undergraduate students at several universities. She has co-authored numerous publications and has received grants to research topics in fisheries science.
Lee will instruct classes in general chemistry to chemistry majors and nonmajors. She earned a doctorate in chemistry from the University of Nevada, Las Vegas; a master's degree in biology from the University of Nevada, Las Vegas; and a bachelor's degree in social sciences from the University of California Irvine.
Lee worked as a graduate researcher in chemistry education at the University of Nevada, Las Vegas, and led the redesigning and implementation of a new general chemistry laboratory curriculum for undergraduate chemistry majors. She taught chemistry courses for science and nonscience majors at several universities, where she designed virtual, interactive course experiences using online chemistry learning platforms.
Parcha will teach classes in corporate communication, including corporate, nonprofit and government public relations, media and public relations. Corporate communication is one of the 10 four-year degree programs offered at Penn State Hazleton. He holds a doctorate in communication from North Dakota State University, a master's degree in communication from Eastern Michigan University, and bachelor's degrees in communication and mathematics from Eastern Michigan University.
He most recently served as a graduate teaching assistant in the Department of Communication for North Dakota State University and has authored or co-authored several publications related to corporate communication. He has also instructed several college courses in communication.
Boz will instruct courses in engineering as part of the campus degree program in general engineering with a focus in alternative energy and power generation. She will teach engineering mechanics, nuclear engineering, computer programming for engineers and engineering design. Boz earned a doctorate and master's degree in energy engineering from Penn State, a master's and bachelor's degree in physics from Gazi University, and a master's degree in physics education from Selcuk University.
She served as a research scholar for the Department of Civil and Environmental Engineering at Michigan State University. Boz also worked as a research assistant in the Department of Energy and Mineral Engineering at Penn State, where she worked on numerous projects involving solar energy. She mentored undergraduate students studying energy engineering in independent research and honors theses at Penn State.
All four new faculty members will participate in the development of courses and curricula in their respective programs. They will also advise students and provide guidance to students for their future courses and careers.