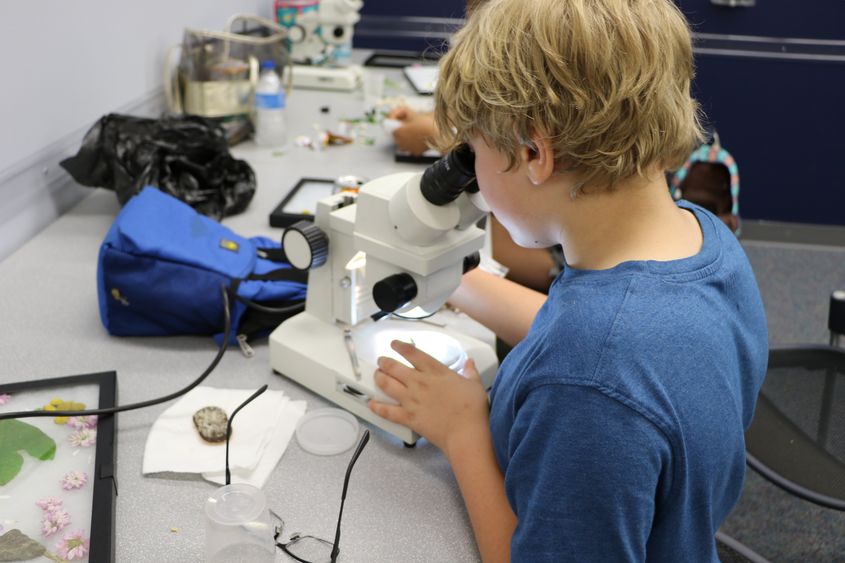 HAZLETON, Pa. — Penn State Hazleton's Continuing Education Office will host summer youth camps for students entering first through 12th grade in fall 2018. Camps scheduled at the campus this summer are as follows:
June 18 to June 22
Critter Camp, grades 2-6, 9 a.m. to 2 p.m.
Each Critter Camp day will include a high-energy, minimally structured hunt to find and learn about as many different plants and animals as possible. You can share your discoveries and use our lab facilities to examine your specimens under the microscope and use them in simple experiments and creative projects. You'll also be taken on a field trip to a local stream on one of the five days. This camp will spark your enthusiasm for the natural world.
June 25 to June 29
Youth Developmental Soccer, grades 3-8, 4:30 to 7:30 p.m. (Please note time change.)
The Youth Soccer Development Camp will offer five days of soccer skill training. Our National Soccer Coaches Association of America-certified coaching staff will develop and implement all training sessions. Work with current Penn State Hazleton men's and women's soccer coaches and players to improve fundamental skills.
July 2 to July 6
Boys' Basketball (no camp on July 4), grades 3-9, 8:30 a.m. to noon
Develop and improve your basketball skills. Our staff, dedicated to the highest ideals of sports conduct and play, base their philosophy on the premise that excellence in basketball, as in life, requires hard work and perseverance.
July 9 to July 13
Girls' Basketball, grades 3-9, 9 a.m. to noon
Welcome to Penn State Girls' Basketball School, a great opportunity for growth and success in your game. Our staff is composed of enthusiastic, caring, hard-working Penn State coaches, who will work with the campers on basketball fundamentals and team concepts of the game. Improve your basketball skills while having fun at the same time. In addition to teaching basic skills, the staff will provide opportunities for daily competitions.
Lego Robotics, grades 2-5, 9 a.m. to noon
Lego Mindstorms are used in this camp, which features compelling activities and hands-on robotic challenges guided by facilitators. After a challenge is introduced, you will work in teams to design, program and test your robots. Learn how to try different strategies when designing and programming the robots. Through this approach, you can develop skills involved in teamwork, including communication, problem-solving, engineering and troubleshooting — and learn that often there is not one answer to a practical problem, but a number of possible solutions.
Lil Lionettes Cheerleading, grades 1-6, 9 a.m. to noon
Learn to cheer Nittany Lion style. Geared to students entering first through sixth grade, this camp emphasizes essential skills such as cheers, proper hand and body movements, and basic jumping techniques. This camp includes a T-shirt.
Lil Lionettes Dance Team, grades 1-6, 1 to 4 p.m.
Dance Nittany Lion style. Dance movement and exercise to classical music ballet — and pop music. Jazz exercise is good for strength, flexibility and coordination. Great for dancers, skaters, cheerleaders and athletes, like soccer players.
July 9 to Aug. 23
SAT Prep Course, Mondays and Thursdays, June 9 to Aug. 23, 6 to 8 p.m.
Learn about the SAT format and get test-taking tips. For reading and writing, learn and practice the different kinds of reading and writing passages found on the new SAT. For math, learn and practice all of the different math skills on the new SAT. The course features materials that are practical and relevant for the revised SAT. Students are given homework assignments between classes and sample SAT exams are given as practice tests.
July 10 and 11
Babysitter's Training with Pediatric First Aid/CPR Training, ages 11-15, 9 a.m. to 2:45 p.m.
Discover the rewarding world of child care and learn what to do when you are in charge. In this camp, you will learn about child safety, how to "play it safe," and the basics of caring for children — all while developing your leadership skills. Find out how to prevent and recognize emergencies, as well as how to provide basic first aid and CPR for infants and children until an emergency medical team arrives.
Campers must attend all sessions, and upon successful completion of the program, will receive the following certificates and resources: American Red Cross Infant/Child CPR card, American Red Cross First Aid Skills card, American Red Cross Babysitter Training certificate, American Red Cross Babysitter's handbook, American Red Cross CPR Training kit, and American Red Cross First Aid Training packet.
July 23 to July 27
Track and Field, grades 4-12, 9 a.m. to noon
Introduces athletes to the sport of track and field. This program combines technical development and fundamental techniques. Exercises and drills will prepare athletes for a future in cross county, track and field, or speed and agility training that can also be used in many other sports. Focus will be on body positioning, stride, proper stretching, drills and cool-down techniques.
Art Blast, grades 2-5, 1 to 4 p.m.
This class explores different mediums in art such as weaving, sculpting, jewelry, painting and working with found objects. It teaches techniques in each medium, and also allows students to be very creative and express themselves through art.
July 30 to Aug. 3
Fun with Engineering – Build A Rolling Robot!, ages 13-18, 9 a.m. to noon
Build a rolling robot with a BASIC Stamp 2 microcontroller brain. Just follow the clear, step-by-step instructions and illustrations with the included book "Robotics with the Boe-Bot." No programming or electronics experience is needed! Each project provides a unique new experience of wiring and source-code tuning.
Nittany Olympics and Sports, grades 2-5, 1 to 4 p.m.
Nittany Olympics and Sports is a minimally structured, fun-filled summer camp that makes use of various sports and sports-related activities in Olympic-styled games and races. Campers will complete in fun challenges while learning teamwork, strategy, cooperation and sportsmanship. This camp will spark your enthusiasm for sports, games and fun.
Aug. 6 to Aug. 10
Rocking with Rocketry, grades 2-5, 9 a.m. to 3 p.m.
Come and explore the basics of rocketry through a variety of hands-on experiments. Participants will learn rocket construction techniques and the science involved in rocket-powered flight. Campers will learn how to calculate the altitude and range of their ballistic missile rockets as the week comes to end with the launching of their rockets.
Sing Your Heart Out, grades 1-6, 9 a.m. to noon
Strengthen your voice and explore the music world. Learn where your voice actually comes from and how to sound like a pop star! Tone, breath, control, pitch — we'll learn it all, even how to tweak the words so you don't go flat. Once we learn all these techniques, we'll prepare for an end-of-the-week singing performance. Don't worry, no nasty judges to deal with, just a good time as you learn to sing your heart out. Taught by Cathy Donnelly of Froggy 101, WILK and 102.3 the Mountain.
A 10 percent discount on each camp is offered with early registration. For additional information and to register for summer youth camps, visit hazleton.psu.edu/summer-youth-camps or contact Continuing Education at 570-450-3110 or [email protected].