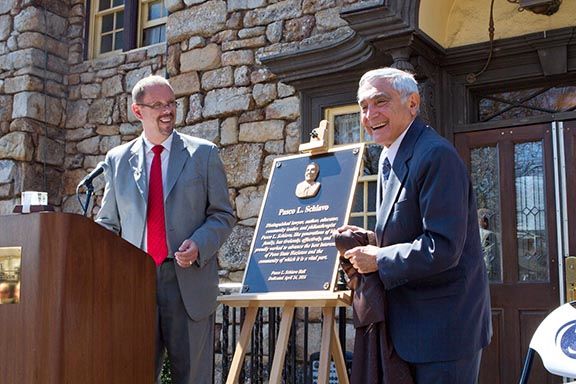 HAZLETON, Pa. — Longtime University benefactor Pasco Schiavo recently made a $35,000 gift to establish the Pasco L. Schiavo Open Doors Scholarship.
Schiavo created the endowment to benefit "A Greater Penn State for 21st Century Excellence," the University's current fundraising campaign. The gift will leverage the 2:1 University match currently being offered through the Open Doors Scholarship Program, ultimately endowing the scholarship at $105,000. The scholarship marks Schiavo's fourth philanthropic contribution toward Penn State Hazleton. After he made a gift of more than $1 million, Penn State Hazleton named the campus' administration building in his honor. He was inducted into the Laurel Circle of the Mount Nittany Society in recognition of this gift.
The Open Doors programs were created to help students overcome the obstacles to earning a Penn State degree. At Penn State Hazleton, Open Doors Scholarships support students who are participating in the Pathway to Success: Summer Start (PaSSS) program. In an effort to expand access and affordability, Penn State has created a number of programs such as PaSSS to help students overcome the obstacles that can hinder their path to graduation. The PaSSS program at Penn State Hazleton provides tools and resources to first- and second-year students to increase their likelihood of graduating on time, potentially saving thousands of dollars in tuition and fees that would accrue from an additional semester or year. In addition to completing their coursework, students in the PaSSS program are paired with mentors and guaranteed a job opportunity.
"Not only do gifts like this one support scholarships and programs that help students financially to reach their goals, but they also demonstrate the steadfast commitment of our donors to enhancing the opportunities available to Penn State Hazleton students," said Eileen Kuperavage, director of development at the Hazleton campus. "We thank Pasco once again for his dedication to improving the lives of Penn State Hazleton students for years to come."
Schiavo said, "Scholarships help eliminate financial need that can impede students from staying on track in pursuit of a Penn State degree. Along with the other scholarship programs that I participate in at Penn State Hazleton, I wanted to be a part of the Open Doors Scholarship Program because of the innovative nature of the Open Doors programs as well as the creative matching incentive offered by Penn State in the past year. In particular, I am pleased to help worthy students through this Open Doors Scholarship. I am able to help students who would not otherwise be able to receive a scholarship at Penn State Hazleton."
Schiavo was named an honorary alumnus and recognized by the Penn State Alumni Association in 2015. Under his leadership of the "For the Future" campaign at Penn State Hazleton, the campus successfully raised more than $7.6 million, 127 percent of Penn State Hazleton's goal. Schiavo established and later endowed scholarships granted to local students who attend Penn State Hazleton.
Schiavo taught both law and Spanish at Penn State Hazleton on a part-time basis for seven years and spent many years working to obtain a key piece of property for the campus. As a member of the Penn State Hazleton Council, he held leadership positions, including president.
The University's Open Doors Scholarship Program is a featured giving opportunity of the University-wide fundraising campaign, "A Greater Penn State for 21st Century Excellence." When donors make a minimum gift of $30,000 for a need-based undergraduate scholarship, the University will provide a permanent 2:1 match, tripling the endowment principal and the funds available for eligible students in perpetuity. This matching opportunity is available through June 30 of this year. After this date, the University will offer a 1:1 match to gifts of $50,000 or more.
The gift from Schiavo will advance "A Greater Penn State for 21st Century Excellence," a focused campaign that seeks to elevate Penn State's position as a leading public university in a world defined by rapid change and global connections. With the support of alumni and friends, "A Greater Penn State" seeks to fulfill the three key imperatives of a twenty-first-century public university: keeping the doors to higher education open to hardworking students regardless of financial well-being; creating transformative experiences that go beyond the classroom; and impacting the world by fueling discovery, innovation and entrepreneurship. To learn more about "A Greater Penn State for 21st Century Excellence," visit greaterpennstate.psu.edu.
To learn more about philanthropic opportunities and current matching programs for endowments, contact Kuperavage at 570-450-3175 or visit greaterpennstate.psu.edu.